Ep. 219 Peeking Behind the Scenes of Our Transformative Training
Shows Main Idea – Our Mastermind Program is somewhat unique when it comes to training in biblical counseling. I say this because our program is not just an informational, academic curriculum. It is transformational for the student, which translates into more effective soul care for others. One of the aspects that makes it a "transformation program" is the "live practicum" that the student does. I'm speaking of our interactive forums.
Show Notes
You may want to read:
Historical Overview
Responding to the forums has been part of our curriculum from the beginning, though I have not pressed this matter in the past, other than informing the students what they should be doing. Because of some student's inhibition about jumping into this kind of "supervised training," historically, I have been the primary person responding on the forums.
Because of where we are with the ministry, I can no longer carry the load of the forums, which was part of what came out of our most recent consultation. In this podcast, I'm going to address why I am cutting back on counseling, and the essential need for our students to step up and make this training aspect a vital part of their Mastermind Program.

Ministry Refocus
Cutting back on counseling is not unusual with how I have been doing ministry because I began backing off "one-to-one" counseling in 2015, as our training emphasis continued to grow.
But I was still counseling via the forums, which included free forums, private forums, coaching rooms, Mastermind forums, and our "Buy Rick Coffee" option. As you can see, the "counseling load" was still immense and unsustainable in light of our ministry growth.
As part of our current need to scale back, we are doing away with the Coaching Rooms and "Buy Rick Coffee," as part of the solution.
We want to continue with the public and private forums because they are vital to the "uniqueness of this ministry." But by keeping them, it cannot include me carrying the load of being responsive to those forums because I'm too distracted, and it is affecting the quality of my work, and hindering the training that I must provide for our students.
Thus, we have two options: (1) get rid of the forums altogether and become a "monologue ministry" or (2) keep the forums and stay a "dialogue ministry" while using them as a vital aspect of our Mastermind training.
To keep them requires that the Mastermind students carry the load by responding to the forums. Besides the problem of me not able to keep up as our ministry continues to grow, there is another issue in play here: the teacher should not be doing the work of the student. Any teacher will tell you that if the teacher does the job, the student will not learn what they should. Most of our students have been watching me "counsel folks" on the forums for years, which is a poor way to train someone in counseling. You learn to counsel by doing it, not by watching it. E.g., you learn to play the piano by practicing, not watching someone else play it, etc.
As I have talked to folks about the forums, a few have asked, "What do you want to do with them, Rick?" I think it would be a big mistake to get rid of the forums for two reasons. (1) We are a "dialogue ministry," which makes us distinctive. We don't only throw content "out there" for folks. But we create a space for our followers to interact with us if they choose. This approach has been a "means of grace" to many folks for more than a decade. (2) It will weaken our program qualitatively if the students do not work on them. A critical key to our program is that it's an apprenticeship, not just an academic environment.
We combine education with "on-the-job-training," which is the purpose of the forums. The students who put into practice what they are learning while they are learning it will gain more than those who merely acquire educational information. Practicing what you learn in a supervision environment is a big win for our students.
For several reasons, our students have not, for the most part, been taking advantage of this tool of grace, and I have not enforced it. The primary culpability falls on me for not making this happen the way it should, which is sabotaging the student's training by keeping them from stepping up and making the program what it could be for them.
A Practical Plan Moving Forward
If we keep the private and public forums, they will have to work this way:
Each student must answer one forum post per block. There are 48 block assignments in their program.
Any student can volunteer for a rotating list where we will assign forum posts to them. This aspect is in addition to the block requirement.
Any student can pick a post that they want to take, perchance there is one that they would love to take.
If these actions are enough to take care of all the forum postings, we will keep it this way, but if we still are not covering the forum postings in a prompt manner, we'll have to address those concerns at that time.

What's In It For Me?
By releasing me from doing the bulk of the work on the forums, I can focus more on the actual training of the student, which can happen in two ways. (1) I can interact with the students on the Mastermind forums about their posts. The Mastermind forums are a private space where the students hang out. (2) I can work with the students privately during our monthly meetings. I meet with each student privately once a month, if they have done any work for that month.
Our Mastermind Program is a transformative means of grace that not only impacts those that the student helps, but it transforms the students. One of the reasons for this is the practicum aspect. Theoretical case studies, which we have, are functional but not the best approach for real-world discipleship.
If you'd like to learn more about our program, please go here. Or you can find it under the "Receive Help" tab in the navigation bar. If you want to do our program, your first assignment is to learn that information.
Need More Help?
If you want to learn more from us, you may search this site for thousands of resources—articles, podcasts, videos, graphics, and more. Please spend time studying the ones that interest you. They are free.
If you want to talk to us, we have private forums for those who support this ministry financially. Please consider supporting us here if you would like to help us keep our resources free.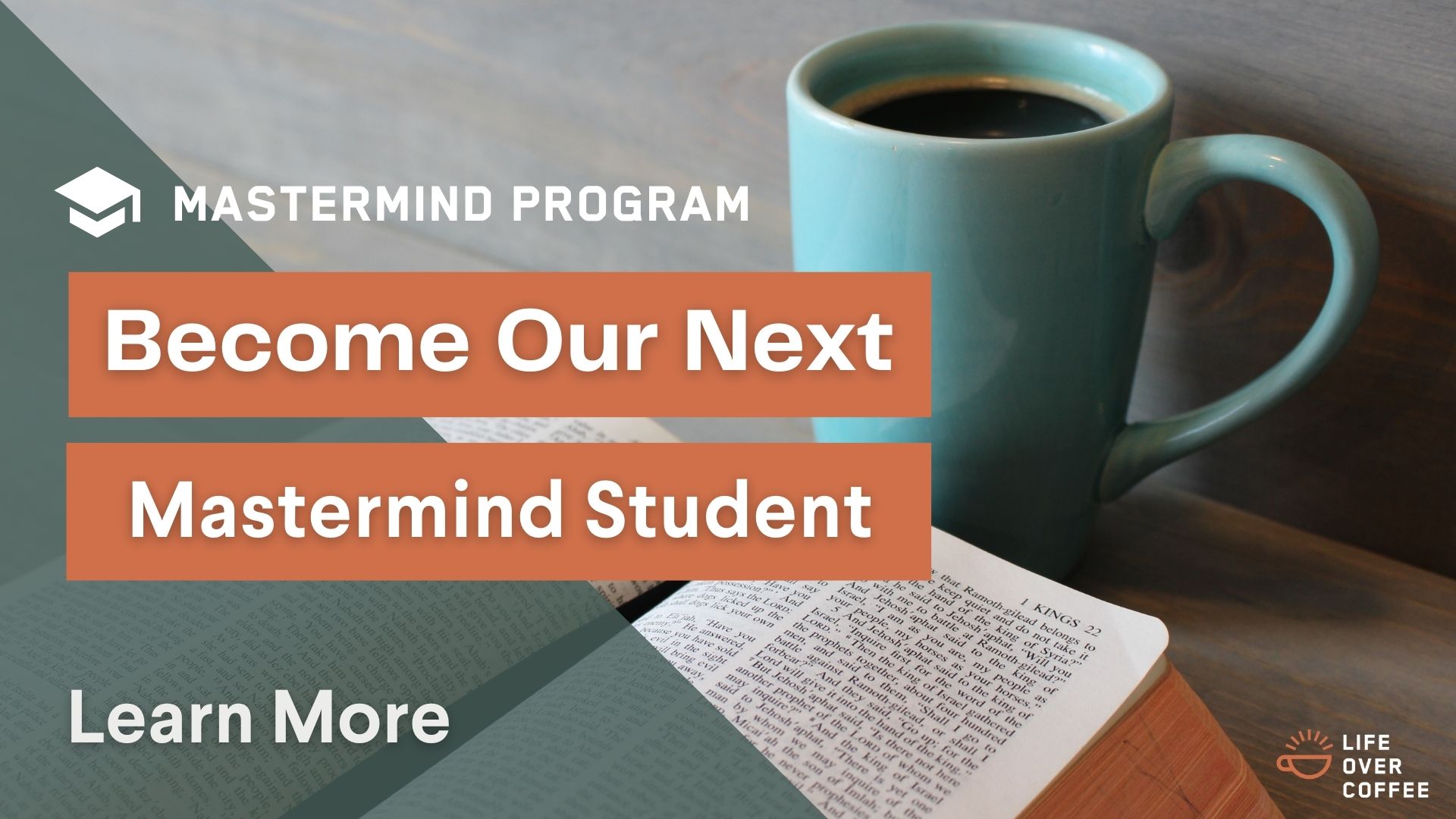 Filed Under:

Rick launched the Life Over Coffee global training network in 2008 to bring hope and help for you and others by creating resources that spark conversations for transformation. His primary responsibilities are resource creation and leadership development, which he does through speaking, writing, podcasting, and educating.
In 1990 he earned a BA in Theology and, in 1991, a BS in Education. In 1993, he received his ordination into Christian ministry, and in 2000 he graduated with an MA in Counseling from The Master's University. In 2006 he was recognized as a Fellow of the Association of Certified Biblical Counselors (ACBC).