Ep. 29 What Makes Our Equipping Different and Effective?
Shows Main Idea – This past week I met with two pastors from a large and growing church. They wanted to talk about equipping their people for an immediate and long-term change.
Show Notes
They care for their people but are seeing weaknesses in their sanctification processes. They want to bring better soul care to their local body, which means three important things:
The masses: Care for the folks who are coming. These people are called regular attenders.
The members: Move regular attenders from care-needing to caregiving.
The leaders: Identify and equip a core group of leaders who can train caregivers to care for regular attenders.
What you have heard from me in the presence of many witnesses entrust to faithful men who will be able to teach others also. – 2 Timothy 2:2
Go therefore and make disciples of all nations, baptizing them in the name of the Father and of the Son and of the Holy Spirit, teaching them to observe all that I have commanded you. – Matthew 28:19-20
Each church has these three groups, with the largest group being the regular attenders. The regular attenders are typically the ones that ask for the most while giving the least. They are the most vocal and most dysfunctional, which can be a temptation for any local church to be over-burdened in caring for the masses.
These leaders recognized this and wanted to do sanctification better. My recommendation was to follow Jesus' model of leadership development. For example, He did not feed the 5000. He provided the bread and then delegated the feeding to His group of leaders.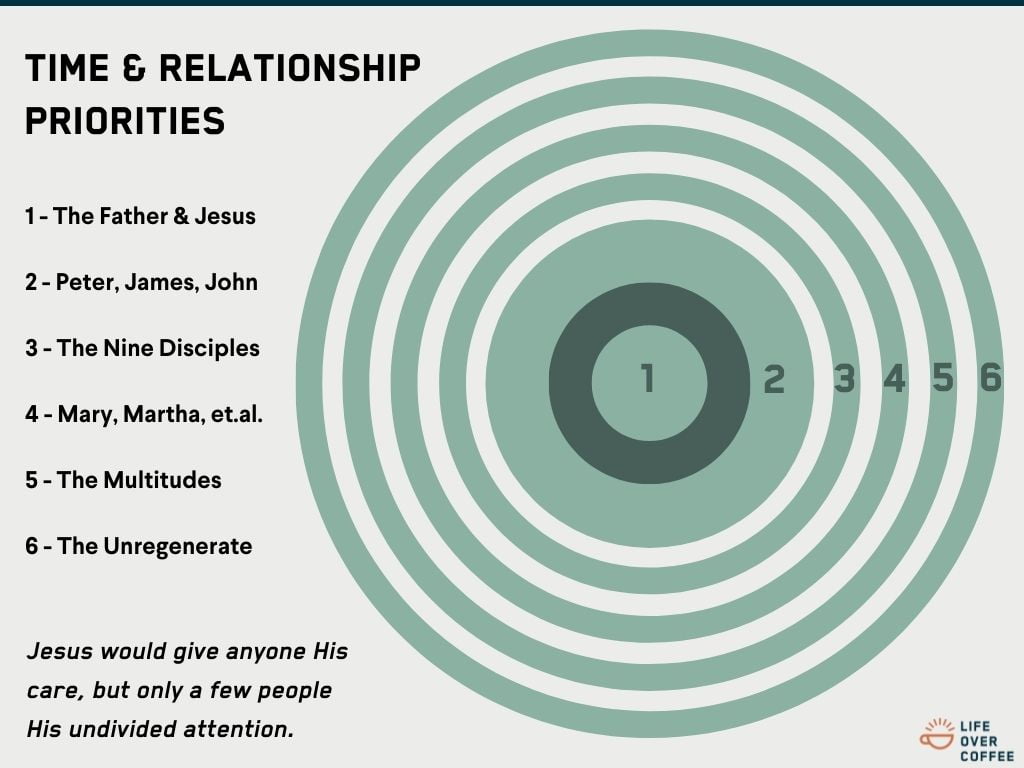 I suggested to these pastors that they identify their "twelve" leaders and begin focusing on equipping them to do more useful soul care. This appeal would not mean they would dismiss the masses, but they would be more thoughtful, intentional, selective, and proactive when it comes to how they provide care to the masses.
They cannot give every person that comes to them their undivided attention, but they can give every person their care. This idea is how our ministry works.
To the masses, I have millions of words for them.
To the members, I have millions of words for this group too, plus private and personalized care.
To the masterminds, I give them my undivided attention through our two-year, self-paced, all online training program.

Jesus could not care well for more than "twelve" and neither can I. Therefore, while everyone receives care and we turn away no one, I have to determine who receives most of my time in the here and now, while developing these core leaders to bring effective care to the growing masses.
Illustration: Ministry growth: In the last six months our ministry growth has increased 67%. This number represents the "regular attenders". None of them support our work, but all of them benefit from our work.
The wise church leader will follow a similar plan.
My recommendation for these pastors was to identify one or two leaders from their church for me to train. This leader (or leaders) would be the future point person for training in the church.
I further recommended that I do monthly training for their larger core group of leaders. This equipping would be twofold:
I would train their core group of leaders on twelve topics over twelve months, which could be between twenty to thirty people, i.e., single leaders, as well as couples.
I would provide a private room on our forum for this core group to bring their discipleship care problems within the church so our team and I could lead them through those issues.
This two-prong approach would give them a well-trained, in-depth, detailed leader (or leaders) who have gone through our two-year program, plus all their core leaders would be receiving simultaneous, ongoing care during this time through monthly equipping meetings, plus private online coaching care from my team and me.
The long-term goal would be the leader I train to step up and into my role of providing ongoing care to their core group of leaders. I would exit, stage left, and the newly qualified leader would continue the ongoing leadership development within that local church.
The Benefit?
One or two leaders would go through our program.
A core group of leaders would receive daily and ongoing equipping.
The masses would receive care through this process, as well as into the future, ad infinitum.
Everybody receives equipping, while the core group of leaders' competency would be growing by the week, month, and years.
What can I become when I grow up?
Then one of the pastors asked, "Would I have to become a formal counselor?" He was asking if the point of our program was to train counselors. This question is a hugely important one that has immediate and long-term ramifications for any Christian and any church.
I told him that I do not believe in, practice, support, or propagate any training that holds out any type of result that hints in any way that the end game of the training leads them to become a formal counselor. James would call that boasting, evil, and arrogant.
Come now, you who say, "Today or tomorrow we will go into such and such a town and spend a year there and trade and make a profit"— yet you do not know what tomorrow will bring. What is your life? For you are a mist that appears for a little time and then vanishes.
Instead, you ought to say, "If the Lord wills, we will live and do this or that." As it is, you boast in your arrogance. All such boasting is evil. So whoever knows the right thing to do and fails to do it, for him it is sin. – James 4:13-17
We equip Christians to be more efficient Christians within the local church, according to how God has gifted them, not according to an expectation to bend, shape, or mold them into a predetermined end, like a counselor who can do formalized training.
To say the end game of the training is to become a counselor or any other kind of label that would lead people to believe you could counsel in a formalized setting is a presumption, as well as boasting, evil, and arrogance.
The end game is that through a process of (1) cooperating with God, (2) the student's active engagement, and (3) competent training from a discipler, God would bring the disciple to the best possible end. It will be commensurate with his (or her) character, capacity, competency, gift mix, soul size, and calling.
I also appealed to these two pastors not to create a team of counselors or even propagate a counseling worldview because they could unwittingly communicate a two-tier system within their church: those who can counsel and those who can't.
I appealed to them to remove any counseling nomenclature, worldview, or message, while elevating a detailed plan to disciple every Christian in their church according to their gifting, which would compel each person to be engaged in the process because they would expect to be approached, engaged, and equipped to be more effective Christians within their spheres of influence.
That means they could anticipate being better husbands, wives, dads, moms, teens, children, toddlers, small group participants, and evangelists in their communities.

Remember the "V"
It was a relief to me that this pastor wanted to know if he had to be a counselor, and was hoping I would say no. He does not have to be a formal counselor, and I would never suggest he should. That outcome is too narrow, myopic, misguided, unhelpful, as well as presumptuous. My goal is to equip him by how God has made him and is making him through progressive sanctification.
He loved that idea.
He and his co-pastor, leader, and friend said they would enroll in our program. Here is the plan:
I will equip these two lead pastors to be more effective soul care providers according to the work the Lord is doing in them.
I will be meeting with a core group of leaders on a monthly basis, while providing a private training room on our website for ongoing issues that this group encounters within their ministry spheres in this local church. (This private community cannot be accessed by any of our other private members in our community.)
The regular attenders will be receiving more quality and effective care through this process, as well as into the future.
Need More Help?
If you want to learn more from us, you may search this site for thousands of resources—articles, podcasts, videos, graphics, and more. Please spend time studying the ones that interest you. They are free.
If you want to talk to us, we have private forums for those who support this ministry financially. Please consider supporting us here if you would like to help us keep our resources free.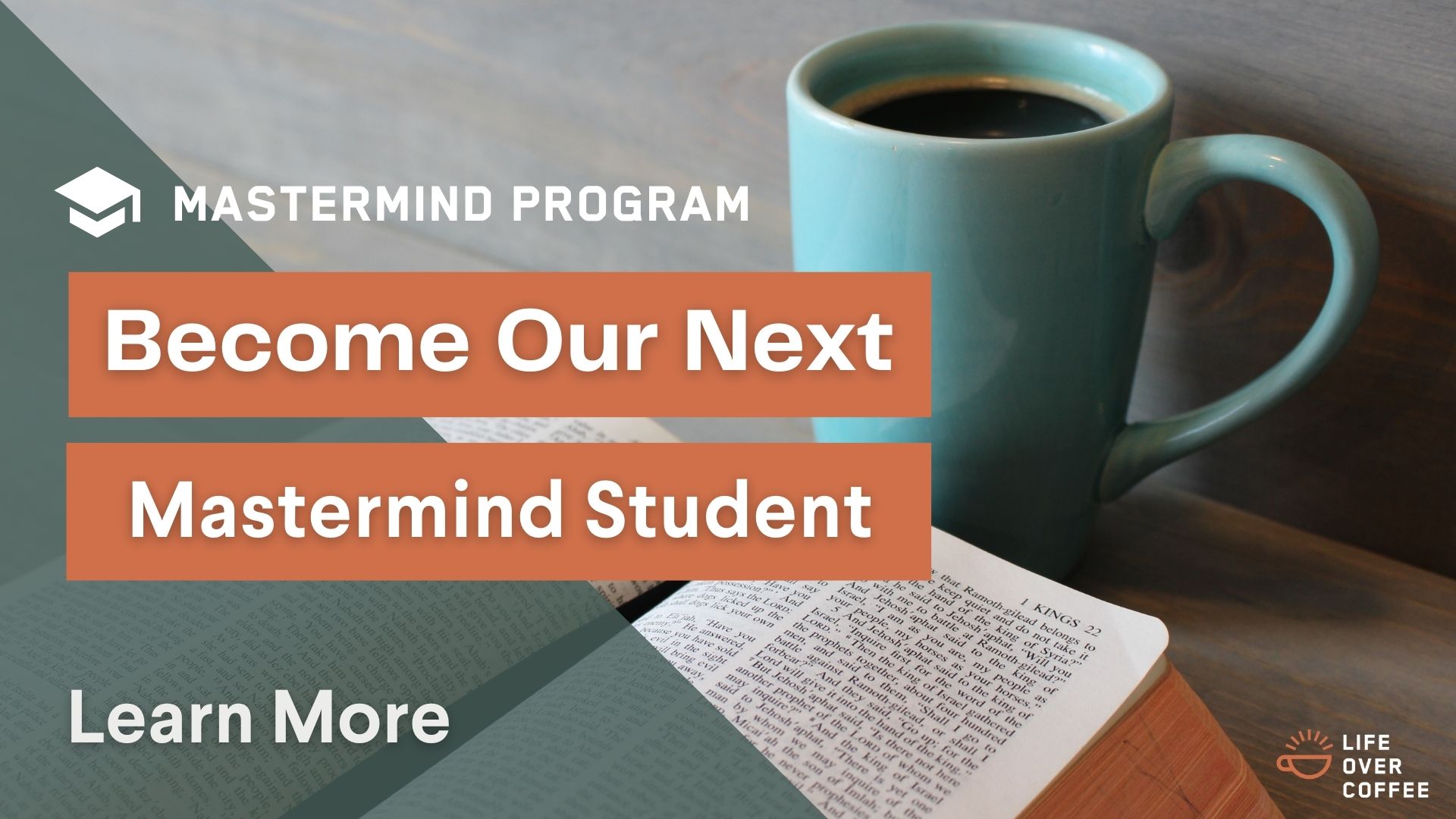 Filed Under:

Rick launched the Life Over Coffee global training network in 2008 to bring hope and help for you and others by creating resources that spark conversations for transformation. His primary responsibilities are resource creation and leadership development, which he does through speaking, writing, podcasting, and educating.
In 1990 he earned a BA in Theology and, in 1991, a BS in Education. In 1993, he received his ordination into Christian ministry, and in 2000 he graduated with an MA in Counseling from The Master's University. In 2006 he was recognized as a Fellow of the Association of Certified Biblical Counselors (ACBC).