Rick, Why Won't You Counsel Another Way?
A counselee asked why I won't counsel another way. She discerned a death feel to my counseling, and she was struggling. Though she does not disagree with my counseling approach, she did feel compelled to share her internal angst with me.
You may want to read:
And Jesus, looking at him, loved him, and said to him, "You lack one thing: go, sell all that you have and give to the poor, and you will have treasure in heaven; and come, follow me." Disheartened by the saying, he went away sorrowful, for he had great possessions (Mark 10:21-22).
It was not that she wanted me to change my counseling style. But she needed to audibly acknowledge what she is going to have to do to find real freedom. I've heard this before. I've heard this often.
Tell Me Something Different
Often in counseling, a person will say, "You have not told me anything I did not already know." Sometimes I think people come to me hoping there is another answer or an easier way.
They come to me, and I tell them what they already know, and sometimes in a last-ditch effort of avoidance, they ask for another way. They want to know if there is another path to freedom–a different way than death. Their query is proffered half-heartedly because they know how it's going to go with them and the Lord.
My friend was ironically saying that she agreed with what was needed, but she was struggling to walk through death's door to find the most successful life a person can experience.
And he said to all, "If anyone would come after me, let him deny himself and take up his cross daily and follow me. For whoever would save his life will lose it, but whoever loses his life for my sake will save it (Luke 9:23-24).
I would have loved to give her seven habits for highly effective people so she could apply those habits to her life and live happily ever after.
Recently a parent came to me asking how to change the behavior of his son. He had put him on restriction. He took away his cell phone. He scared off his friends. Still, yet, his son was not changing into something the parent could accept.
This loving parent was taking a legalistic approach toward changing his kid. I could not go along with his counseling approach. I could not counsel "his way." I needed to share with him a harder way–a more biblical way.
Though the kid needed to change some of his behaviors, he required transformation at the level of his heart. No matter how hard the parent forced new behaviors on the child, he was not going to make him righteous. Only God could do what the parent was trying to manipulate.
I planted, Apollos watered, but God gave the growth (1 Corinthians 3:6).
Not only was the child going to have to die to himself, but the parent was going to have to die too. This reality is hard counseling. What loving parent wants to watch his son walk off a cliff, plummeting into self-destruction?
He wanted to save his child from future horror. He wanted to do what I want to do with my children, but I know I can't accomplish. I can love them. I can warn them. I can take things from them. But I can't change them. The twist here is that the child has to want these things. You wanting it for them is not enough.
These are hard truths to hear, but it is the only way I can counsel. Even Jesus felt the helplessness of this counseling approach. In His humanity, He could not save the ones He loved.
O Jerusalem, Jerusalem, the city that kills the prophets and stones those who are sent to it! How often would I have gathered your children together as a hen gathers her brood under her wings, and you would not (Matthew 23:37)!
There is only one right way to counsel a person: ask them to die. Each person will have to choose as to whether they want to die to themselves. This reality is why Jesus could not counsel the rich young man any other way.
Jesus, looking at him, loved him, and said to him, "You lack one thing: go, sell all that you have and give to the poor, and you will have treasure in heaven; and come, follow me (Mark 10:21)."
Jesus offered "death counseling" because He loved this man. I counsel this way because I love you. It is a matter of conscience. I would be sinning against my conscience if I counseled any other way. My friend was hoping against hope that I would give her some tips to help her marriage.
And I did give her some tips, but they came with a huge caveat: if you don't change your heart as it pertains to your husband, these behavioral tips will not give you what you want.
The call of Christ on our lives is deeper than behavioral modification. While the Bible can give us some wonderful things to do as far as how we practically live in our relationships, if we are not changed from the inside out, we haven't changed at all.
Not everyone who says to me, "Lord, Lord," will enter the kingdom of heaven, but the one who does the will of my Father who is in heaven (Matthew 7:21).

Let Me Be Brutally Honest
From 1987 to 1990, my ex-wife repeatedly committed adultery in our marriage. She left me in 1988 and took our two children with her. They were 6 and 4 years old at the time.
No doubt, I needed practical help to learn how to cope with this catastrophic loss in my life. I was in my second year of Bible college, and the Lord turned my world on its head.
Before the beginning of the adultery in 1987, my oldest brother was brutally murdered. The police in our town did not press charges because they felt it was one less dangerous person off the streets and no one cared anyway.
In 1997 my second oldest brother was also brutally murdered. His death was at the hands of his wife. Within ten years I lost two brothers, one wife, and two children. These tragedies do not include being reared by a physically and verbally drunk father who hated me.
The reason I counsel the way I do is that I know there is no practical way to work through pain without giving up the most precious thing in your life. The thing I'm talking about is your life.
Commit your work to the LORD, and your plans will be established (Proverbs 16:3).

The heart of man plans his way, but the LORD establishes his steps (Proverbs 16:9).
Christians are some of the most disappointed and despairing people you will ever meet. I used to be one of these people. The reason I lived in a self-pitying, whiny, depressed, grumbly, and complaining condition is that I did not want to do what I knew I needed to do.
I knew I had to give up the rights to my life. This tension meant I was not going to get what I thought I should get, no matter how hard I tried. It took me over four years to work through this. It did not come easy. It did not come without a fight.
Let us therefore strive to enter that rest, so that no one may fall by the same sort of disobedience (Hebrews 4:11).
The fight was between God and me. The battle was not between the man who murdered my brother or my sister-in-law who murdered my other brother or my wife who committed adultery and was rewarded our two children to boot and me.
Those were external matters where I needed practical help, but there was no practical help which was going to help me where I needed to change the most. I had to decide if I was going to engage God about these matters and not stop until transformation came to my soul.
Was He going to run my life, or was I? Was I going to continue the tug-o-war with the Lord, or was I going to die to my dreams, desires, and disappointments?
Was I going to continue the intellectually dishonest game that manifested by making my struggle about the people in my life? My struggle was not primarily about them. It was about God.
For he will complete what he appoints for me, and many such things are in his mind. Therefore I am terrified at his presence; when I consider, I am in dread of him (Job 23:14-15).

My struggle was because God was not giving me what I wanted. At some level of my heart, I knew God was sovereign, and He could turn things the way I wanted them if He would only acquiesce to my demands (Proverbs 21:1).
Though I would not say it out loud, the truth about God's sovereignty was resident in my soul. God could change the outcomes of my life, but He was choosing not to do this.
My friend who asked if I would counsel another way struggles with her husband. He is not all he should be, and she is correct. She married him with the expectation of how things should be, and those things did not turn out the way she planned.
For the record, her husband is in the same boat. She is not all he wanted her to be, and he lives with low-grade anger toward her. And their story is my story and your story. None of us have received the life we expected.
We made our plans, but things went in another direction. Though there is a lot of would've, should've, could've in all of our lives, that is not where we should focus. Though we want God to change our circumstances, that is not where we should put our focus either.
"Father, if you are willing, remove this cup from me. Nevertheless, not my will, but yours, be done." And there appeared to him an angel from heaven, strengthening him (Luke 22:42-43).
It all boils down to a simple but life-changing "not my will, but your will be done" acquiescence. It does not matter what you want primarily. That is a secondary issue. The central question you must genuinely answer is whether or not you're willing to lay down every desire you have and trust God.
My friend who asked me for another counseling option feels torn between letting go of what she wants and claiming the death God is offering to her. Can't you see how hard this is? I know you can.
God was calling me to let go of the dream of ever having a wife and family and to trust Him. God was calling me to let go of the bitterness regarding a childhood that would never be mine. God was calling me to let go of the hope of living with my brothers into old age.
My friends, the gospel is the most counterintuitive force that will ever confront you. God's ways are not our ways (Isaiah 55:8-9). His ways do not always make sense at first, especially when it's your turn to be sprawled out on Gethsemane's floor while being asked to let go of your dream.
But I can tell you from personal experience, if you will let go of whatever it is you want but can't have, God will give you something that will surpass anything you have ever imagined.
Now to him who can do far more abundantly than all that we ask or think, according to the power at work within us, to him be glory in the church and in Christ Jesus throughout all generations, forever and ever. Amen (Ephesians 3:20-21).
It is when you give up your dream that you will be ministered to by God (Luke 22:43) and carried to a place of death (Matthew 16:24-26), which will not only change your life, but it will position you to be used by Him in unusual ways (Philippians 2:8-11).
If you want to read my journal from the season in my life where I lived through adultery and the loss of my two children, get my book, Suffering Well – How to Steward God's Most Feared Blessing.
I cannot counsel any other way because I know the only way you're going to find what you're looking for is through the door of death.
"And Jesus, looking at him, loved him, and said to him…"
Need More Help?
If you want to learn more from us, you may search this site for thousands of resources—articles, podcasts, videos, graphics, and more. Please spend time studying the ones that interest you. They are free.
If you want to talk to us, we have private forums for those who support this ministry financially. Please consider supporting us here if you would like to help us keep our resources free.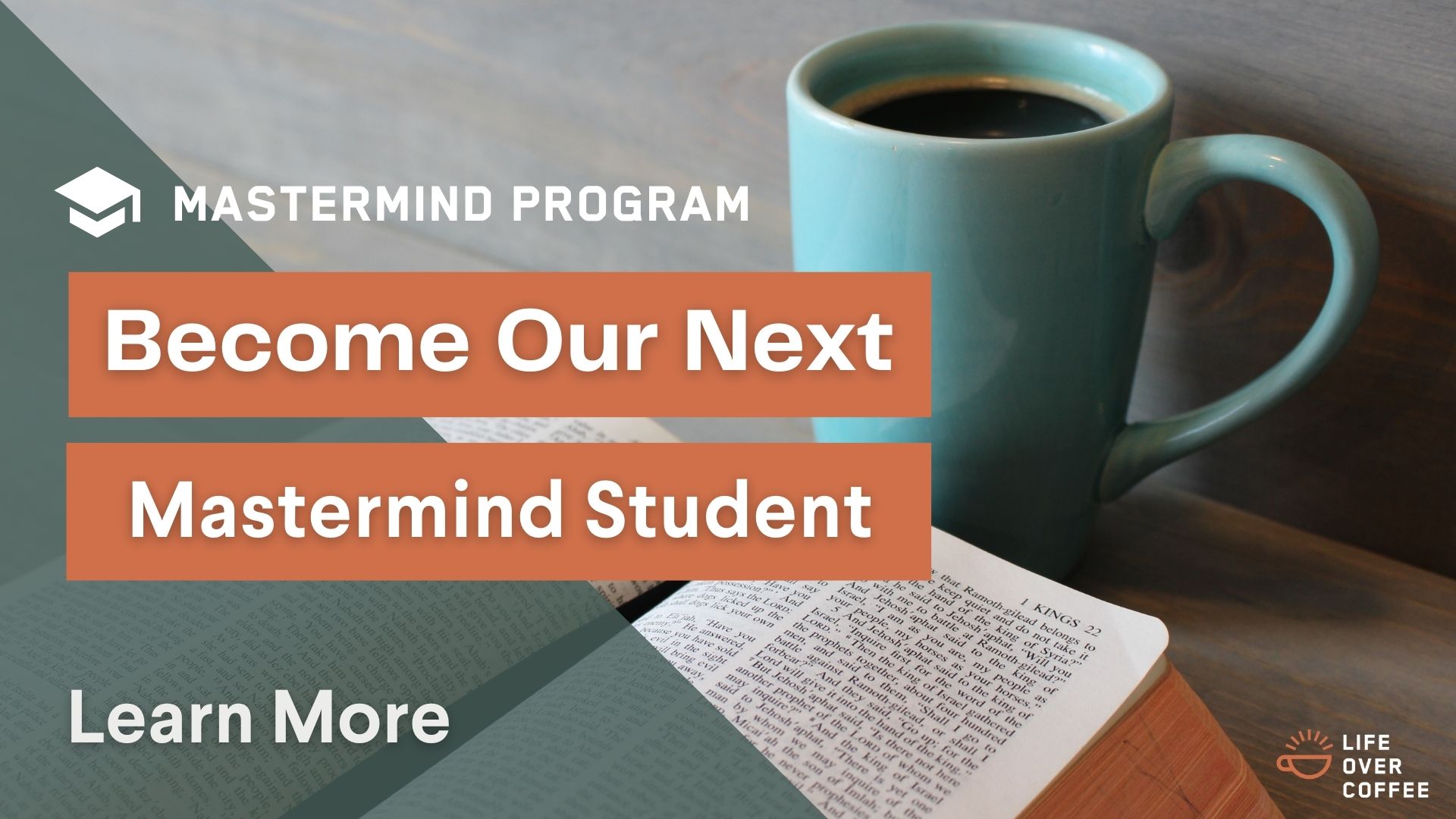 Filed Under:

Rick launched the Life Over Coffee global training network in 2008 to bring hope and help for you and others by creating resources that spark conversations for transformation. His primary responsibilities are resource creation and leadership development, which he does through speaking, writing, podcasting, and educating.
In 1990 he earned a BA in Theology and, in 1991, a BS in Education. In 1993, he received his ordination into Christian ministry, and in 2000 he graduated with an MA in Counseling from The Master's University. In 2006 he was recognized as a Fellow of the Association of Certified Biblical Counselors (ACBC).