What Kind Of Church Do You Attend? Here Are Six Models.
Each church has a unique personality that is a reflection of the leadership. What kind of church do you attend? In this article, I examine six common church models by looking at their upsides and downsides.
You may want to read:
It is impossible for every church to be the same. It would be sad if they were the same. Churches are different because people, cultures, regions, trends, and eras are different. I'm sure you could think of other reasons they are different.
Church variety does not have to be a bad thing, though finding a good one can be a challenging and unenjoyable process. A key to remember is that most of the things you want in a great church are preferential that should not be elevated to deal breakers.
The one non-negotiable is the gospel (Philippians 1:15-18; Galatians 1:8-9). Sound theology is another one. A church should always be growing in theological precision. You can add humble, Christ-emulating, non-lording shepherds to your list of non-negotiables. Most everything else is a preference.
Shepherd the flock of God that is among you, exercising oversight, not under compulsion, but willingly, as God would have you; not for shameful gain, but eagerly; not domineering over those in your charge, but being examples to the flock. – 1 Peter 5:2-3
Because our preferences are so broad, it would be impossible for one church to accommodate all the flavors the membership desires of their church life. I have listed six of the most popular church styles. I'm going to assume all of them preach the gospel, are theologically precise and are led by humble shepherds.

Seeker
The seeker church is considered a group who desire a relevant connection to their culture. They want to relate well. They learn how to cater to the culture's palate. Some of them have gone so far as to survey the culture so they can emulate their likes within the church environment.
These churches, if they do their homework, have drawing power. Lots of people enjoy this kind of church life. The upside is they are excellent on the front end by drawing people to the church, hoping to give them the gospel.
The downside is they over-emphasize relating to their culture, which makes them weak in educating and discipling their members. The people, to a great extent, are deficient in practically living out progressive sanctification.
If the seeker church endures, it will plateau quickly. The back door will become as busy as the front door because the folks who leave is about the same as those who visit. It's easy to stagnate in this culture because there is nothing deeper than entry-level Christianity.
Do-over
One of the most popular kinds of churches is made up of people who were burned by bad church experiences. This demographic is looking for something different, so they gravitate to a church culture that is refreshing in how they do church.
People from heretical church environments or legalistic cultures are perfect for this kind of church. A church like this will make much of grace, which is music to the beat-up religious person's ears. If you ask them why they attend their church, you will hear repeated themes:
I have never heard the Bible preached like this before.
I do not feel judged when I walk through the doors of this church.
This church is not about rule-keeping.
I never understood grace until I came here.
The worship experience is alive and authentic.
Nearly all of the good things they say are framed in comparative language—comparing their current church experience with their past experience. They love the do-over opportunity. They are genuinely glad.
This type of church moves the theological needle more toward soundness than cultural relevancy. The people have more Bible knowledge, though they are typically weak in making disciples.
Evangelistic
Some churches do a fantastic job reaching the lost, whether locally or globally. They want to go into all the world with the gospel, and they do. Over the door of the auditorium, as you are walking out, you read this sign: "You are now entering the mission field."
They put more focus on the outward mission field than the inward mission field. In this way, they are like the seeker and the do-over churches.
The seeker relates to their pagan culture but is weak in maturing their flock.
The do-over group relates well to the burned out religious people, but are also weak in discipleship.
The evangelistic folks know how to win people to Christ but are not so good with sanctification issues.
Ministry
These ministry-minded people are super-busy doing all kinds of things for their community and the world. Like ants scurrying around an ant hill, these Christians know how to do things for Jesus.
I am not talking about a social gospel. These are missional Christians, who are on a genuine mission for Jesus. The leadership is adept at providing a plethora of ministry opportunities for their people.
All you need is a burden to start a ministry. If the church does not have a ministry that matches your burden, they will figure out how to create it because they want the world to know about Jesus. They see ministries like portals to reach the world.
The downside is similar to the previously mentioned sanctification problems with the other models. This group is too busy to slow down to do expert soul care. They are ministry minded, even to the detriment of their marriages and families.
Character does not rank high when they assess a person for ministry duties. You can be an unkind spouse or ill-equipped parent and still lead a ministry. A person's passion for ministry carries more weight than Christlike character qualifications.

Educated
This people group loves to study their Bibles. They have an endless supply of Bible studies. Knowledge is king; that is their thing. They enjoy getting into God's Word to mine the countless nuggets of truth.
They are correct in that being theologically sound is essential if you want to grow in your sanctification. The downside is that growing in sanctification requires more than Bible knowledge. They do not match their understanding of the Bible with an equal, appropriate, and practical application to be mature in Christ.
One of the more interesting things with many Christians, who know a lot about the Bible, is they do not know how to walk a person, or even themselves, through critical sanctification issues.
The gulf between what they know and how to make it practical in a struggling person's life can be broad. Like the previous models, eventually, you are tempted to leave this kind of environment because you want practical help that transforms.
Disciplers
Disciplemakers is probably the rarest group of all because it is the hardest aspect of our religion to accomplish. To create contexts where people are honest, transparent, intrusive, humble, courageous, and able to practicalize the gospel into situational challenges is a bridge too far for many churches.
To take a couple, a single, or a teen through personal difficulty in the context of a local church is the exception rather than the rule. Our inability to replicate Christ in people's lives is perplexing in light of Peter and Paul's expectations for God's Word. (See 2 Peter 1:3-4; 2 Timothy 2:2, 3:16-17)
The Lord's intent for sanctification is that it happens in a community of competent and compassionate Christlike disciple-makers.
The downside of this group is if they are not doing some of the things the other groups are doing, it will lead to ingrown stagnation. If they are reaching their community while taking care of their people, this model is the best representation of a New Testament church.
How Do You Decide?
Which one did you like? I suspect if you are like me, you like a combination of all of the models. You want to be biblically relevant. Jesus was. You want to be evangelistic, missional, and ministry minded, for sure.
You also want to grow in your faith. These are all good things for a local body, so how do you decide? If the gospel is right and the theology is precise, what kind of imperfect church will you call home?
Factoring imperfection into your church experience is essential. If you do not, you will be disappointed. All local churches are full of imperfect people.
The whole is a collection of its parts. If the parts are unclean, which they are, the whole will experience pollution. To expect otherwise will tempt you to leave your church for the wrong reasons. Say this out loud: there is no perfect church.
If the gospel is sound; if theological depth is deepening; if the imperfections are not too glaring, one of the most important questions you can ask regarding the church you want to attend is, "Who do I want to shepherd me?"
The Shepherding Question
Obey your leaders and submit to them, for they are keeping watch over your souls, as those who will have to give an account. Let them do this with joy and not with groaning, for that would be of no advantage to you. – Hebrews 13:17
The church you attend will be a reflection of the pastor who leads it. His vision will be the primary imprint that will unfold into a combination of the models presented.
The question for you is whether or not you can follow him on that vision. What flows out of his vision will have a direct and practical impact on your life and all the other people who fall within your sphere of responsibility.
Who do you want to follow?
Who do you want to affect you?
Who do you want to affect your spouse, your children, and your friends?
I am asking you a shepherding question. Let's say you are married, and your spouse is having a relational or situational difficulty. Can your church help you? Do they know how to provide care for you and your spouse?
Suppose you have a teenager, who is struggling with a sin. Can your youth leader/pastor walk you and your child through this challenging season? Who do you call on when you need a practical shepherd's care?
The church should be reaching the lost. The church should be creating ministry portals so more people can hear the good news about Jesus. And the church must be a sanctification hospital.
If the church cannot take care of their wounded, you who march under that church's Christian banner are in a bad spot. It would be like a company saying we can do such-and-such for you and after you buy their product, you realize they are not able to fulfill their promises.
Your salvation is much more than being born again. Regeneration is the beginning of your journey, not the end. If your best efforts get people in the door, but you are not able to bring practical sanctification care to them, you need to re-evaluate our priorities and your local church.
Call to Action
What kind of church do you attend?
Why do you attend that kind of church?
How does your church need to change?
What unique gifts do you have that can make your church more effective?
Need More Help?
If you want to learn more from us, you may search this site for thousands of resources—articles, podcasts, videos, graphics, and more. Please spend time studying the ones that interest you. They are free.
If you want to talk to us, we have private forums for those who support this ministry financially. Please consider supporting us here if you would like to help us keep our resources free.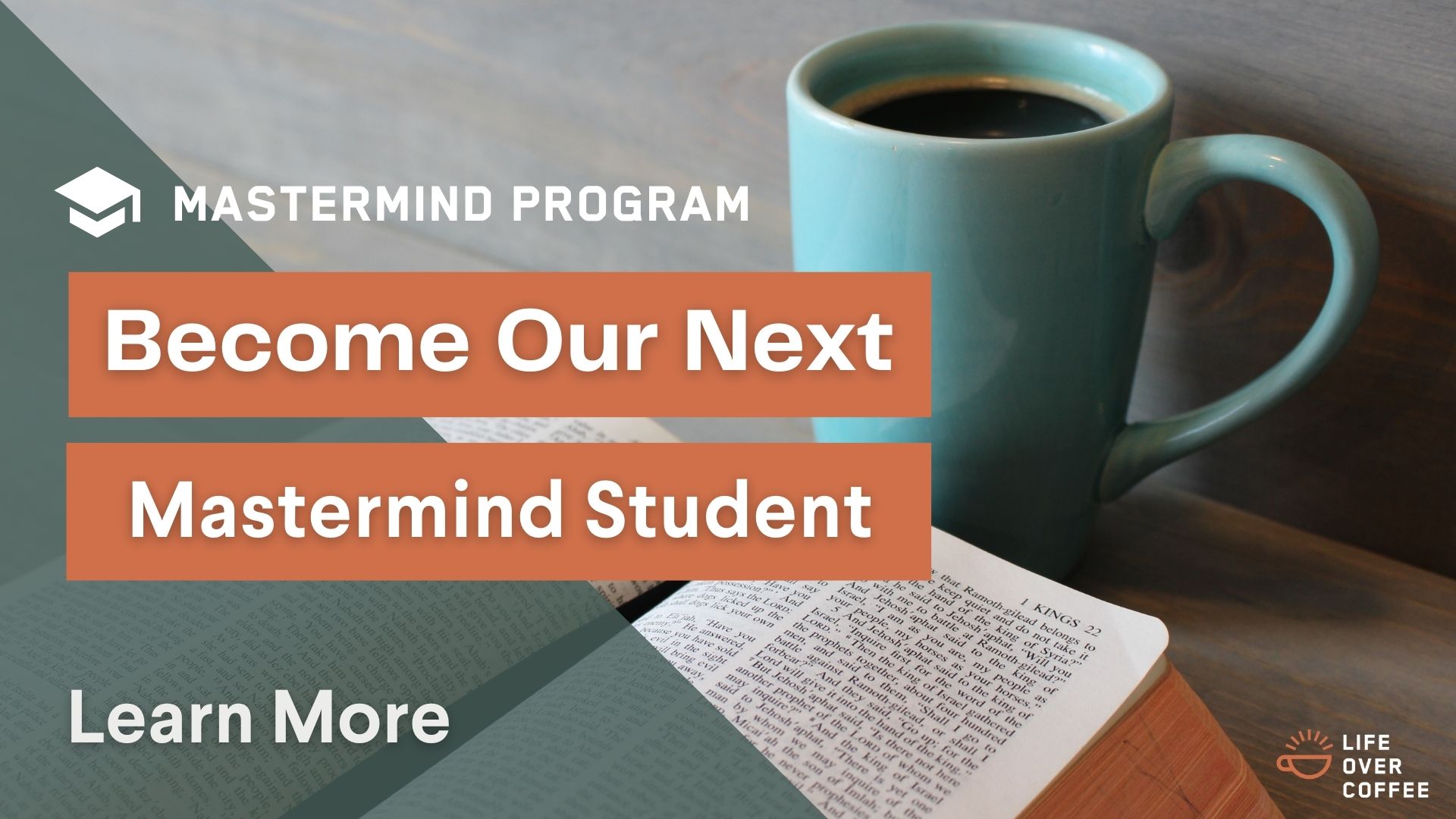 Filed Under:

Rick launched the Life Over Coffee global training network in 2008 to bring hope and help for you and others by creating resources that spark conversations for transformation. His primary responsibilities are resource creation and leadership development, which he does through speaking, writing, podcasting, and educating.
In 1990 he earned a BA in Theology and, in 1991, a BS in Education. In 1993, he received his ordination into Christian ministry, and in 2000 he graduated with an MA in Counseling from The Master's University. In 2006 he was recognized as a Fellow of the Association of Certified Biblical Counselors (ACBC).