Ep. 254 The Repercussions of Being a Certified Biblical Counselor
Shows Main Idea – Test yourself: when you think of a certified biblical counselor, what comes to mind? The more direct question is, do you believe a certified biblical counselor is a skilled counselor? Within the biblical counseling world, there are options for a person to receive defined training from an organization, and once completed, they become certified. Certification means the completion of training, but for too many people, certification means qualification, which is potentially dangerous thinking.
Show Notes
You may want to read:
I love discipleship, which is the basket word that contains biblical counseling. In many ways, those two descriptors are identical, though you can make a case for a season of intensive discipleship, which I call biblical counseling. To become a biblical counselor, you typically receive training, though not every person goes through a training program.
Several organizations offer training to teach Christians classical knowledge about biblical counseling. Though there is some practicum, the bulk of the training is knowledge-based. It's vital that you know that no organization can make a competent biblical counselor because they cannot go much beyond the perimeter of exporting classical knowledge to them, which is the problem.
If you ask most any believer what a certified biblical counselor means, they will tell you that it's a person trained in biblical counseling. You're welcome to test my thesis. The assumption is that training equals qualification. Because of this, two adverse things may happen:
The person with the certificate may think he is competent to do formalized biblical counseling. Perhaps they can become great friends who can bring a measure of soul care to someone, but every certified counselor cannot be competent.
Secondly, the person looking for counseling wants someone certified because they make this false formula connection: certification equals qualification. There are too many instances where the certified biblical counselor does more harm than good.

What's the Problem?
The problem is that some certified biblical counselors hurt people because they are not good at what they do. Every biblical counselor, who has been doing it for a while, knows this. Many biblical counselors and pastors are nervous about recommending a counselor because they know it's a massive problem within the body of Christ.
Though many of these organizations try to be clear regarding the extent of the training they offer, its recognition and admission about the limitations are not enough. The damage that we biblical counselors have caused is too extensive. It's not good enough to say, "We tell folks they only receive training, and it does not equate qualification, i.e., competency."
The burden is on us to do better. We must be more outspoken with our messaging, i.e., this podcast. We should communicate this worldview on our websites. We must press this message into every student's mind. If a person receives a certificate for being a certified biblical counselor, and they think they are competent to do biblical counseling, there is a failure somewhere.
How Do We Do It?
We have a training program. It's self-paced and covers three critical disciplines: theology, sanctification, and practice. Our supervision team cooperates with the Lord and the student to help them fill-up their God-given capacity to do soul care—as we subjectively understand how the Lord has gifted them.
I have never told a student that when they finish our training, they will be able to counsel someone competently. It would be arrogant to hold that promise out for anyone who comes into a program (James 4:13-17). I have no idea who the person is, how God has gifted them, and their ability to consume classical knowledge and translate it into original intelligence.
I use the letter "V" to communicate this idea. A person comes into our training at the bottom of the "V," and where the training takes them is only in God's mind—some at the top of the "V," which is varied. Most organizations teach (or imply) an upside-down "V." "You come into their program, and you'll be a certified biblical counselor." Whether ignorantly, innocently, or intentionally, that's the message that most folks believe.

What's a Solution?
Part of the solution is to understand what makes a competent biblical counselor. Here are the three aspects that we examine. (See infographic.)
Character – There is a word cloud that fits in this sphere. E.g., integrity: the person is practically applying their counsel to themselves, and are humbly living it out.
Capacity – A word cloud communicates the extent of this person's capacity, IQ, analytical skill, memory recall, etc. People are not equal. No training can bring all people to the same outcome.
Competency – One of the words here is the time it takes to learn a craft. If you think of becoming competent at biblical counseling like becoming competent in any other discipline, you'll understand. A Major League baseball player did not get to the "bigs" by going through two-years of training. Malcolm Gladwell talks about 10,000 hours to become proficient, which is a fair statement.
Most certifying organizations do not have adequate training to discern a person's competency level. For example, ACBC has you doing 50 hours of observed counseling. That typically means the student counsels someone, fills out a report, and meets with their supervisor to discuss. It's like the married counselee who tells you about his marriage without his wife being there. A trainee has a session, fills out a report, and then shares his opinion to his supervisor is inadequate, who is typically off-site.
The other weakness of this type of supervision, even if observed while it's happening, is that you can't get an accurate bead on any person in this type of setting. You don't see him with his wife, with his children, or other environments where you can truly discern the person you're training. What I'm describing (and recommending) to you is how Jesus equipped His students. The most effective way to do this is for the local church to equip these potential leaders.
Minimally, certification should have a bronze, silver, and gold platform rather than a one size fits all training: I'm presenting a worldview, not a precise methodology with this idea. My appeal is for those who lead counseling training organizations to collaborate with others to clarify the messaging and offer a different kind of product (student). That product will have at least two components:
The student has a basic understanding of his gifting, which will give him an idea of his strengths, weaknesses, and limitations.
There is a way to examine the graduate as he practices his craft. He will grow with the repetitions, which could mean he may become a qualified certified biblical counselor at some future day.
Need More Help?
If you want to learn more from us, you may search this site for thousands of resources—articles, podcasts, videos, graphics, and more. Please spend time studying the ones that interest you. They are free.
If you want to talk to us, we have private forums for those who support this ministry financially. Please consider supporting us here if you would like to help us keep our resources free.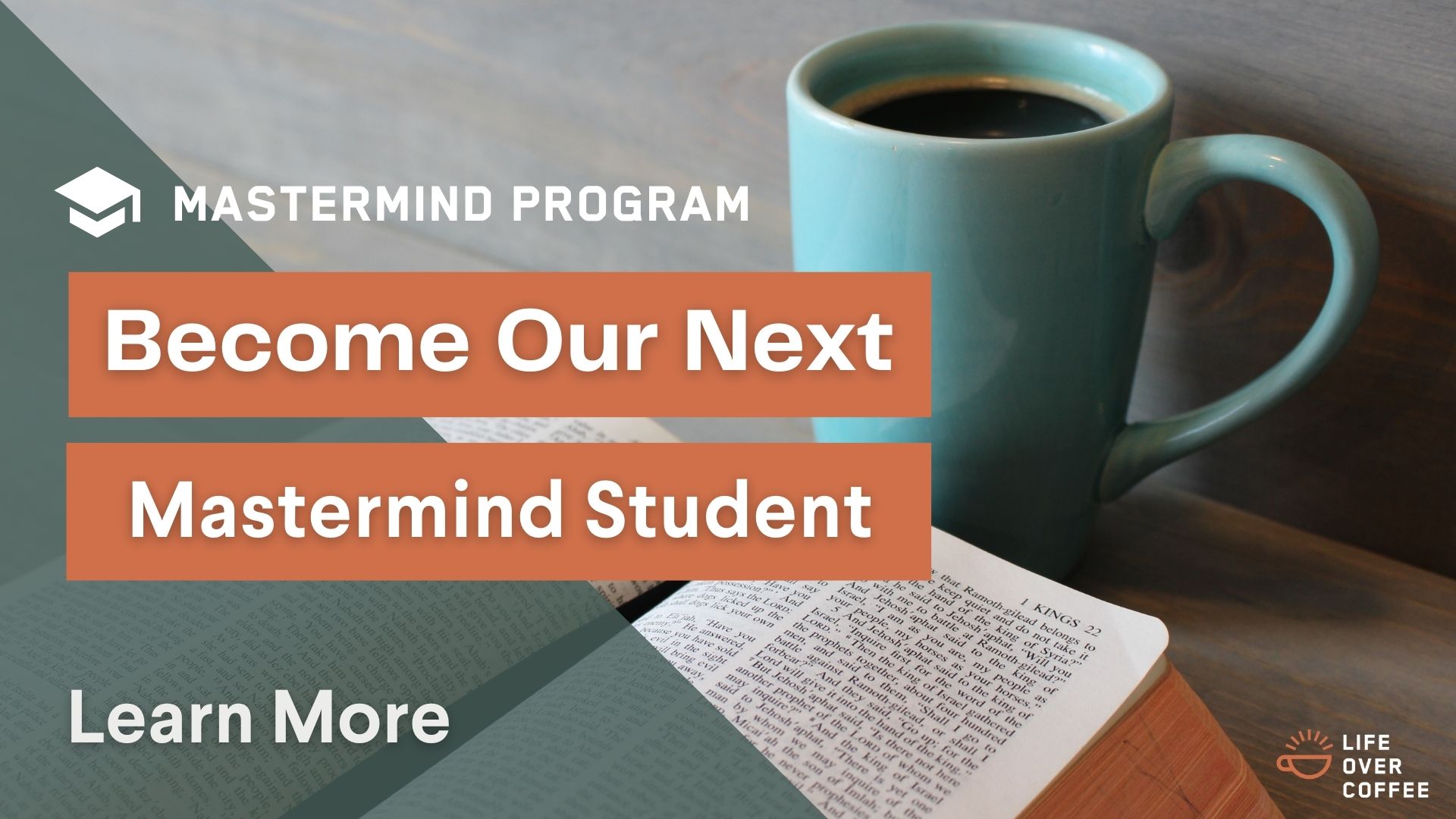 Filed Under:
Tagged:

Rick launched the Life Over Coffee global training network in 2008 to bring hope and help for you and others by creating resources that spark conversations for transformation. His primary responsibilities are resource creation and leadership development, which he does through speaking, writing, podcasting, and educating.
In 1990 he earned a BA in Theology and, in 1991, a BS in Education. In 1993, he received his ordination into Christian ministry, and in 2000 he graduated with an MA in Counseling from The Master's University. In 2006 he was recognized as a Fellow of the Association of Certified Biblical Counselors (ACBC).