Ep. 160 The Risky Business of Practicing Humility
Shows Main Idea – Every person is moving from transformative relationships or leaning into them. We're not static beings. The two categories are pride or humility. Assess yourself to see which way you're heading.
Show Notes
You may want to read:
Motive – The reason for this podcast is that we receive many forum posts each month from individuals who have ruined their lives–up to this point. The common thread that runs through their lives is a lack of humility. I hope this podcast will help in a preventative way to keep a soul from self-destructing.
Caveat – I'm using the male pronoun, though these ideas apply to both male and female. You may adapt these notes to refer to you.
Apology – Just because I'm teaching on this subject, it does not mean that I have perfected the gift of humility in my life. I have not.
Assignment – The best response that you could have to this podcast is to share these notes and audio with a friend who has the compassion, courage, and competence to share their perspective with you.
Compassion – They will be kind, not harsh, and caring in their communication with you.
Courage – They are not afraid of telling you what they think about you.
Competence – They have the theological knowledge and biblical discernment to help you.
Humble Favor
The best deterrent for moral failure is humility. If a person is regularly pursuing humility, he is willfully exposing himself to God's empowering favor and the help of a few good friends.
If a person is not regularly pursuing humility, the opposing hand of God will be against him. James is teaching us this when he says,
God opposes the proud but gives grace to the humble (James 4:6).
The humble man is always looking up to God and others, seeking their help. And what better situation can a man be in than to have God on his side, working on his behalf?
In the world of counseling it happens without exception: if there is a moral failure in a person's life, you can rightfully assume that there has been a lack of humility as well.

Humble Quotes
An angel is a knowledgeable creature, but take away humility, and he is a devil. – Watson

Self-seeking blinds the soul to where it can't see the beauty of Christ – Brooks

The donkey thought the shouts and palms were for him rather than the Christ he carried. – Chesterton

Everything in the preaching of the Word comes across and against the minds of proud men. – Owen
Humble Evidence
Humility is evident when you are consumed with Christ and loving others primarily. Describe your affection for Christ and desire to see others know Him.
Humility is evident when you know how lowly you are before God. Paul described himself as the foremost sinner. How do you see yourself in the context of Paul's teaching in 1 Timothy 1:15?
Humility is evident when this lowliness accompanies joy and bliss. Rather than wallowing in a "worm theology," your soul is exalted because of God's mercy. Describe your affection for Christ because if what He did for you.
Humility is evident when you are most satisfied in glorifying your God. Is the spreading of God's fame at the top of your daily "to do" list?
Humility is evident when you have a daily mindset that from God, to God, and through (by) God belongs all things. Cf. Romans 11:36 What if the Lord gave you only the things that you were grateful for in the past two days. Are you characterized as a grateful person?

Humble Test
Here are a few questions that will serve you regarding your level of transparency and honesty in your marriage:
At what level do you communicate with your spouse? Are you striving to be more transparent with each other?
Do you have an "all access" pass into each other's lives? What secret things do you keep from each other, and if you do this, why do you do this?
At what level do you guard each other against inappropriate relationships? Do you talk about what inappropriate relationships are, and how to protect against them? Why or why not?
Does your spouse know with whom each person you regularly communicate?
Does your spouse have access to your cell phone, text messages, email, and social media accounts? If you are hiding things from each other, there is something wrong with your marriage.
Do you present an image to others or social media that is different from who you are in your private life? If so, why do you do this? Though there is a dichotomy between who we should be in Christ and who we indeed are, the critical idea is which way are you heading. Are you pressing toward Christ or moving away from Him?
Are you able to discern how your "representative" is different from your private self? If you're unwilling to talk about this, you either aren't able to know the difference, or you refuse to talk about the incompatibility.
Need More Help?
If you want to learn more from us, you may go to our Topical Index to find all of our articles. They are free. Please spend time studying the ones that interest you.
If you want to talk to us, we have free forums for anyone and private forums for those who support this ministry financially. If you would like us to help us keep our resources free, please consider supporting us here.
Our most vital need is for financial supporters. If you can help us, will you? We are doing more, and people are asking for more. To keep up, we must hire more while developing the resources to meet the demand.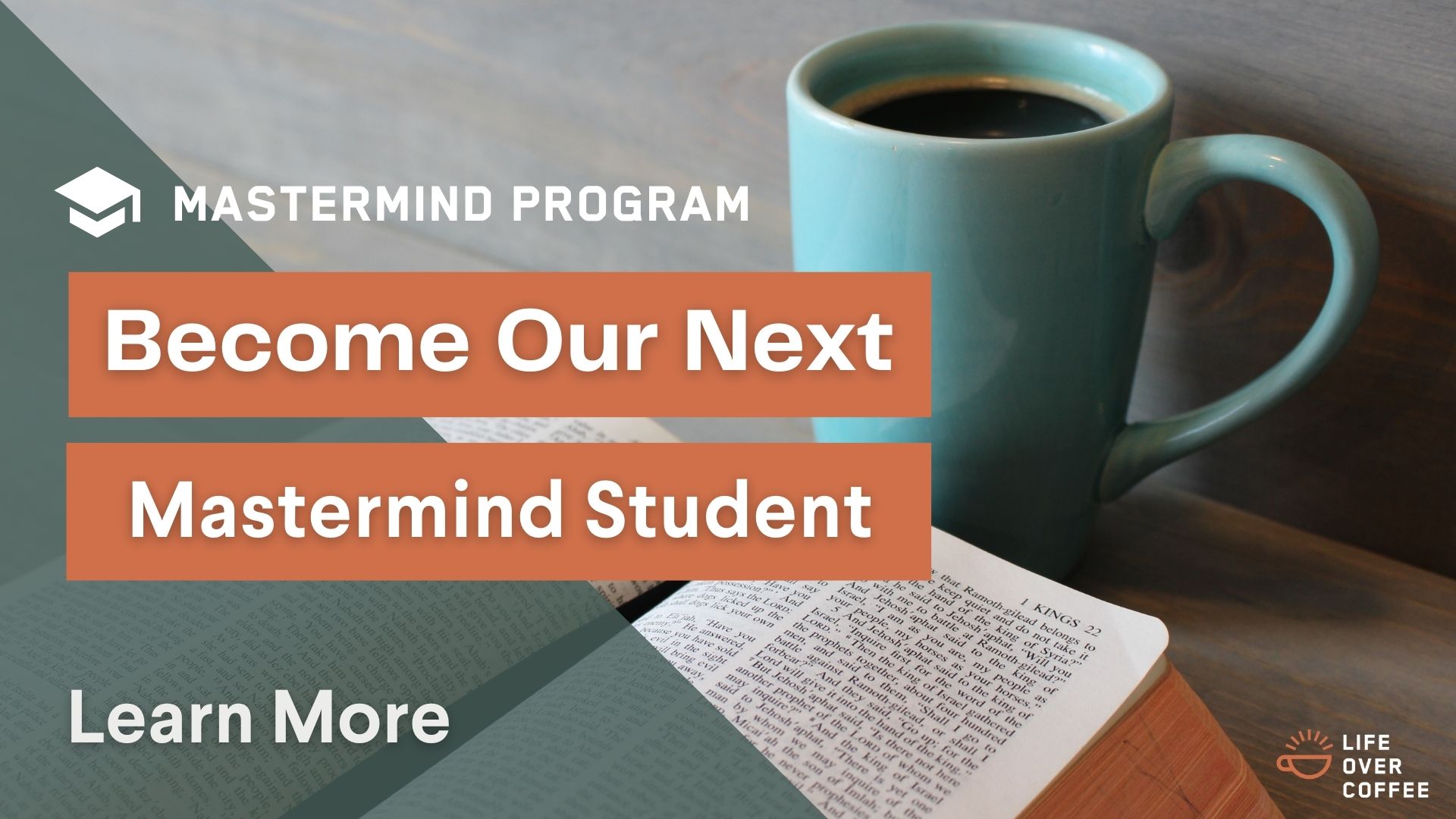 Filed Under:

Rick launched the Life Over Coffee global training network in 2008 to bring hope and help for you and others by creating resources that spark conversations for transformation. His primary responsibilities are resource creation and leadership development, which he does through speaking, writing, podcasting, and educating.
In 1990 he earned a BA in Theology and, in 1991, a BS in Education. In 1993, he received his ordination into Christian ministry, and in 2000 he graduated with an MA in Counseling from The Master's University. In 2006 he was recognized as a Fellow of the Association of Certified Biblical Counselors (ACBC).