Ep. 198 The Positive Side of Sharing Your Story with Others
Shows Main Idea – Mailbag: In your podcast, you talked about not mapping your experience over someone to where you're no longer helping them because you made it all about you. How do you walk that fine line between mapping your experience over others, and giving more personalized, precise soul care rooted in your similar experiences? I mean, we do have a story that God is writing. How can we use it for His fame and the benefit of others?
Show Notes
You may want to read:
"In this you rejoice, though now for a little while, if necessary, you have been grieved by various trials, so that the tested genuineness of your faith—more precious than gold that perishes though it is tested by fire—may be found to result in praise and glory and honor at the revelation of Jesus Christ" (1 Peter 1:6-7).
We see in this text from Peter that there is an intended future good outcome for our trials. Joseph echoed a similar idea in Genesis 50:20, as he talked about "using bad things for good purposes." The Bible is full of these illustrations, where people share with others what God did for them. See John 4:7-30.
And while there are many liabilities to mapping your story over others, there is an upside to having walked in similar shoes as someone else. I won't address the liabilities in this podcast since I have done so here.
One Warning – You don't need anyone's experience to help them. Some people believe they can't speak into a person's life if they have not had their experience. Others will tell you that you can't talk to them because you have not walked a mile in their shoes.
If you hold to these ideas, you would negate the power of God's Word while marginalizing Jesus, who never smoked weed, got married, had children, or got fired for insubordination, to name a few things that make Him unlike us. There are three common mistakes that people believe about this idea:
"You can't help me because you have not had my experience."
"I can't help you because I have not had your experience."
"I know what you feel because I had your experience," and then the person maps their life over the other person and makes it all about them.
In this podcast, I'm addressing how to use your similar experiences for the benefit of another person in a positive way. I will give you five things to consider.

Five Things to Know
You Must Be Over It – Let them sense your victory.
If you're not mostly over the horrific thing that happened to you, more than likely there will be triggers from their story that will send you into the ditch of emotionalism. Too often, a person will hear about what happened to someone and launch into a rant about how a similar thing happened to them.
This kind of person is still struggling with what God permitted into their life. They are not in a position to be a counselor because they continue to struggle as a counselee. Though it's not possible to be objective entirely, you can be objective enough so your "thought-infused emotions" don't cause you to veer off from discipleship to ranting.
You'll know if you're making this mistake by how you talk about what happened to you. There will be "emotionally-charged language," as well as accusations about what "those people did" to you. At that point, you're not helping the person in front of you but talking about yourself and your hurt.
You Must Have an Attitude of Forgiveness – Let them hear your attitude.
Let's take my first point deeper. Often, those who hurt us do not come back and ask for forgiveness. Thus, the offender leaves you with the lingering effects of what they did to you.
If you cannot transact forgiveness with them, for whatever reason, you must develop an attitude of forgiveness toward them, so you're no longer incarcerated by what they did to you. All sin will not go away because everybody will not deal with their sin correctly. But this sad truth does not mean you have to "hang on" to the hurts from others.
There is grace to "extend an attitude of forgiveness" to those who offend you. I've written about that here, here, and here. You will know if you have that attitude of forgiveness by how you think and talk about your offenders. And if you cannot talk about what happened to you with a spirit of pity that recognizes how you're no different from them, it would be wise to get right before you try to help others through their struggles.
If you don't "get right," your hurt will bleed onto the person you're trying to help. You can't hide your pains if you don't apply the gospel practically to them.
"See to it that no one fails to obtain the grace of God; that no "root of bitterness" springs up and causes trouble, and by it many become defiled" (Hebrews 12:15).
You Must Offer Hope, Not Your Hurt – Let them perceive your hope.
There is a difference between being sin-centered versus God-centered. Joseph was "God-centered" when he talked to his brothers about how much they hurt him. You hear it in his language. The man was indeed (mostly) over what his family perpetrated on him.
As Jesus said, "From the abundance of the mouth, the heart speaks" (Luke 6:45), and you cannot hide your hurt any more than you can hide a stain under the white paint. All three of my points, thus far, talk about how your words will reveal the condition of your heart, and if you're still hurting, it's vital that you get help before you launch into discipling others.
I'm not saying that you can't help others, but you want to be selective in who you help because there will be some folks who mirror your pain and if you're not "over it" (mostly), those stories will trigger and dredge up what God wants to help you overcome.
You Must Choose What to Use – Let them enjoy selective fruit.
Every story will not mirror yours, but the fruit of your victory will be what each person needs. What I'm saying is that even though you won't use your story every time, you can use the bountiful, grace-filled harvest of the things you learned from your hurts and disappointments.
Here are a few things that you have learned from your hurt that you can share with another person, even though they may never know how you learned those things:
How to live in hope
How to practically apply God's Word
How to repent
How to forgive others
How to have joy
How to exercise self-control
How to overlook an offense
How to stand in awe of God
There are many other things that God teaches us through our pain, and I'm sure you can add many more. It's these things that you're sharing ultimately, not your story, even though you can't learn these things without going through heartbreak. Oh, sure, you can learn stuff academically, but not practically. But your goal is to be more than informational; you want to be transformational.

You Must Be Pneumatic – Let the Spirit illuminate you uniquely.
There is no template for how to do this because God wants a relationship with you, rather than you learning "six tips to disciple others" and then robotically dispensing them to every person you meet. As you walk in the Spirit, He will give you the insight to share bits and pieces of your story, even if you paraphrase or extrapolate those things to others.
You will always be sharing your story, though you may never be saying, "This is what happened to me when I was in your shoes." What you will be doing, instead, is sharing the hope and help that the Lord gave you, though you're not talking autobiographically; you're speaking from a broken life that the Lord is using for His fame.
And this is the way we all should be. Whether you have walked in a person's shoes or not, it's vital that you're sharing "those things you have learned about God" with anyone who will listen to you.
Call to Action
Are you (mostly) "over" what God has permitted into your life?
Are you living in an attitude of forgiveness for what He has allowed?
Are you more sin-centered or God-centered when you share your life?
Do you know how to share the right bits and pieces of your experience?
What does it mean to walk in the Spirit? (Think of a time when the Lord gave you the words to say to someone and how it helped them.)
Need More Help?
If you want to learn more from us, you may search this site for thousands of resources—articles, podcasts, videos, graphics, and more. Please spend time studying the ones that interest you. They are free.
If you want to talk to us, we have private forums for those who support this ministry financially. Please consider supporting us here if you would like to help us keep our resources free.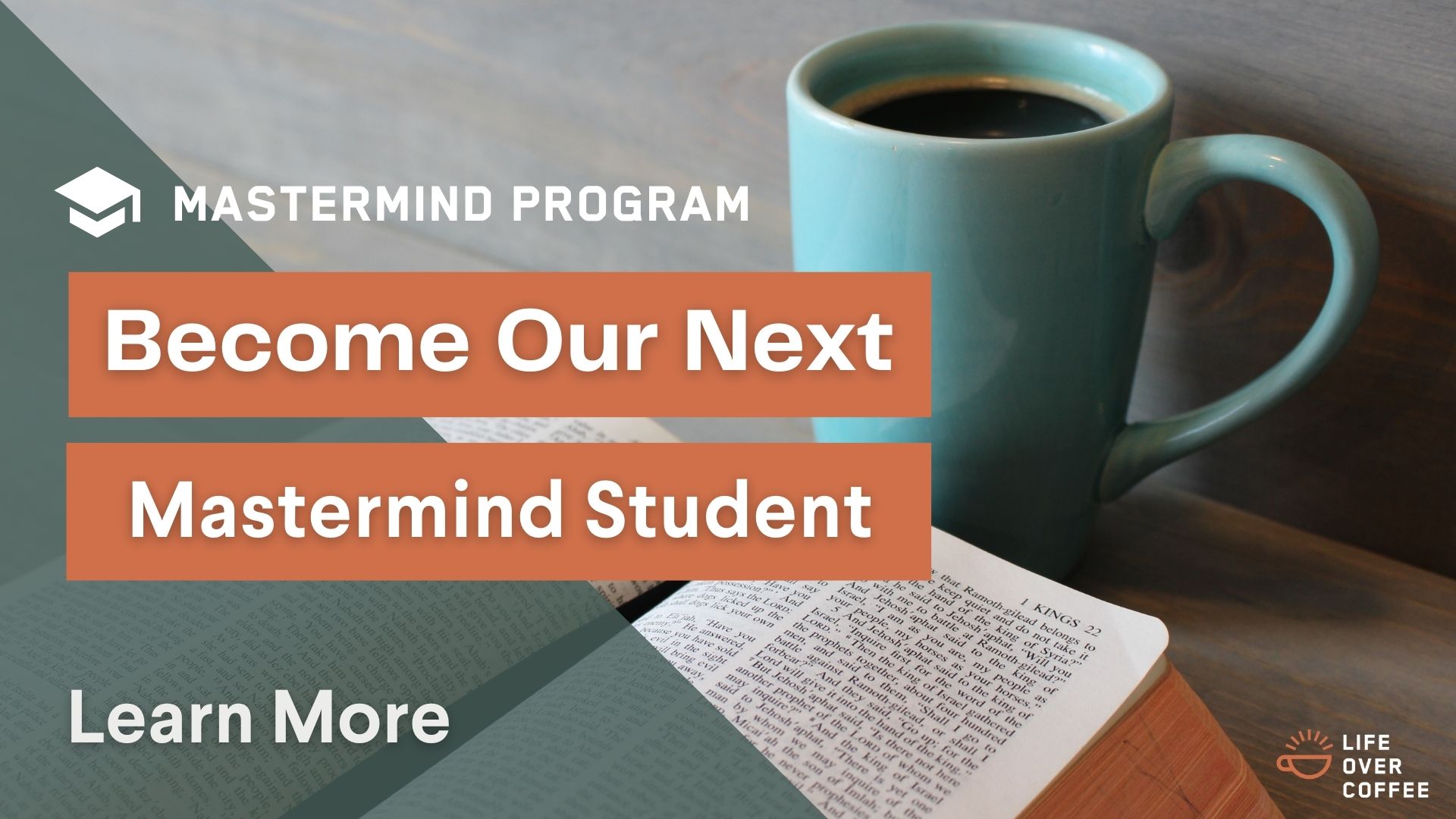 Filed Under:
Tagged:

Rick launched the Life Over Coffee global training network in 2008 to bring hope and help for you and others by creating resources that spark conversations for transformation. His primary responsibilities are resource creation and leadership development, which he does through speaking, writing, podcasting, and educating.
In 1990 he earned a BA in Theology and, in 1991, a BS in Education. In 1993, he received his ordination into Christian ministry, and in 2000 he graduated with an MA in Counseling from The Master's University. In 2006 he was recognized as a Fellow of the Association of Certified Biblical Counselors (ACBC).