Three Mind Maps to Move You from Despair to Joy
In my last article, I discussed how a proper understanding of our flesh-Spirit conflict and our new identity in Christ is necessary to maintain a joyful perseverance in life. In this article, I will address how these truths ministered to Mary–the fictional single mom briefly mentioned at the beginning of my last piece.
You may want to read:
Christ regenerated Mary five years ago. She has faithfully followed Him through some difficult circumstances. She has been an encouragement to many members of her local church.
Despite her new walk with the LORD, her past makes life difficult for her and others. Someone raped her when she was a teenager, which led to a lifestyle of destructive decisions. Promiscuity and drug abuse were common patterns in her life.
After she found out she was pregnant, the father of the child decided to remove himself from the situation. Mary had no choice but to raise the child as a single mom while working as a waitress.
Though she attended a Gospel-centered church, and despite their sound preaching, the church body struggled to make her feel part of their family. They struggled accepting folks with checkered pasts.
She knew God's promises and had experienced His grace, but she found herself slipping into old patterns of despair and depression. Without a strong support system, life's problems became overwhelming. Though she felt the Spirit's conviction about her thought patterns, she still struggled with self-hatred.

Understanding the Nature of Suffering
To provide proper soul care for Mary, we must first understand the complexities of her situation. Several layers burden her soul.
First, there is the indwelling suffering all of us face because of our separation from God (Psalm 42:1-2). Souls were not created to exist apart from constant communion with our Creator. The story of the fall (Genesis 3:7-10) teaches how this separation instantly leads to shame, guilt, and fear.
Next, she suffers from the effects of past sins. (1) Due to the evil of others, her soul labors under heavy doses of shame. (2) There are frequent reminders of past sinful choices, which resurface more guilt.
To address these layers, she needs an active Gospel community to come alongside to support and encourage her in her new life with Christ.
There are also biological influences that play a role in her struggle. Therefore, I requested she examines her diet, sleep habits, exercise regimen, plus a full medical exam.
While addressing these areas are profitable, her soul care will not be complete unless her thinking is reoriented to sound Gospel interpretations and applications.
I needed to explore additional things like her tendencies toward self-righteousness and self-sufficiency. These attitudes are harder to identify and lead to more unresolved guilt from a condemning conscience, which will wreak more havoc on her soul.
The Good News about Conflict
Like many Christians, Mary has a tendency to interpret her ever-present conflict between her flesh and Spirit as a sign of failure. This temptation led her to redouble her efforts to live righteously, which was further exacerbated by a few well-meaning, but legalistic friends.
If she fails to live up to her expectations, she tumbles down the "Christian hill" while believing she is still the broken, rebellious woman from her past.
The ongoing presence of sin–in thought and deed–became a stumbling block regarding her faith. Her focus began to shift from Christ to her attitudes and performance.
However, as she learns more about the nature of this conflict, she will start to understand how the presence of the Holy Spirit in a fleshly body creates lifelong clashes in the soul. This new thought should bolster her assurance of faith while providing encouragement.
Stinking Thinking
The root of her suffering is a broken soul. In her old life, she sought fleshly solutions to solve her problems, as shown in the mind-map below.
Her intense discomfort from a confused soul dictated wrong responses. Truthfully, Mary was no different from the rest of us: without spiritual enlightenment, she had no choice but to follow the wisdom of the world (1 Corinthians 1:18).
These self-reliant solutions took many forms, the most common of which were forms of self-righteousness that comforted the flesh–like the older and younger brothers in the prodigal son parable (Luke 15:11-32).
These so-called solutions brought a kind of relief, but in the end, the resulting sin choices caused more harm to her soul.
The second mind-map shows a different path that is accessible to her because she is a Christian. The gift of the Holy Spirit and her new identity in Christ provides a counter-intuitive Gospel orientation to life where sin is confessed quickly, which brings rest to her soul.
So why wasn't this the case for Mary?
Mary's problem was that she had a blend of the two paths, as shown in the third mind-map below. Her spirit was alive, but her sin-focused mental orientation kept her identity in-Adam, not in Christ. This fixated mindset positioned her to pursue self-reliant solutions to solve her soul problems.
Though her biblically calibrated conscience steered her away from fleshy lusts, she found herself still pursuing self-righteous (religious) activities. For example, she felt good about herself when she shared Christ with others or volunteered in the soup kitchen.
I am not suggesting her service was purely selfish in nature. We all are works-in-progress, which will leave our motives mixed at best. The concern for Mary was that she depended on moral behaviors to rescue her soul.
When things were going well, her soul was at rest and the Christian life was satisfying. However, when a storm entered her world, her self-righteous ways for combatting problems were called forth, but they did not work.
Mary's soul needed the living water of Christ, but her thinking and identity could only create an unsatisfying thirst. This problem obscured the path to real soul care.
As a result, the only way out of her despair was through external acts of righteousness. She had not been able to reach a level of maturity in her faith that ministered to her soul through spiritual means (Colossians 1:27-29).
Given this state, the temptation of the flesh posed a constant risk. Fortunately, she had not returned to her old ways, though she did find herself turning inward–as noted by the self-hatred.
Though God was distant, she knew her past behaviors would prove painful in the end, which paralyzed her from doing evil and hindered her from finding rest in the Gospel. Life turned mechanical, as she went through religious motions.
Unfortunately, Mary believes she is the same person from her past, which has left a stronghold in her mind–an inner dialogue fixated on her sin and old self (2 Corinthians 10:3-6). You could say her thinking was inward and backward.

A Daughter of the King
To renew her mind (Ephesians 4:23), she must first reorient her thinking as it pertains to her identity. Through faith, Mary needs to trust God's work in her life and authentically believe she is a new creation (2 Corinthians 5:17).
Regeneration purified her soul. It is ready for heaven–no assembly required. Her new nature cannot perish because it is the work of God. Her new nature is imperishable, incorruptible, holy, pure, and incapable of sinning.
She is a product of two births. The first is fading away and the second will last forever. The way for her to embrace this new identity is not through her flesh (works) but by faith (Galatians 3:3).
As she shifts her identity, she must begin to process her daily experiences through this new identity, while learning to disassociate herself from her flesh.
This process will position her to respond better when life struggles come, and when she fails to live up to her expectations. She will begin to see how these fleshy desires and poor attitudes are external to her true self–the person she is in Christ.
This separation will allow her to come to terms with her sinful past without heaping shame and guilt onto her soul. Yes, apart from God's redeeming grace she is a rotten sinner (Romans 3:12), but she has been born a second time (John 3:7) and is now forever changed.
As she learns to hate her flesh and declare war on it, she will find new ways to starve it to death. Even after she stumbles, she will experience freedom from condemnation (Romans 8:1).
Overcoming Unbelief
Her biggest threat to living out her new identity will be her battles with ongoing unbelief. Disconnecting from her flesh will require her to loosen her grip on this world and its promises.
For example, she longs for a godly man to protect and love her and her daughter. She wants a normal life–a very common desire. Laying these desires down while placing her trust in God's sovereign providence is a scary proposition for her.
Mary must remember the true nature of our fallen world. We all live on the brink of eternity; either in hell or heaven. Our modern world and fleshly desires do a good job distracting us from these eternal realities.
As she grows in her new identity, she will learn more about the workings of the flesh and the Spirit. She will learn how to use spiritual means to minister to her soul (Matthew 4:4) while improving her ability to throw off the entanglements of the flesh (Hebrews 12:1).
Call to Action
Scripture – There are two sections in Scripture worth studying, which will help Mary learn more about her new identity in Christ. The first one is Romans 5-8, and the second is the book of Ephesians.
Romans will help her to build a sound theology on the nature of man, salvation, the conflict between Spirit-flesh, and our new identity in Christ. Ephesians will instruct her on Christian living, based on Paul's explanation of our new identity.
Gospel Orientation – To help her develop new thinking patterns, I would recommend a steady diet of Rick's articles from this website. All of them are free, and they cover a variety of topics, which will flush out wrong patterns of thinking while teaching Gospel applications to life's situations. In time, Mary will learn how to counsel herself while becoming an active minister of the gospel to others.
Need More Help?
If you want to learn more from us, you may search this site for thousands of resources—articles, podcasts, videos, graphics, and more. Please spend time studying the ones that interest you. They are free.
If you want to talk to us, we have private forums for those who support this ministry financially. Please consider supporting us here if you would like to help us keep our resources free.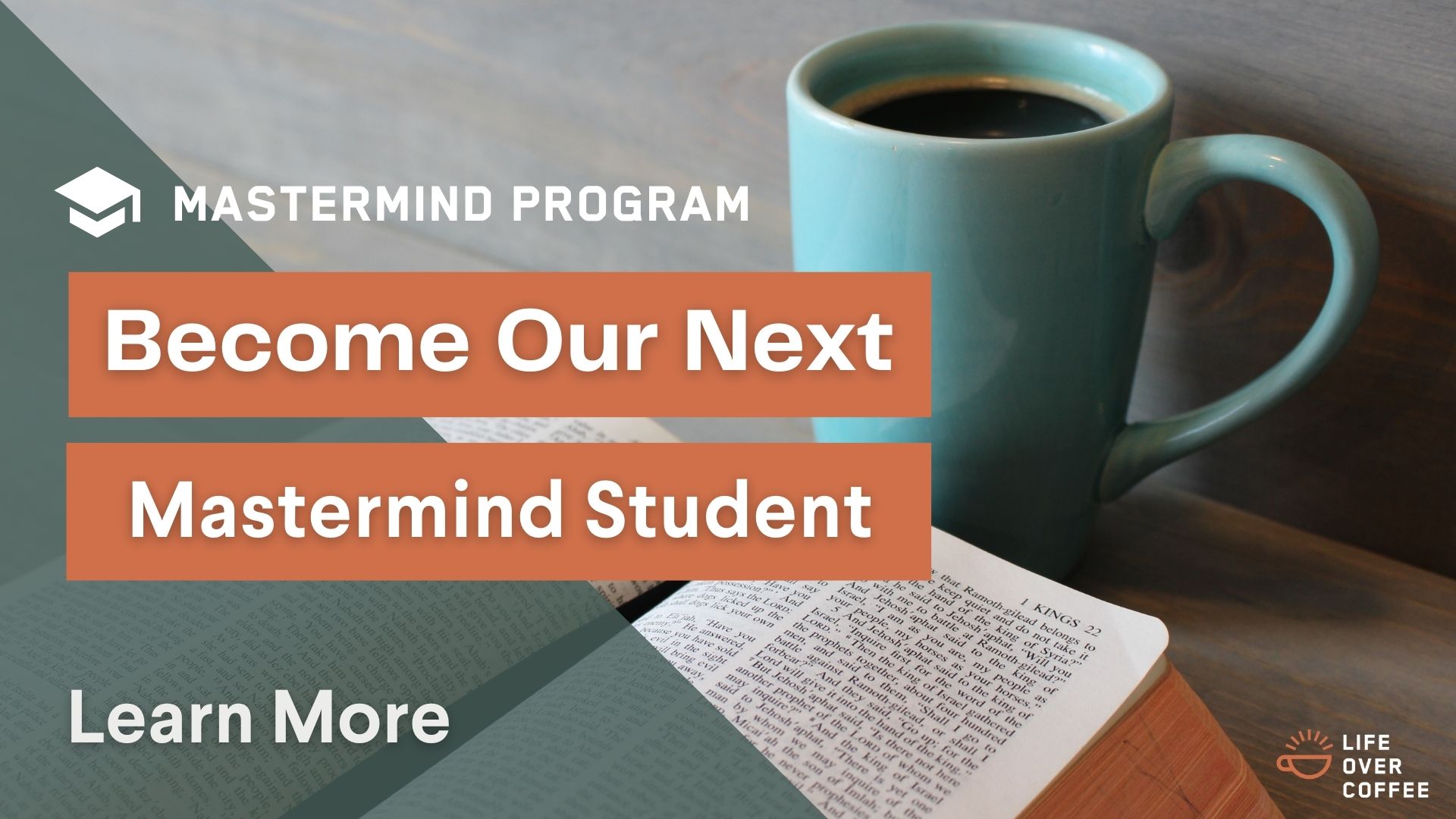 Filed Under: