Three Steps to Becoming the Excellent Husband
Becoming an excellent husband does not just happen. It takes work. And if you put in the effort to be a fantastic husband, there is a great reward. Here are three steps that can change your marriage.
You may want to read:
Okay, here it comes. I know you are expecting it, so let me go ahead and give it to you. Whenever a Christian talks about how to be a good husband, one of the first passages mentioned is Ephesians 5:25. So, to not disappoint you let us look at the whole sentence.
Husbands, love your wives, as Christ loved the church and gave himself up for her, that he might sanctify her, having cleansed her by the washing of water with the word, so that he might present the church to himself in splendor, without spot or wrinkle or any such thing, that she might be holy and without blemish. – Ephesians 5:25-27
We all know the verses, right? This passage is what we husbands are supposed to do. How about it? Do you know how to apply this section to your marriage practically? Is the power that is behind these verses transforming you and your wife?
Sometimes a passage like this can be so familiar that we do not take the time to see what it means. Instead, we can falsely assume it is working for us when it is not. I suspect this is probably true for many of us husbands.
The best way to understand this three verse sentence is to break it down into its meaningful parts and see how the significant parts connect and interrelate. This passage has three useful parts for being an excellent husband.
Die for your wife (verse 25).
Sanctify your wife (verse 26).
Enjoy the benefits of your wife (verse 27).

The temptation for me is to want to enjoy the benefits of the marriage without doing the necessary work of dying and sanctifying to make it great. Though I know this is unwise, I can quickly fall into this trap. It is like desiring a new house without doing the work that leads to the enjoyment of a new home.
This concept is common sense to any good thing that is worth future enjoyment, but for many reasons, we are susceptible to the quick fix, instant gratification expectations of our culture. Here are two reasons for this.
Ignorance – I do not know how to disciple my wife.
Laziness – I do not want to disciple my wife.
This piece will try to tackle the ignorance aspect rather than the laziness aspect. If a husband is lazy about his marriage, there are deeper issues that need to be brought to the light before intelligent implementation can happen.
If you are one of those husbands who want to learn how to implement this passage into your marriage practically, I encourage you to keep on reading.
Will I Die?
As you can readily see, this is one of those gospel-centered passages that perfectly falls under the Philippians 2:5-11 rubric. Before Jesus did any practical, functional, or transforming work in our lives, He had to make an epochal decision.
There was a need on our planet. Humanity rebelled against God and, thus, became "totally depraved" without any hope of a course correction. Jesus, the only right answer to our problem, decided He was going to give up what He had with His Father to save us.
He set aside His life for our benefit. This action is your first decision. As a husband, do you want to set aside your life to cooperate with the Lord in the ongoing sanctification of your wife?
This question does not imply a wife cannot cooperate with the Lord in her sanctification. There is grace for her to mature in sanctification without a husband. Her ability is not the issue; she has the ability.
This point is about a husband's responsibility. When a man and woman marry each other, there is a responsibility on the husband to be part of the ongoing care of his wife. In this sense, they are one flesh, and the husband is the leader of their one flesh-ness.
He is required to participate in her sanctification, which is one way a husband is an extension and continuation of the gospel work that Jesus initiated two millennia ago.
Whenever we commit to anything, there is a responsibility to step up in our efforts to serve and steward that responsibility. Too often we acquire something and neglect the obligation that comes with the acquisition.
There is always a sacrifice involved in ongoing care. When a man asks a woman to marry him, that question comes with a promise of protective care, unending love, and lifelong serving–the very things Jesus provides for us.
When you think about your responsibility toward your wife's ongoing sanctification what comes to mind?
What things interfere with your ability to provide care, love, and service to your wife?
What do you need to give up to be a more effective husband?
Are there any hurts, regrets, grievances, or resentments that keep you from being Jesus to your wife?
Will I Sanctify?
Your wife is like you; she is damaged goods. She was damaged by many things, all of which have rendered her imperfect. She came from the dinged and dented section of the store. Truthfully, the whole store is full of dinged and dented people.
There are no perfect people from which to choose. Your wife has issues, and you married her. Too many of us husbands are like irresponsible teenagers in that we want the sex, but we do not want the work that comes with the sex.
There should be an unbroken connection between the commitment to marriage and the work of marriage. To be married is a call to work and nobody should be working harder in the marriage than the husband because he is the leader.
When the subordinates of the organization are working harder than the leader of the group, the ongoing health of the team will grow weaker by the day.
A disciple is not above his teacher, but everyone when he is fully trained will be like his teacher. – Luke 6:40
We are not more significant than the one who died to save us, but we can be like Him. Jesus is our sacrificial leader, who will always put more effort into our relationship. If the husband is not putting more effort into the ongoing stability of the marriage, the marriage will not reflect Christ well.
Jesus is sanctifying, cleansing, and washing us with His Word. He studies us (1 Peter 3:7), so He can understand us (John 2:24-25) to bring His most effective care to us. This sacrifice has a great reward (Ephesians 5:27).
Are you a student of your wife? What are you learning?
Is there something, including your children or job, that interferes with your work as a husband?
How are you making your marriage better? Be specific and practical.
Do you know how to disciple your wife? List a few ways in which you are doing this. Be specific and practical.
I Will Enjoy?
It is not wrong to work for the benefits of your work. It is wrong to expect the benefits of work without putting in the effort. This problem is where I struggle with the saying, "love is an act without an expectation of anything in return."
That is not what the Bible teaches, especially in our marriages. You should expect something from the work of your labors.
Jesus will receive the work of His hands. Like the law of sowing and reaping, the return on our investment nearly always parallels the investment. I have seen the negative aspect of "sowing and reaping" over and over again in counseling.
A husband complains about his marriage, but after you unpack the relationship, you begin to see how he has neglected his husbandry responsibilities. In such cases, he has been leading the marriage while on auto-pilot, and he is reaping the fruit of his labors.
We should not complain about the poor condition of our marriages if we have not lived a "die to yourself while living for the other person" mindset during the marriage. Before you complain about your marriage, make sure you have been doing your part to make it better.
If you have not been doing your part and the marriage is floundering, the first thing to do is not complain, but change. It is easy to get this sequence wrong by bringing our first and most substantial critiques against our marriage partner rather than ourselves.
If your marriage is poor, start by critiquing and changing yourself (Matthew 7:3-5). At any point during your marriage, you can realign yourself to the other-centered direction of the gospel. If your marriage is struggling, go back to verse twenty-five and learn how to die to yourself.
If you lead your wife by dying and sanctifying, there is a good possibility you will reap the benefits of a beautiful marriage. At some future time, Jesus will present to Himself a fantastic church–a beautiful bride. Dear husband, let's get to work.

Call to Action
Practically and effectively living out Ephesians 5:25-27 may be one of the hardest things for a man to do. It is typically harder than working our jobs. To be married well means you must die well.
Working a job does not seem to carry the same kind of burden. Perhaps that is because we intuitively know how to work well. When it comes to being married, the prize seems more challenging and elusive. A wife is not as cooperative as a job.
She is an independent person with a unique sin nature that can be polarizing to our sin nature. When this is true, we are tempted to use manipulative means (like anger) to get her in line because we do not know what else to do. Living in uninterrupted proximity to another sinner is a risky business that we cannot control.
If you genuinely want to have a beautiful marriage, you will have to carefully examine what is going on in your heart when you think about and interact with your wife. You may need a friend to come alongside you to help peer into your blind spots.
Here are a few questions for you and your friend to consider as you examine how you think about and relate to your wife.
What is it that you do not like about your wife? Be honest. How do these things affect your thoughts of her? How do those beliefs manifest in how you treat her?
There are many things for Jesus not to like about you, but He does love you even though you are a sinner. How can you practically love your wife in spite of the things that annoy you about her?
One of the things Jesus did for you was to set aside His life while working to create a better experience for you. What do you want from your wife, that you cannot have right now? What would it look like to set that aside, while working to create a better life for her?
When something is going wrong with both of you, what does your communication of the problem sound like to her? Does the accent mark of blame point more to her or you? If you understand the gospel correctly, "what is wrong with you" is the first thing to address.
You feel protected and loved by Jesus. How are you practically creating these realities in your wife? Does she feel protected and loved under your leadership?
An excellent homework assignment would be for you and a friend to spend an hour or two discussing each one of these question sets. This time could take a couple of weeks. Another possibility could be for you to journal a few pages about each set of questions listed.
As you work through these things, it would be wise and humble to take all of your thoughts to the Lord, asking Him to give you the wisdom to see what you cannot see now and the power to change what needs changing.
Need More Help?
If you want to learn more from us, you may search this site for thousands of resources—articles, podcasts, videos, graphics, and more. Please spend time studying the ones that interest you. They are free.
If you want to talk to us, we have private forums for those who support this ministry financially. Please consider supporting us here if you would like to help us keep our resources free.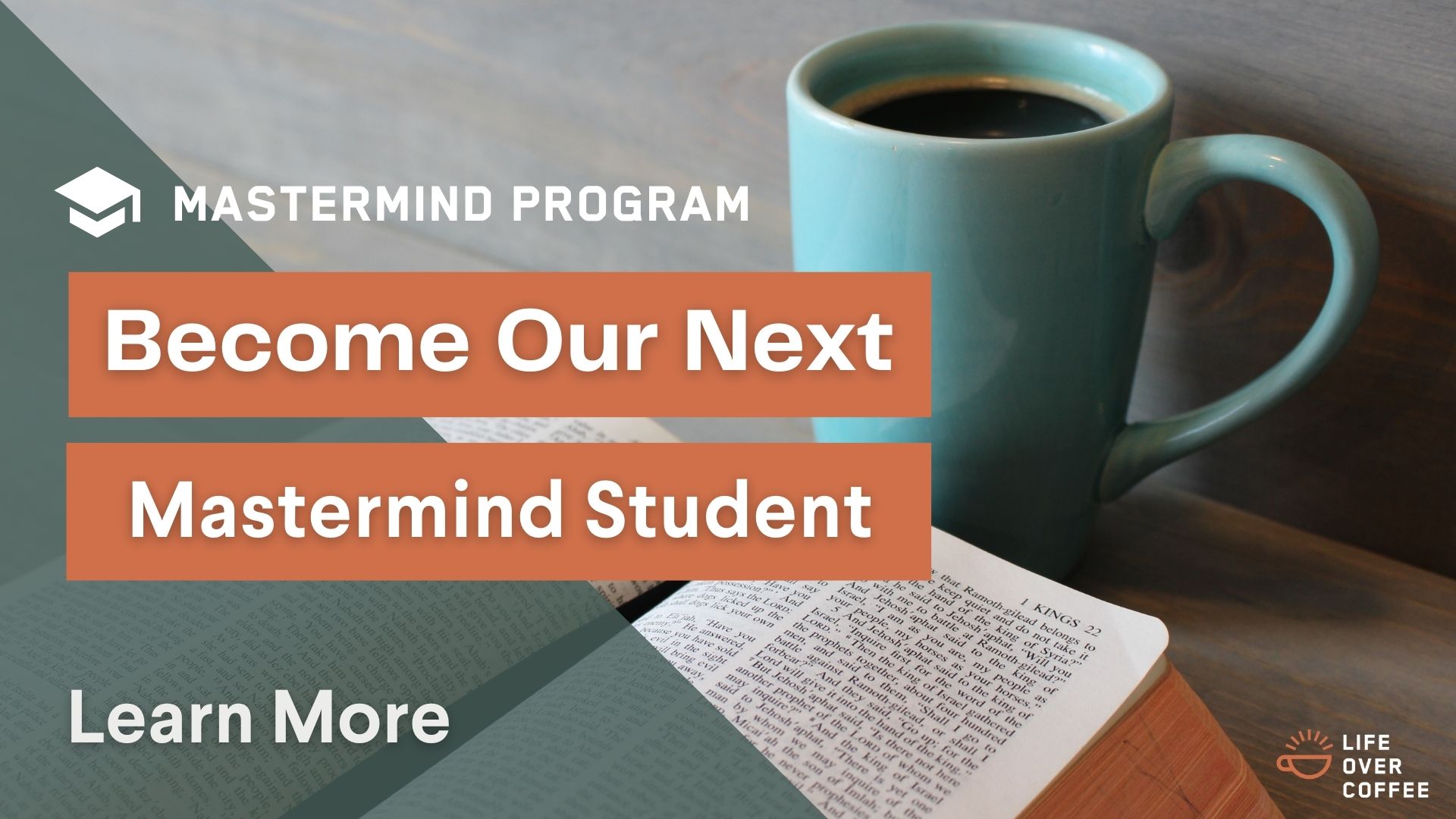 Filed Under:

Rick launched the Life Over Coffee global training network in 2008 to bring hope and help for you and others by creating resources that spark conversations for transformation. His primary responsibilities are resource creation and leadership development, which he does through speaking, writing, podcasting, and educating.
In 1990 he earned a BA in Theology and, in 1991, a BS in Education. In 1993, he received his ordination into Christian ministry, and in 2000 he graduated with an MA in Counseling from The Master's University. In 2006 he was recognized as a Fellow of the Association of Certified Biblical Counselors (ACBC).