Mind Mapping How to Think about a Porn Addiction – 1.0
The fight against a porn addiction begins in your mind. How you think about what is happening precedes the practical steps you implement to fight this problem.
In This Series:
The Internet age and the overemphasis of sex in our culture has taken the use of pornography is to alarming proportions. According to the Covenant Eyes website 79% of men between the ages of 18-30 view pornography at least once a month. For women, the number only drops to 76%. Overcoming pornography addiction is no longer just a guy problem.
Scene #1 – Ben discovered his dad's Playboy magazines when he was five years old. He didn't fully understand the attraction but he was hooked nonetheless. Growing up, pornography was always a safe haven for Ben; it made him feel normal as he navigated through the awkwardness of the teenage years.
Ben is now a 35-year old Christian husband with two children. His struggles with porn wax and wane, as he continues to steep in frustration because of the grip it has on his soul.
Scene #2 – Beth grew up with a distant father who struggled with alcohol use. Her parents were divorced, and she longed for her dad's affection. During every other weekend stays with her dad, she became curious about the magazines that captured his attention, and started to compare herself to the women of porn. Although what she was doing carried tremendous shame, she found herself returning to it often.
She is now a 28-year old single Christian. Viewing porn is still a temptation as she battles the loneliness and disappointment of singleness. Like Ben, she is frustrated at the grip it has on her soul.
My goal for this three-part series is to provide you with a roadmap that will offer hope, while equipping you to fight a good fight against the temptations of porn. Each article provides a different look at the problem.
Part One: The Big Picture
Part Two: The Process of Change
Part Three: Daily Practical Steps for Sustained Victory
My intent is not to provide you with a comprehensive discussion about pornography, but to provide starting points for more in-depth, gospel-based discussions and study. Throughout this series, I have added links to various articles, books, and podcasts that I think are beneficial to the conversation.
If you struggle with porn or counsel those who do, I hope this content will guide you to the gospel solution that addresses and fixes this problem.

The Problem with Porn
To find the correct solution, we must first find the right starting point. Since it is sometimes difficult to objectively interpret and understand all the issues related to porn, we need to bring clarity to the situation by reviewing some basics. Here is your first point:
Porn is about sex, but sex is not the problem. In fact, God created sex as the pinnacle of image bearing.
Sex between a man and a woman points to the love between the Father and the Son (1 Corinthians 11:3). It is a reflection of the joyous self-giving and pleasure of love within the very life of the triune God.
Sex is glorious not only because it reflects the joy of the Trinity but also because it points to the eternal delight of soul that we will have in heaven, in our loving relationships with God and one another. – Tim Keller
Unfortunately, our sin-nature has greatly distorted sex in our culture and in our relationships. Apart from Christ, we are left under the dominion of sin, a power that leads us to pervert God's blessings, and to turn them into little gods; idols that end up ruling our hearts (Romans 1:25).
This is the problem with porn: It is a fruit of our fallen nature. The problems are not (1) easy internet access, (2) strong desires for intimacy, or (3) having a less than satisfying sex life. The problem is our ontological nature, and to address that problem with porn, I have a visual aid for you.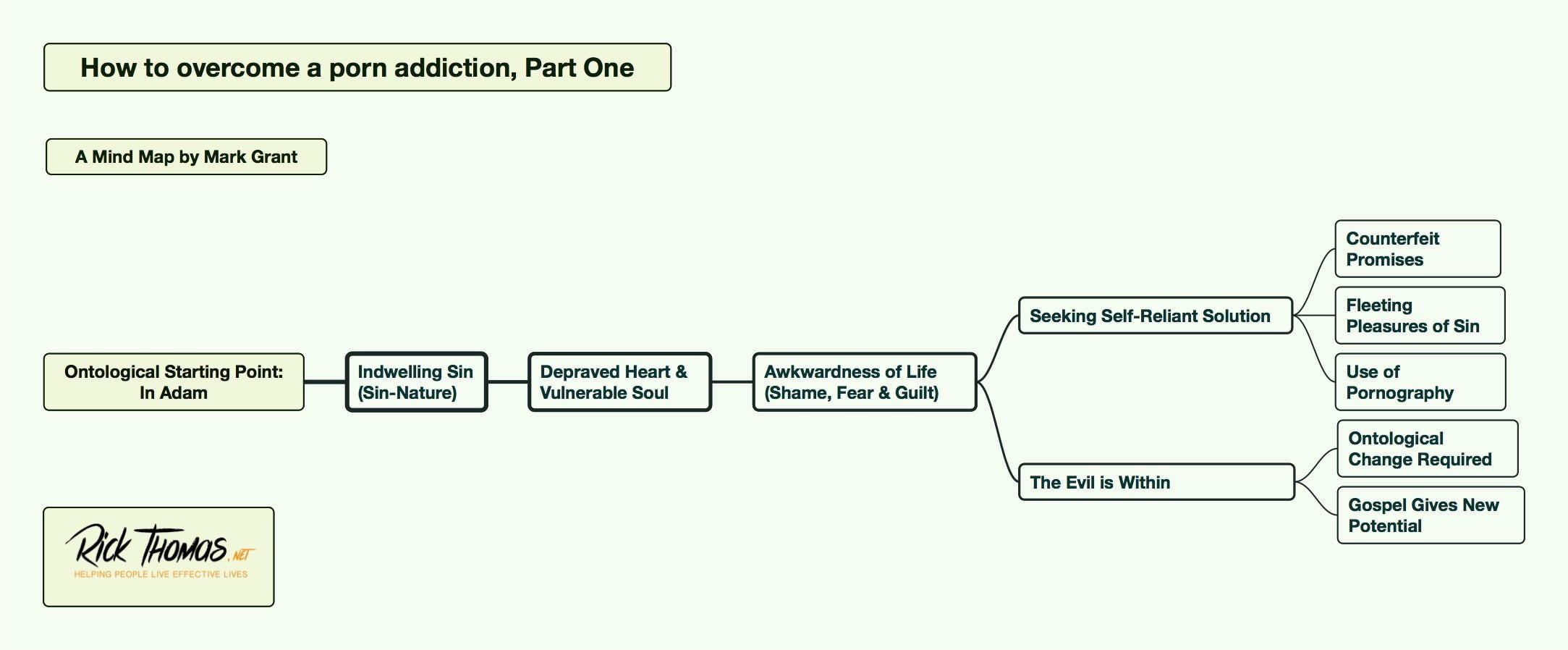 The mind-map helps visualize how our fallen ontological nature leads to the use of pornography. Our Adamic nature leaves us with indwelling sin, which separates us from God. Our depraved hearts and vulnerable souls experience shame, fear, and guilt (Genesis 3:7-10).
This leads to an awkwardness of life that fuels our hearts to seek self-reliant solutions, which motivates us to find ways to invent evil (Romans 1:30). Pornography is one of those inventions that offers the intimacy we all long for, but proves to be a counterfeit.
Pornography is a worship disorder. Both Ben and Beth turned to pornography for comfort instead of seeking and trusting God to help them during the awkwardness of the teen years or the loneliness of life.
Since our fallen identity is the root of the problem, the gospel is the only solution. Any solution to porn addiction that does not address the ontological issue will not result in sustaining change.
Resources
How to respond to porn
With the problem understood, we now can develop a strategy to overcome this sin. Like a good army general, we must (1) identify our strengths, (2) understand the enemy's tactics, and (3) understand the landscape of the battlefield.
Our Strengths
Examining our strengths reveals we can do nothing apart from Christ (John 15:5). Under sin's enslavement, the natural man (1 Corinthians 2:14) will live a life given over to sensuality characterized by false worship. He is darkened, ignorant, and incapable of thinking correctly (Ephesians 4:17-20). His response to life is born out of worldly wisdom and bears the fruits of the flesh (Galatians 5:19-21).
The gospel gives us hope. After salvation, we undergo a radical internal change. It is not just learning new truths, but experiencing an ontological change.
As you study the epistles of Paul, you find that he talks about a new will, a new mind, a new heart, a new power, a new knowledge, a new wisdom, a new perception, a new understanding, a new life, a new inheritance, a new relationship, a new righteousness, a new love, a new desire, a new citizenship, et cetera.  In fact, summing it all up, the Bible says it is newness of life – John MacArthur
Thus, the gospel enables us to overcome sin (2 Peter 1:3-4), but it requires our participation (Philippians 2:12). As a gifted artist or athlete, we must work hard to grow up into our new potential. We must leave the old behind and embrace the new (2 Corinthians 5:17).
Here we see the theory of concurrence at work; God's will for us is to change (primary cause), but we must act in a way (secondary cause) to cooperate with the Holy Spirit to change. Walking in the Spirit is our only strength (Galatians 5:16).

The Enemy's Tactics
With pornography, the enemy uses two tactics: (1) He exploits the weakness of our sinful flesh with promises of the world (James 1:14). This is the classical fear of missing out (FOMO) worldview and then (2) he uses strongholds to enslave the individual.
Strongholds are set in place by instilling false thought patterns usually centered on a foothold.
With Ben and Beth, the foothold was their fear of rejection and desires for a relationship, which was tied to their fleshly response to indwelling shame. Pornography offered intimacy and acceptance.
Thus, whenever life events triggered shame in their lives, these "arguments and arrogant opinions raised up against the knowledge of God revealed in Christ" surfaced and enticed Ben and Beth into their respective fantasy worlds. These strongholds are effective in trapping the believer.
There is the fortress of human reasoning, reinforced with many subtle arguments and the pretense of logic. There is the castle of passion, with flaming battlements defended by lust, pleasure, and greed. And there is the pinnacle of pride, in which the human heart sits enthroned and revels in thoughts of its own excellence and sufficiency. – Unknown
Fortunately, we can counter these attacks and tear down these strongholds by taking every thought captive and comparing them to Christ (2 Corinthians 10:5). In other words, we need to interpret life through the gospel.
Resource
The Landscape of the Battlefield
With our new ontological nature, we must recognize how we are thrust into a battle between our new reborn Spirit and the old sinful flesh (Galatians 5:17). Sometimes regeneration will remove temptations, but many times temptations of sin linger, which stem from habitual fleshly thought patterns (Ephesians 4:23).
This battle is only won through the renewing of our minds; putting off the old ways of believing and putting on a new way of thinking (Ephesians 4:22-24). Thus, in order for us to turn away from sexual sin (1 Thessalonians 4:3-5), we must first win the battle for our minds.
Gospel Game Plan
Now we are in a position to develop our strategy:
The gospel is our only strength.
The enemies tactics are defeated with the gospel.
The fight takes place in our minds, as we renew our minds in gospel truths.
So the main focus of our strategy–for right now–is not about obedience, but gospel character change through the renewing of our minds, and this is done by accurately viewing ourselves and God as shown in the mind map below.

Our New Identity
If we renew our minds, we must break down all structures of fleshly thinking. This starts with our identity. Unfortunately, secular psychology has infiltrated the Christian community with modern labels that lead to wrong thinking.
The world would correctly label Ben and Beth as heterosexuals, but notice how this can lead them to place their core identity in their sexual desires. If so, then their focus becomes horizontal, coloring all interactions with the opposite sex. They are left feeling incomplete without satisfying sexual relationships, which leads to sexual sin.
Instead, we need to view ourselves from a gospel definition. As a Christian, our core identity is found in Genesis 1:27. We are image bearers, and thus our thinking and expectations should orbit around this truth. Yes, God created us as sexual beings, but that is only one facet of our identity.
You cannot win the battle of porn unless you see yourself as an image bearer of God.
We have a dual nature about us; we are fallen image-bearers in Adam, but we are also restored worshipers in Christ (John 4:23). This should bring about a brokenness and humility over our sin (Luke 18:13), but also propel us to live life differently. A desire to change should be a core characteristic of a Christian.
Just as butterflies are meant to fly and fish are meant to swim, a Christian must embrace their new nature and change. The sanctification of a Christian is putting on this new ontological identity.
True Understanding of God
With the indwelling Holy Spirit, Christians now have the ability to know the true character of God, which is best displayed in the gospel (Colossians 1:19-20). At the cross, we see a holy, loving, and self-sacrificing man.
We must attain a deep and accurate understanding of the gospel to mitigate the pockets of unbelief that lead to sin. Below are two outstanding resources I highly recommend to all Christians to gain a more practical working understanding of the gospel.
Resources
Now, with a biblical understanding of the problem of porn, we now understand our need and motivation to change. We are in a position to discuss how to change, which is the topic of the next article.
Call to Action
Over the next six months, I appeal to you to work through these resources. It would be best to read the articles several times, plus the linked articles and books. I also recommend that you do this with a friend or a small group of friends. If you are hooked to pornography, six months is a small sacrifice for a future that is free from the addiction.
Need More Help?
If you want to learn more from us, you may search this site for thousands of resources—articles, podcasts, videos, graphics, and more. Please spend time studying the ones that interest you. They are free.
If you want to talk to us, we have private forums for those who support this ministry financially. Please consider supporting us here if you would like to help us keep our resources free.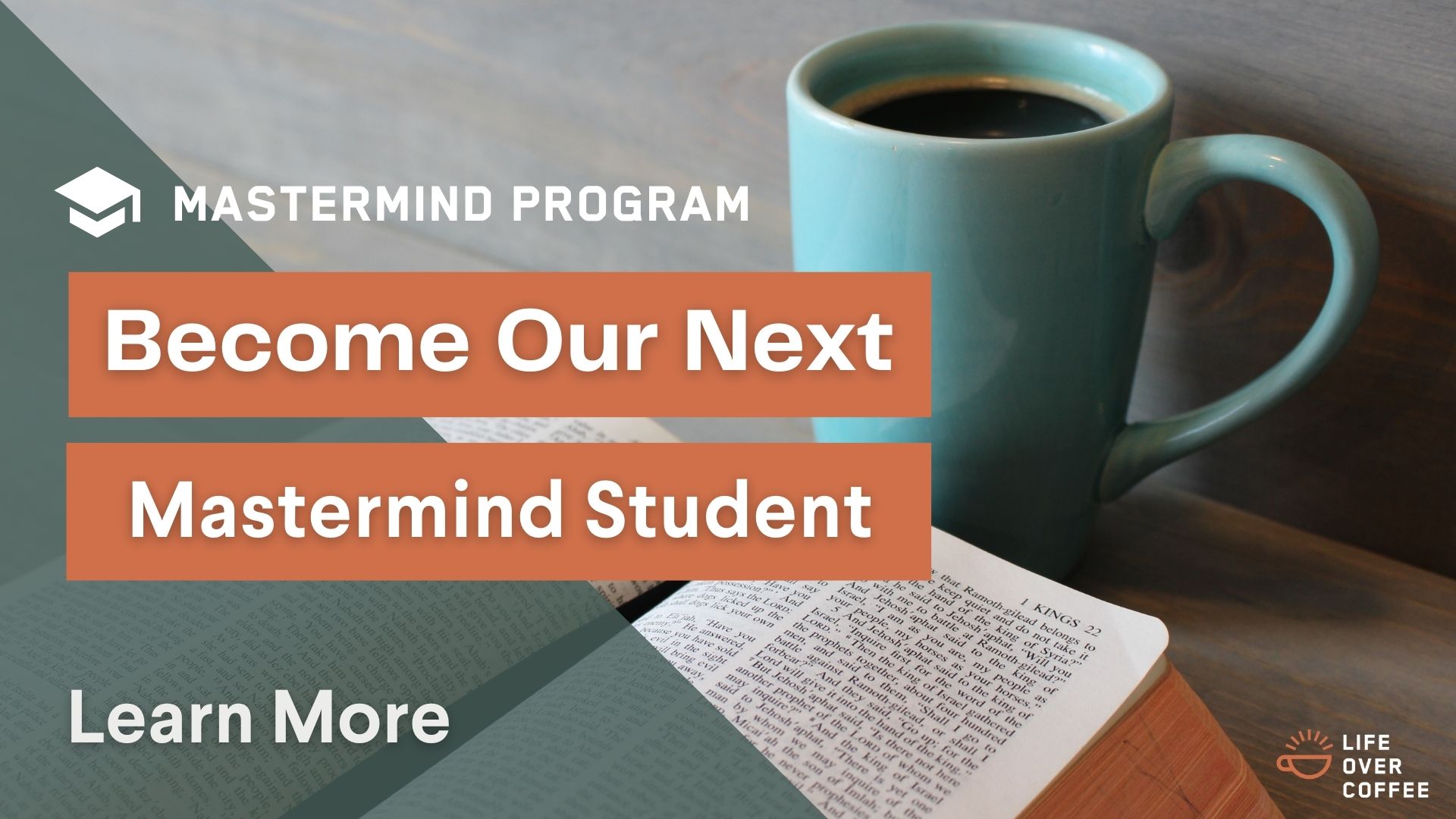 Filed Under: