Learning How to Trust the Author of Your Story
Think with me for a moment about what it means to be a bit player in a grander epic. The Christian life is God inviting us into His story that is coming true. We are not inviting Him into our story, hoping He will make our stories come true. As you ponder these thoughts, what difference does living in a larger story make? How does the knowledge of having a small part in a more fabulous narrative shape and influence your life?
You may want to read:
The Beginning, Not the End
Do you ever worry about where you are in God's story, thinking that where you are is as good as it will get? If so, then remind yourself that the beginning of the story the Lord is writing in your life is not the whole story or even the end of what He's doing (Philippians 4:6). Only the end of the story will make sense about what He has started. The end will bring clarity to all the challenges and disappointments along the way. The end is the final scene that completes the beginning of all our stories, which leads us to the all-important question, "Can we trust and rest in the reality that God is still working to finish these scripts in our unique lives?"
The beginning of the human story (Genesis 1:1) was a good and perfect story of a man (Adam). God and Adam reciprocally enjoyed each other. Then sin entered the world, and things began to break down by the spreading destructiveness of sin incrementally. Adam turned his back on God, and chaos became our ubiquitous experience. Though the curse came, God would not leave Adam (or us) alone. The Lord initiated a plan to redeem humanity from the disorder we not only caused but seem to enjoy.
This worldview is the gospel. The Bible is the story of God keeping His promise of redeeming humanity from sin. The great adventure of the Bible is God completing what He started. Our God brings His story to a glorious end, and you and I are living in the midst of that grander story. How does this truth control you? Are you aware that you are not a puppet or a spectator in the story that God is writing? Though He is writing the script, He calls us to make real and practical decisions that move the story along.
The Plot Thickens
Your story has so many twists and turns. It is hard to understand how the sum of all the moving parts fits into a harmonic whole. Believe it: God, the Master Writer, is writing a cohesive story. But you ask,
What does this part have to do with that part?
How is God going to work this and that into the overall theme of the story?
Why did the Author add that part?
Why did He take out the other part?
The subplots, the drama, the side stories, and the apparent distractions are part of God's overall plan. Other than Christ, maybe nobody knew this better than Joseph. He had a hard life. (Read Genesis 37-50.) His experience was one of rejection, betrayal, and personal suffering. But he was also God's man, whom God chose to live that complex life to push His plan toward fruition.
When Joseph's brothers saw that their father was dead, they said, "It may be that Joseph will hate us and pay us back for all the evil that we did to him." So they sent a message to Joseph, saying, "Your father gave this command before he died: 'Say to Joseph, "Please forgive the transgression of your brothers and their sin, because they did evil to you."' And now, please forgive the transgression of the servants of the God of your father." Joseph wept when they spoke to him. (Genesis 50:15-17).
Joseph's brothers wanted mercy, as you see from what they said to him. The perspective that Joseph had is what I need to have daily, as you see in verses 19-21. This snippet gives me the wisdom to understand how to put God's glory on display. Learn from Joseph's humility and faith.
But Joseph said to them, "Do not fear, for am I in the place of God? As for you, you meant evil against me, but God meant it for good, to bring it about that many people should be kept alive, as they are today. So do not fear; I will provide for you and your little ones." Thus he comforted them and spoke kindly to them (Genesis 50:19-21).

Leave It to God
Only God can deal with the evil that people do without becoming evil. – Timothy Keller
Putting myself in place of God is what gets me in trouble. For example, if I were to yield to the temptation of excessive worry, as I do on occasion, I would think that I know what has to happen while also believing that God may not get it right. At that moment, I need to repent, which means leaving to God what belongs to Him—His right to write my story. Let me provide other examples of what I'm talking about when we want to take the reigns of the story away from the Lord.
Are you living in resentment, anger, or unforgiveness? If so, you hope to take God's right to repay evil from Him while choosing to exercise that right for yourself. (Read 1 Peter 2:18-25.) Unforgiveness will shrink you down into a much lesser person than what God would want you to become. If you try to win, you will most certainly lose. Learn the lesson from Joseph. When someone wrongs you, it can feel so right to retaliate sinfully. If you do this, you are just one step from self-righteousness.
Self-righteous people are some of the evilest people who ever existed. Self-righteous people are the ones who put Christ to death. I'm talking about myself right now, not you. Self-righteousness is my temptation. Joseph's refusal to put himself in place of God ended up putting God on display. His brothers and the entire Egyptian world saw God's greatness through His suffering servant's humility.
Above Ground-Level
When you live in God's story, you will have the best view of what is happening in your life. From the ground level, you will become confused. Joseph's sovereign perspective holds two things together that rational thinking cannot hold together:
Life is hard, and I will get hurt.
God is good, and He is working His plan.
Life is terrible, but God is good: this is how our great counterintuitive God operates. Evil is real and happens to you, but God means it for good. You and I need this wisdom to live rightly in His story. Remember Adam's tree (the cross of Christ)? From the ground level, the gospel is the most confusing thing someone can display before anyone. But from a God-level worldview, it is the wisdom and power of God.
We preach Christ crucified, a stumbling block to Jews and folly to Gentiles, but to those who are called, both Jews and Greeks, Christ the power of God and the wisdom of God. For the foolishness of God is wiser than men, and the weakness of God is stronger than men (1 Corinthians 1:23-25).
Trust Future Promises
The question becomes, "How can you be kind to those who have hurt you?" You leave the stuff that God handles to God. You view the circumstances of your life from God's level rather than ground level. You lean into the promises of God. Notice how Joseph's trust in God writing the story gave him confidence about what to do with his body after he died.
By faith Joseph, at the end of his life, made mention of the exodus of the Israelites and gave directions concerning his bones (Hebrews 11:22).
In the book of Hebrews, we see Joseph giving direction concerning his bones. The reason he could do that was that he understood how he was part of God's higher plan. Joseph leaned forward and gave direction about his bones. He knew God would complete what He had begun.
So Joseph died, being 110 years old. They embalmed him, and he was put in a coffin in Egypt (Genesis 50:26).

Moses took the bones of Joseph with him, for Joseph had made the sons of Israel solemnly swear, saying, God will surely visit you, and you shall carry up my bones with you from here (Exodus 13:19).

A God-centered Test
Discuss with someone what you think regarding these questions and ideas that I have put forth in the article.
What difference does it make that you live in a larger story?
How does the knowledge of living in a larger story shape and influence your life?
The Christian life is God inviting you into His story that is coming true, rather than you asking Him into your life, so your preferred life will come true.
The Bible is the story of God keeping His promise of redeeming humanity from sin.
Joseph put God on display by refusing to put himself in place of God. Leave to God the things that belong to Him; Joseph did not see himself in the place of God.
Call to Action
In what way have you been anxious or fearful this week about something? Be specific in your answer. Will you talk to a friend about this? What will you tell your friend? What would you want someone to say to you if you were that friend? Think through these questions as you prepare to talk to your friend.
How have you viewed life from the ground level and missed what God was working on in your life or family? Perhaps sharing these things with a friend would benefit you both. Also, consider talking about these things in a small group if you belong to one.
How does your awareness of the gospel—God bringing good from apparent disaster—give you hope and vision regarding your circumstances?
Need More Help?
If you want to learn more from us, you may search this site for thousands of resources—articles, podcasts, videos, graphics, and more. Please spend time studying the ones that interest you. They are free.
If you want to talk to us, we have private forums for those who support this ministry financially. Please consider supporting us here if you would like to help us keep our resources free.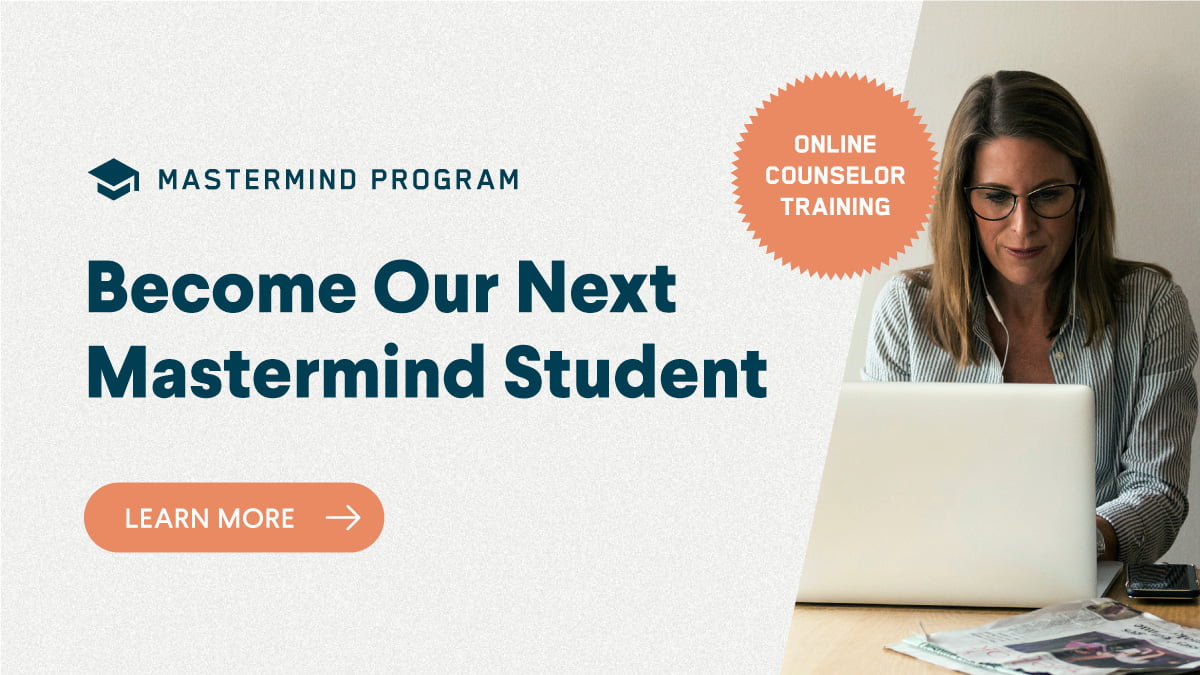 Filed Under:

Rick launched the Life Over Coffee global training network in 2008 to bring hope and help for you and others by creating resources that spark conversations for transformation. His primary responsibilities are resource creation and leadership development, which he does through speaking, writing, podcasting, and educating.
In 1990 he earned a BA in Theology and, in 1991, a BS in Education. In 1993, he received his ordination into Christian ministry, and in 2000 he graduated with an MA in Counseling from The Master's University. In 2006 he was recognized as a Fellow of the Association of Certified Biblical Counselors (ACBC).