Ep. 194 The Cyclic Effect of Cynicism, and the Cure
Shows Main Idea – When disappointments accumulate in a person's life, there is a strong temptation to give up. But more than giving up, the disappointed soul becomes bitter, suspicious, and even hostile toward the hope of a better kind of life. The Christian cynic does not have God-centered faith but wallows under the negative waves that roll over them.
Show Notes
You may want to read:
Perhaps they began their journey with Christ optimistically. But for many reasons, where they are is a million miles from where they hoped they would be at this juncture in their lives. There could be many reasons for this outcome:
A weak theology of suffering
Poor decision-making
Negative shaping influences that warped them before they met Jesus
A small-soul person (1 Thessalonians 5:14) who had not competent mentors
Adverse effects of fear of man, so they tend to isolate from genuine help
Hedonistic thinking and living that led them down the wrong path
Bad (sovereign) luck
Abusive relationships
Perhaps you can add to this list, but the result is the same: you've not only given up, but you live in a "self-fulfilling prophetic world" where you know that no matter what you do, the other shoe will drop. The good won't last. The silver lining is a set-up for severe weather. And the worst of all, God is not on your side.
Rather than believing in the active goodness of God, you live inside your suspicious mind where your "endless loop tape" tells you that all roads lead to a dead and disappointing end. The soul that is disappointed one too many times lives in a cyclic world—what I call the "cyclic effect of cynicism."

What Is Cynicism?
A cynic is a suspicious person. They will more than likely tell you why something won't work rather than the optimistic hope you find in the active goodness of God on someone's behalf. They would read Hebrews 11 from the most cynical perspective rather than how the writer talked about the great faith and hope of those who lived in horrible situations.
The Christian cynic will not enter into the fray with you but tell you all the reasons why what you want to do won't work. They may even describe themselves as that "helpful friend" that provides the "other perspective" as a measure of protection and warning, so you don't do something dumb.
The difference between the cynic and the faith-filled person is that the cynic does not talk about hope, trust, faith, endurance, optimism, possibility, and how God is greater in you than whatever is in the world. The cynic will "spiritualize" their counsel, and never discern how they have morphed into the sin of cynicism.
The Cyclic Effect of Cynicism
The question is, "how did they come to this place of cynical bondage?" Two vital things have to happen to become a Christian cynic. One of those things is a disappointment: something disappointing enters into the Christian's life.
One of the purposes of disappointment is to reveal what is inside of you. If you're a contented person, the disappointment will sting for a while, but it won't change you ultimately. But if you have a discontented heart, the disappointment will stir you up on the inside and cause your discontentment to increase.
You could think of your disappointments like the shaking of a snowglobe. All frustrations shake you up on the inside and then you "resettle to your preexisting condition." If you are a contented Christian, the "shaking of your soul" will mature and strengthen you.
We rejoice in our sufferings, knowing that suffering produces endurance, and endurance produces character, and character produces hope, and hope does not put us to shame, because God's love has been poured into our hearts through the Holy Spirit who has been given to us. – Romans 5:3-5
If you are a discontented Christian, the "shaking" will exacerbate your preexisting condition of discontentedness. The conclusion is straightforward: the trouble in your life will mature you or send you into more profound cynicism, and these outcomes are dependent on the kind of person you were before the difficult times came.
The cyclic effect of cynicism goes like this:
Disappointment enters into the discontented heart
The cynic responds negatively rather than faith-filled
What people hear is a critical spirit
The type of spirit forms a response for disappointment
The next disappointment enters, and their preexisting discontentment responds accordingly
The Cure for Cynicism
Brothers, if anyone is caught in any transgression, you who are spiritual should restore him in a spirit of gentleness. Keep watch on yourself, lest you too be tempted. Bear one another's burdens, and so fulfill the law of Christ. – Galatians 6:1-2
It is monumentally hard to get out of the ditch of cynicism. One reason for this is because the cynic is afraid to admit that they are this way. Admission means doing something about it, and if they attempt to do something about their condition, they know they might be hurt again, which is their kryptonite.
Cynicism is a fortress that the "hurt too often" person hides within so they can keep from being disappointed again. It's a voluntary time out from Christian life. Owning this bondage is their first step of faith, and you want to be gentle when helping this kind of caught person.
Once they come to the place of admittance, you want to begin teaching them about who God is rather than the version of Him that they have accepted or edited Him to be. The Lord is generous, kind, gracious, merciful, persevering, and loving. He desires to give the abundant life to anyone who wants it, but the difficulty will be how this kind of life comes to us.
There is no question that the Lord employs the crucible of suffering as the means to mature us, as Hebrews 11 articulates. Coming to grips on the "dying to self theology of Christ" will be the biggest hurdle for the cynic to cross. And you want to present this truth to the struggling cynic in ways that will encourage them to step into the crucible, rather than giving them the facts about this matter.
Too many Christians would say something like, "God has called you to suffer. This path is the same for everyone." My friends, we can do so much better than this. You must "exegete your cynic" by understanding how they got to where they are and the uniqueness of their life. You must not slap our Bible cliches across their backs, with an appeal to "buck up for Jesus."

Call to Action
Christians do soul care, which means you want to care for this unique person who is in front of you. Here are some ideas for how you can care for them.
Study your unique cynic, and discern why they are this way. The first part of these Show Notes give you some clues. I listed eight possible ways that they are, and perhaps you could add others as you learn more about the person.
Secondly, be sure you understand what cynicism is, and how "your cynic" displays these attitudes and actions in his life.
Thirdly, be able to illustrate how their "habits of cynicism" play out practically by walking them through the infographic. Use real instances: their disappointments, the reason they are discontented, and how they got themselves into their unique cycle.
Fourthly, you want to explore what it is about God with which they struggle. Ultimately, they have a crisis in faith: they are choosing to have confidence in themselves (hiding behind the walls of cynicism) rather than trusting in the Lord. What is it about God that they dislike or struggle with so much that they had instead rely on themselves than trust Him?
Lastly, study the inserted articles in these Show Notes that will give you further study. You must do more than urge them to change; you must come alongside them for many months, dripping out these resources in a compassionate way, as you assist them back to God, the only one who can protect them.
More Resources to Help
Need More Help?
If you want to learn more from us, you may search this site for thousands of resources—articles, podcasts, videos, graphics, and more. Please spend time studying the ones that interest you. They are free.
If you want to talk to us, we have private forums for those who support this ministry financially. Please consider supporting us here if you would like to help us keep our resources free.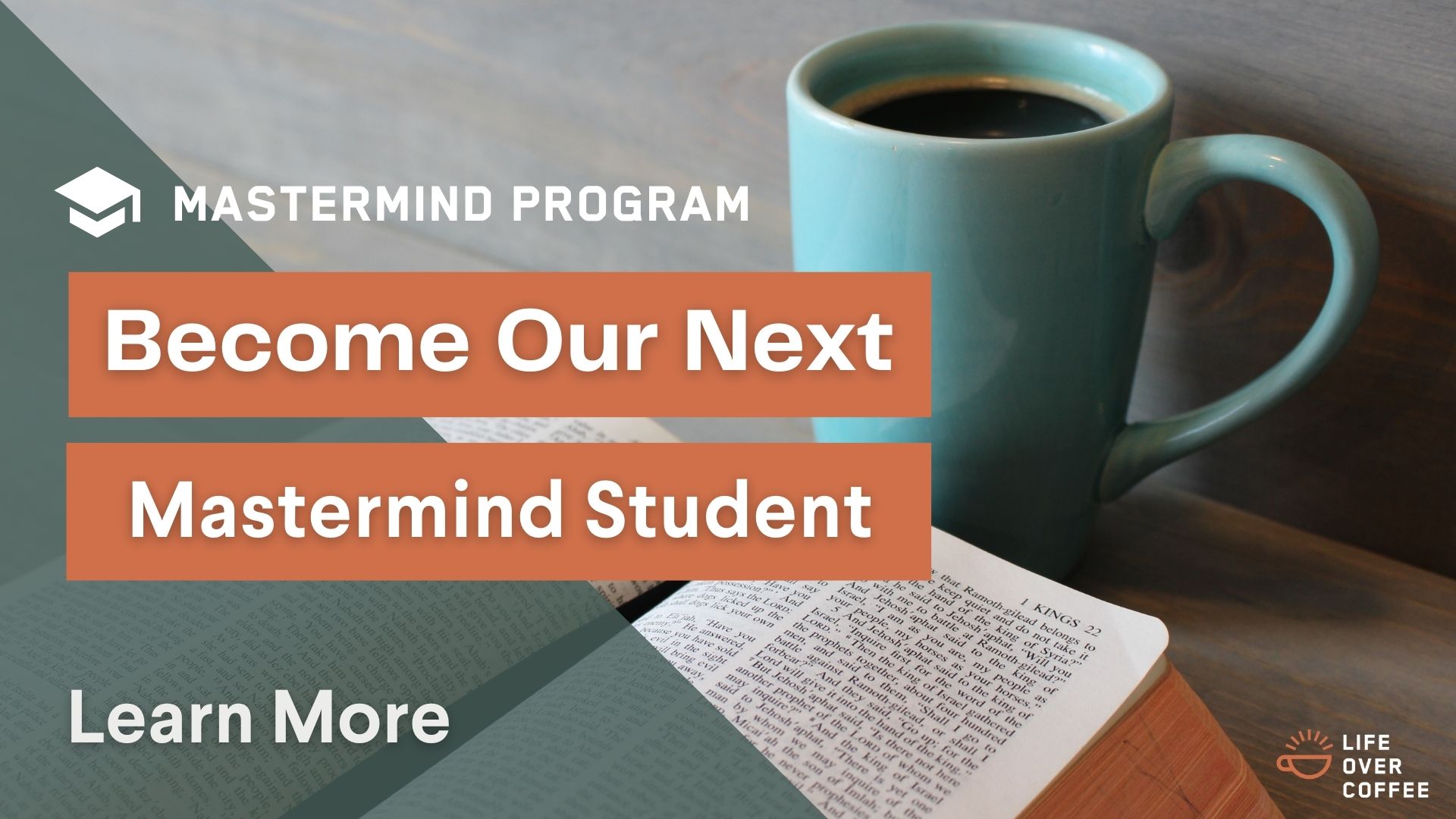 Filed Under:
Tagged:

Rick launched the Life Over Coffee global training network in 2008 to bring hope and help for you and others by creating resources that spark conversations for transformation. His primary responsibilities are resource creation and leadership development, which he does through speaking, writing, podcasting, and educating.
In 1990 he earned a BA in Theology and, in 1991, a BS in Education. In 1993, he received his ordination into Christian ministry, and in 2000 he graduated with an MA in Counseling from The Master's University. In 2006 he was recognized as a Fellow of the Association of Certified Biblical Counselors (ACBC).