Ep. 220 My Church Is Falling Apart, and It's Devastating to Me
Shows Main Idea – Someone wrote, asking for help about their church that is falling apart. I do not know this person, their pastor, or their church. I'm not identifying this person as male or female, but I do want to interact with the questions that the person asked me. Similar to the Corinthian letter, I'm not sharing what the person is asking but I will provide input that hope will serve many individuals and local churches.
Show Notes
You may want to read:
Start Problem-Solving here
No matter what your problem is, you always want to begin with the goodness of God. The Lord is in all our messes, including local church problems. If you don't start with the Lord's goodness, you'll be in the deep and entangling weeds quickly. It would be like driving on the Interstate with your eyes closed. The Lord leads us in paths of right living for His name's sake. Believe it: God's got this (Psalm 23:3).
The Lord works good outcomes from bad things, which is the only way He can work (Romans 8:28). If no bad things were happening in our lives, there would not be a need for Him to do anything good for us. E.g., there would be no gospel if there was no evil. Let the gospel inform you about the failures of your local church. God has something good for you and them.
Kind Begets Kind
Some people can believe that when a church splits, the one they stick with is the innocent one. It's not true. There is always "enough sin to spread around" to all those involved in breakups. It's like a divorce. One spouse can think they are innocent of all wrongs. That perspective has never been true. Only a blind person would believe such a thing.
Where this applies to this situation is that the "splitting church" has brought habits, mannerisms, beliefs, policies, practices, and theology into how they "do church," and there will be some problems with a few of those things.
Like our "former manner of life," (Ephesians 4:2) the new church will bring good and bad into their new experience. I'm not saying it is wrong for them to split, but you must employ wisdom because all things will not go well in the greener pastures. If folks do not think biblically about the new church, disappointment will happen.

The Unlistenting Pastor
If a pastor does not listen to one person, you can possibly overlook it, but when it becomes a repeated pattern, it is a problem. You can always dismiss one person who complains about you, but when scores of folks are saying similar things, you have to deal with it, which could mean that the only thing you can do is leave the church.
Sometimes a pastor's sin can subtly sit behind a welcoming and pleasant personality. Individuals can "present well" and come across as respectable people who love the Lord. And perhaps they do have a love for the Lord, but if a repeated problem happens over and over again, maybe some of those "subtle sins" are there, like stubbornness and arrogance, which is self-righteousness.
Love Has Proportional Pain
The reason you hurt so much is that you love the church. If you did not care for the church, it would not matter so much with how things go with that local body. My point here is that your discomfort and despair are reasonable; it says that you love Jesus and His body, a good thing.
And though you will be in despair for a moment, you must "right the ship" because it would be wrong to stay down indefinitely. God's grace is more significant than your pain, and if His ministry to you does not change you in time, you have an issue that you must address.
Stay Longer Than Necessary
Typically, folks stay longer than they should at a church, which is almost always a good thing. It may be better to stay longer, so you know that you have done all that you've could to help change the culture. And you don't want any future doubt by thinking that you left too soon.
There is no template for when to leave. Each situation is different. But it's usually better to stay longer than going too soon, so "future reflections" won't fill up with whether or not you were impulsive with your "leaving decision."

It's Okay to Talk About It
There will be those who label any discussion about these things as gossip, which is unfortunate. If you're in a place where there is no permission to talk about what's wrong with the situation, you may need to leave. If Christians, who have all the information that they need to live godly lives (2 Peter 1:3), cannot talk about what's wrong with them or their situations, you're in an authoritarian, manipulative environment.
It is okay to talk about this with the appropriate people. Total silence is wrong, as well as blabbing to everyone. Wisdom is in the middle. The primary reason you must discuss this is that the name of Christ is on the line. Dictatorial leadership styles will pressure and manipulate silence by spiritualizing any discussion as gossip.
Authoritarian Cultures Clone
If you have a dictatorial pastor, what you will find is that he will groom those who become his peers. He won't be as amenable to those with alternate opinions. He identifies and promotes those who believe just like he does.
The downside is that nobody will challenge him, and he won't respect anyone else, so what you have to say will be marginalized or ignored. This problem ties back to the "unlistening pastor" problem that I mentioned earlier. You may be wrong in what you believe or want, but there should be no dismissing or lack of responsiveness to your opinions.
When It's Time to Leave
One of the ways to know when it's time to stay or leave is your ability to remain victorious and joyful. Though you will dip periodically as victory and joy wane, you should not stay down forever. If you do stay down and don't believe you can recover, you need to get help, which is one reason why you must talk about what is happening.
It could be that you may have to leave. There are a few things to consider when it comes to staying or leaving a church.
You can stay because your conscience does not condemn you by being part of this group.
Your conscience is telling you that something is wrong, but you can overlook it because it's not a hill to die on when it comes to such a significant decision.
Your conscience is telling you that what they are doing is wrong, and you are not willing to "change your conscience" to say it's okay. It's not okay, and you have sought counsel that affirms you're right, they are wrong, and you cannot be part of that assembly.
If you are sinning each time you walk into the building or when you think about the situation, you must repent. If being in that environment makes it nearly impossible to repent, you need to leave, assuming you've sought counsel, and you've put the right effort into repenting of your sins.
End Where You Started
Let me finish where I began: God is good, and he's working good, even in a horrible situation, which is the only context for him to prove His goodness. I want you to share this podcast and Show Notes with a trusted, competent Christian friend, and you both talk about it, making sure that your friend is appropriately challenging you, as they encourage you.
Need More Help?
If you want to learn more from us, you may search this site for thousands of resources—articles, podcasts, videos, graphics, and more. Please spend time studying the ones that interest you. They are free.
If you want to talk to us, we have private forums for those who support this ministry financially. Please consider supporting us here if you would like to help us keep our resources free.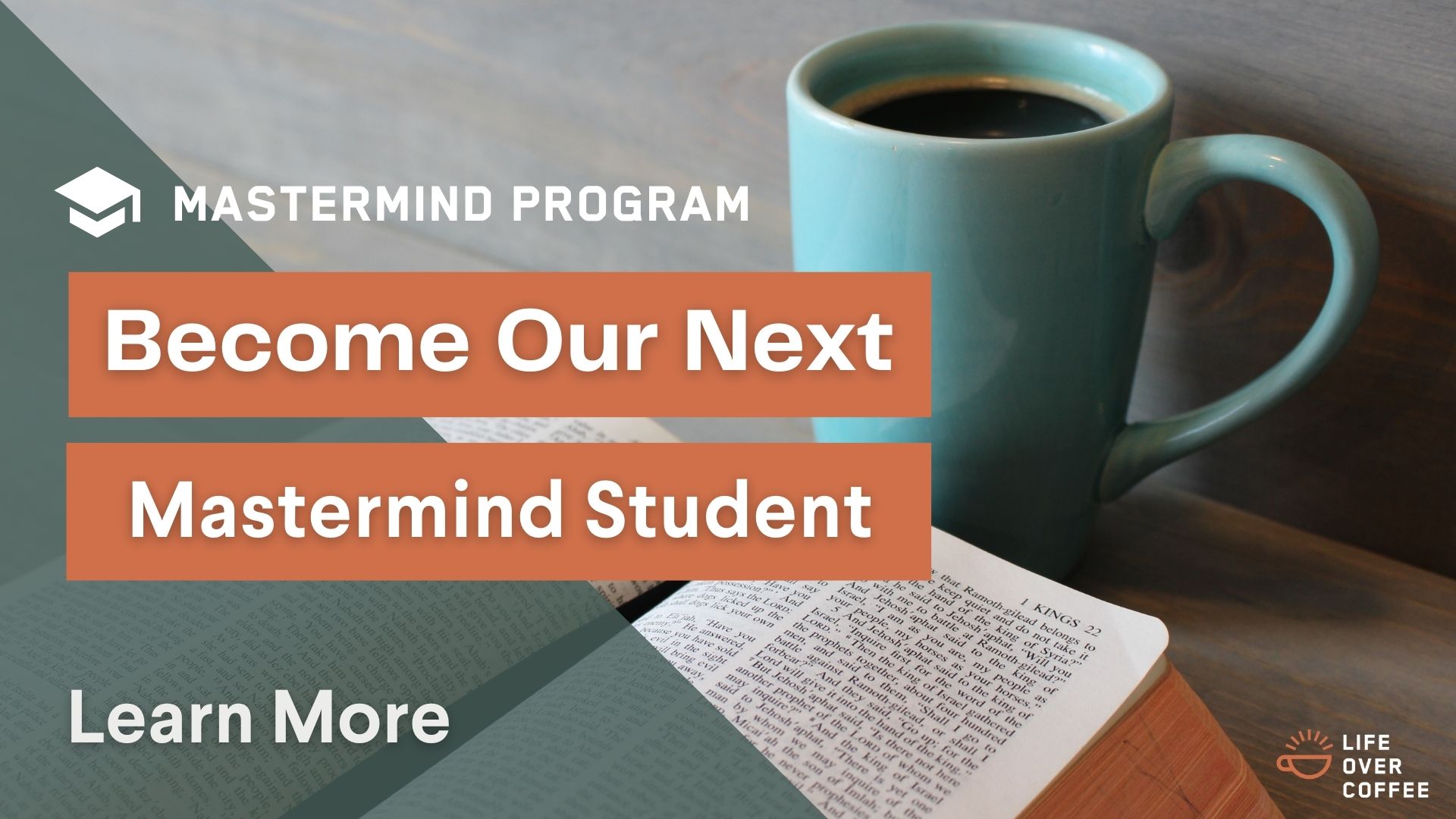 Filed Under:

Rick launched the Life Over Coffee global training network in 2008 to bring hope and help for you and others by creating resources that spark conversations for transformation. His primary responsibilities are resource creation and leadership development, which he does through speaking, writing, podcasting, and educating.
In 1990 he earned a BA in Theology and, in 1991, a BS in Education. In 1993, he received his ordination into Christian ministry, and in 2000 he graduated with an MA in Counseling from The Master's University. In 2006 he was recognized as a Fellow of the Association of Certified Biblical Counselors (ACBC).