How to Help Someone Who Does Not Want to Help Himself
Some of the toughest people to try to help are those who refuse to help themselves. There is a way to think about them and possibly come alongside them while trusting the Lord to bring the needed change.
You may want to read:
True Story – I sat across from Biff in my office. He was 38 years old, but you would never be able to guess his age. He looked fifty-eight. His drug addiction added at least 20 years to his appearance. It controlled him. My heart was aching for him.
Biff and I had been friends for over ten years. We attended the same Bible college. The year we met in my office was 1999. It was a Thursday. I told him that if he did not get help for his drug addiction, it would kill him. I had no idea he would be dead within twenty-four hours.
He was found the next day in a hotel room, with syringes surrounding him on the floor. That was the third time in my life that I counseled a dead man walking. The first was my brother in 1987. We had a similar conversation in April of that year. I buried him in June. The second was my next brother, who someone murdered in 1997. I buried him in April.
Sin had gripped Biff's mind, and it was choking the life out of him. He talked about getting better while making detrimental choices that were shutting out the help of those who loved him and wanted to help him.
Brothers, if anyone is caught in any transgression, you who are spiritual should restore him in a spirit of gentleness. Keep watch on yourself, lest you too be tempted. Bear one another's burdens and so fulfill the law of Christ (Galatians 6:1-2).

Caught
Sin had caught Biff. Being caught in Galatians 6:1 does not mean that "I caught you," as in you're busted. It says sin has ensnared you; sin has a grip on you. Imagine strolling through the woods and finding a man sitting on the forest floor with his ankle caught in a bear trap. That is what caught means.
There was a time when Biff could do his drugs and be in full control of the situation. Then there comes a time when the soon-to-be-addict is no longer in control of his drugs. They take control of him. He becomes addicted.
Biff's addiction had fully caught him.
Was he a Christian? Probably. I don't know. Maybe. He could have been. Being caught is not the exclusive domain of those who do not know Christ. Many of our Christian friends are similar to Biff. Something has captured them, and they cannot extricate themselves.
This problem is why the Apostle Paul was appealing to the Christians in Galatia to help those caught in addictive sin. In this article, I'm going to give you five things to consider when helping a person captured by sin. This list will not be exhaustive for the unchangeable person, but it will be an essential list.
Understanding His Problem.
Is He a Victim?
Will He Change?
Predicting His Future.
God Is Jealous.
Understanding His Problem
The first thing you need to understand is that his drug of choice is not his primary problem. While the drug may be what you see and it may be what is frustrating you, the drug is merely the by-product of brokenness that is in his heart. Notice how James frames this idea:
Each person is tempted when he is lured and enticed by his own desire. Then desire when it has conceived gives birth to sin, and sin when it is fully grown brings forth death (James 1:14-15).
This text from James is what I call the L.S.D. Passage: Lured, Sin, Death. James is saying that a person's addiction lures them through the twisted motives of the heart.
If his sinful desires are not mortified at that point, they will mature and attach themselves to external things like (1) drugs, (2) alcohol, (3) anger, (4) shopping, (5) gossip, (6) impatience, (7) food, and (8) porn. If those desires and the complicating behavioral problems persist, it can lead to death, whether physical death or death of relationships.
External addiction is not the main problem, which is why the amputation approach will not work (Matthew 5:30). Amputation may be a good first move, but it will not bring lasting change. You can see this as I paraphrase the counsel of James with the story of Biff:
Biff experienced temptation when the desires of his heart lured him. Those passions led him to do drugs. After the full growth of his sin, it controlled him to the degree that it brought forth all kinds of dysfunction into his life, even death.
Biff's heart was the source of his problems, which led to the dysfunction in his life. It would not work just to take his drugs away from him, assuming that would make him better. Biff was caught from the inside out.
As you can see in the infographic, there were many heinous undisclosed things going on inside Biff's heart. There was an addiction on the outside, but on the inside, he was ensnared by less visible sin patterns, and the accumulative effect of unresolved heart problems lured him to the point of using his drug of choice as a way to medicate his guilt, shame, insecurity, fear, discontentment, and frustration.
How well do you realize that the source of external addictions is inside of you?
Are you able to discern some of the complicating heart patterns that feed our addictions?
Is He a Victim?
One of the things I wanted to discern regarding Biff was how much of his problem was (1) character related versus (2) capacity or competency related. When helping someone like Biff, it is crucial to understand the kind of person they are. Sometimes I state it by asking, Are you counseling Forrest Gump or Steve Jobs?
If it is a character problem, it is a spiritual problem from which he can repent. If it is a capacity/competency problem, he has a defined ceiling, which will make it hard for him to change (1 Thessalonians 5:14). If the only fastball he has is 65 mph, it would be unreasonable to mandate he throw faster.

Is Biff completely unable to apply the truths that I am teaching him?
Is Biff moderately able to apply the truths that I am teaching him?
Can Biff excel in applying the truths that I am teaching him?
These are important questions. I began asking Biff all kinds of questions about his life, hobbies, vocation, other activities, and even his relationships. I wanted to know if he had any game for anything.
I was wonderfully encouraged to know that Biff was quite competent. He had a high ceiling. He could do many things very well. For example, Biff loved working on cars. He was a tinkerer.
In his garage, he had several vintage cars that he had built. The more he talked about working on cars, the more I realized that he did have a lot of game. Biff was not a buffoon but highly competent. I began writing down categories that best described what he was telling me.
You can see in the sketch above that Biff was proactive, smart, pre-meditative, thoughtful, passionate, energetic, a planner, detailed oriented, and intentional. I told Biff,
If you pursued Christ the way you continued your automotive hobby, you would be able to kick this habit.
Biff was not a victim after all. Though sin had caught him, he was able to respond to God's Word. He could change if he wanted to.
People are different. How well can you discern the uniqueness of the person you're discipling?
Are you comfortable separating character issues from competency issues? (See graphic below.)
Will He Change?
While there are many things to be said about Biff's heart and there were many things he needed to address in his heart, Biff had first to decide if he wanted to change.
Remember, Biff was not incompetent. If he could buy and build cars, he was quite qualified to work on his sanctification. He would have to choose if he wanted to create a new kind of life. This decisive turn is where he needed to take his proactive skill set and pursue others to help him change.
He could not wait for the Christians to show up. He had to be the relational aggressor. It was his decision. Choosing not to be proactive in the change process could only mean it was not a can't problem but a won't problem.
I appealed to Biff to get a new set of companions (1 Corinthians 15:33). Below is a list of friends that I suggested he surround himself with so he could experience restoration to God and others.
A man of many companions may come to ruin, but there is a friend who sticks closer than a brother (Proverbs 18:24).
Predicting His Future
During our times together, Biff articulated how his life had been. He talked about all of the dysfunction, heartbreak, broken relationships, and other sadnesses that had come into his life.
Admittedly and humbly, he owned nearly all of his problems. I let him talk freely and at length about his life and the poor choices he had made. Then I said to him, "I can predict your future." (See the infographic below.)
I told Biff that the timeline of his past would continue to his future and the things that have happened in his past will be recreated in his future if he chose not to change. We are what we have been, and the general patterns of our lives will stay the same…unless……we decide to change.
The only thing that could alter Biff's future from his past would be if he decided to repent. If he did that, his future could be different from his past.
One of the saddest persons you'll ever see is the person who comes to the end of his life and realizes how a slight change in a few areas could have altered the whole course of his life. It reminds me of Jesus making His heartfelt appeal to Jerusalem,
O Jerusalem, Jerusalem, the city that kills the prophets and stones those who are sent to it! How often would I have gathered your children together as a hen gathers her brood under her wings, and you were not willing (Matthew 23:37).
God Is Jealous
There was an unspoken problem here: Biff was a Christian. At least he professed to be a Christian. I took that at face value, which meant when you juxtaposed his profession of Christ to his lifestyle, there was a decidedly anti-Christ quality to his life. Conclusion: Biff was breaking the First Commandment:
You shall have no other gods before me…You shall not bow down to them or serve them, for I the Lord your God am a jealous God (Exodus 20:3-5).
Please understand, I'm not a fear-mongering, cynical person who manipulates people by evil tactics. I am a Christian who believes God and His Word, which means there is a way that seems right to a man, but that approach is death (Proverbs 14:12).
Biff was dragging God's name through the mud. He professed to be a Christian, but he was not allowing the gospel's transforming power (Romans 1:16) to change him. He had erected a competing god that was in opposition to the Lord. That was an untenable position: The Lord will not compete with other gods.
If our primary job is to make God's name famous, which it is (1 Corinthians 10:31), God will help us make His name great. We can choose to cooperate with Him in this process, or we can leave it up to Him to decide how His name will be made great through our lives–even if it means removing us from this world because of our persistent sinful choices.
And Samson said, "Let me die with the Philistines." Then he bowed with all his strength, and the house fell upon the lords and upon all the people who were in it. So the dead whom he killed at his death were more than those whom he had killed during his life (Judges 16:30).
Biff made his choice. And now, the best way his life can be used to make God's name great is for the Lord to use this podcast, article, and infographics to attract caught people to Himself so they can experience restoration.
Note to Helpers
Perhaps you know a person who is unwilling to change. I think most of us do. I was one of those unchanging people for twenty-five years. So were you. It happens. If you do know someone who is resistant to change, here are five things that I appeal to you to think about:
You can't force righteousness. You cannot make someone change. Your job is to water and to plant, not to change them (1 Corinthians 3:6)
You must be gentle with them (Galatians 6:1). If you get frustrated or impatient with an unchanging person, you will misapply the gospel (Romans 2:4). That is not the law of Christ (Galatians 6:2).
You must guard your heart. If you don't, you will be tempted to sin against them. If you do sin against them, repent (1 John 1:7-10). You don't need your sin convoluting an already bad situation.
Be very clear with them. You can't beat around the bush by diminishing the seriousness of their sin. God is a jealous God (Exodus 20:3-5).
Rest in the sovereign choices of our merciful Father. Speak the truth in love. Be clear. Give them a plan. Rest in God.
Need More Help?
If you want to learn more from us, you may search this site for thousands of resources—articles, podcasts, videos, graphics, and more. Please spend time studying the ones that interest you. They are free.
If you want to talk to us, we have private forums for those who support this ministry financially. Please consider supporting us here if you would like to help us keep our resources free.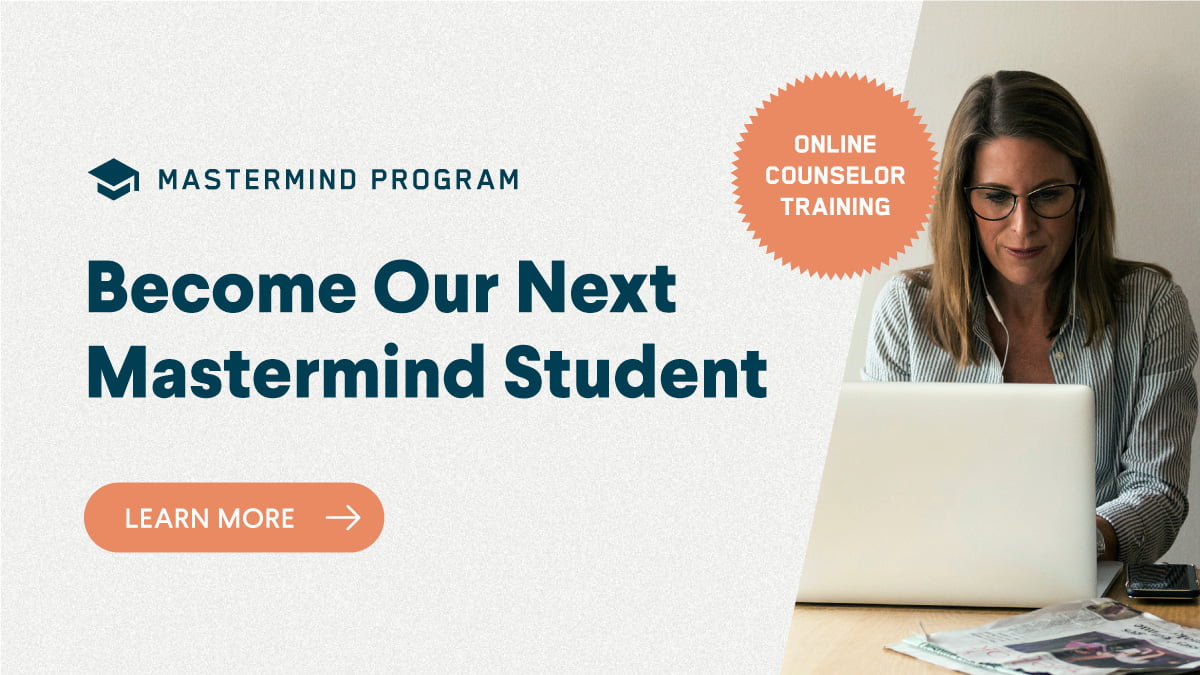 Filed Under:

Rick launched the Life Over Coffee global training network in 2008 to bring hope and help for you and others by creating resources that spark conversations for transformation. His primary responsibilities are resource creation and leadership development, which he does through speaking, writing, podcasting, and educating.
In 1990 he earned a BA in Theology and, in 1991, a BS in Education. In 1993, he received his ordination into Christian ministry, and in 2000 he graduated with an MA in Counseling from The Master's University. In 2006 he was recognized as a Fellow of the Association of Certified Biblical Counselors (ACBC).