How Do You Want to Suffer, With or Without God?
We have no choice about personal suffering (Genesis 2:16-17). It is part of the human condition, Christian or non-Christian. Suffering does not discriminate. Not even Christ could escape personal pain and disappointment, including a mob murdering Him on the cross. To be human is to suffer. There are times we do it to ourselves. In other instances, people hurt us. It's also random, making no sense about where it came from or when it will leave. Knowing these truths about suffering is soul-disturbing news. But let's not leave it there: good news exists. We can choose the conditions for our suffering. We can experience these challenges with or without God, making the all-important question, which option would you choose? How do you want to suffer?
You may want to read:
Fall Consequences
Isn't it easy to forget how suffering comes with the "human package," a consequence of the fall of Adam (Philippians 1:29; 1 Peter 2:21)? It is even easier to forget how the Lord wants to walk with us through our suffering. We must remember these things. Forgetting about God or His purposes while suffering certainly adds to the complexity (Psalm 46:1). To be caught in the vortex of a spinning tornado and unsure if God is with you is suffering's most significant victory (Genesis 39:21). Job came to this point in his life. From his perspective, he was dazed and confused and without God. It was like walking through a hurricane blindfolded. To top it off, he had no clue about the Father's back-traffic conversation with the devil in Job 1:7. He did not realize how no amount of praying would bring his problems to a successful conclusion. Listen to how he talked about his trouble in the middle of his book.
Behold, I go forward, but he is not there, and backward, but I do not perceive him; on the left hand when he is working, I do not behold him; he turns to the right hand, but I do not see him (Job 23:8-9).
What do you think about Job's condition? How does it make you feel? What if you personalized what was happening to Job? If you were him, what would be going through your mind? These questions are not theoretical for most of us; we're going through disappointment right now, amping the need to wrestle with these questions. We can often read God's Word as we read about a tragedy on the other side of the country. "It's happening to them, not me," and then it happens to us, and we say, "I never considered how the things I read online could happen to me." Suffering is part of our lives, and the preemptive soul wants to stand alert, considering how to fortify for those disappointing seasons. Christians do this with God, not with the cynicism of a culture that overtly rejects Him.
Suppose the Lord was working a more profound and more mysterious plan (Deuteronomy 29:29) in your life. And suffering was the vehicle He chose to carry out those grander purposes (Genesis 50:20). Job is only one of many people the Lord selected to suffer for His higher purposes (Hebrews 11:32). Jesus was another. Our salvation happened because the Lord chose to allow suffering in the life of His Son (Isaiah 53:10). May we praise God because there was no alteration or diminishing to the pain of Jesus until He finished the task (Genesis 3:15; Matthew 26:39; John 19:30). I think most folks are okay with the benefits of the gospel (John 3:16) while praising God for the sacrifice of the gospel (2 Corinthians 5:21), but similar to the tragedies we hear about from distant places, the problem is when the practicalization of the gospel comes home to roost in our lives. That's when the call to suffer becomes our cross to bear (Luke 9:23) and our most feared blessing.
Time to Die
This unspeakable blessing reminds me of Paul, a man amid unrelenting suffering (2 Corinthians 12:1-10). In this sense, his suffering was somewhat parallel to Job's. The Lord used Satan to harass Paul, as we learn from his recounting the thorn that was in his flesh (2 Corinthians 12:7). Paul promptly prayed three times for the pain to stop (2 Corinthians 12:8). The Lord essentially said, "no" to Paul, letting him know that his trouble would not go away—in this lifetime, so Paul discontinued his appeals for the cessation of his suffering. He learned how his thorn in the flesh was predetermined by God to buffet him and to teach him how to not rely on himself but to rely on Him who raises the dead (2 Corinthians 1:8-9). Earlier in the same Corinthians letter, Paul gives us a peek into his theology of suffering, the urgency to rely on God, and how the good Lord will press any of us beyond our abilities to where we have no alternative but to trust Him.
Therefore I will boast all the more gladly of my weaknesses, so that the power of Christ may rest upon me. For the sake of Christ, then, I am content with weaknesses, insults, hardships, persecutions, and calamities. For when I am weak, then I am strong (2 Corinthians 12:9-10).
Rather than relying on his prayers to get God to change His mind, Paul began to rest upon the empowering grace of God to propel him into a more profound experience and usefulness in God's kingdom. Rather than a complaining spirit—as it pertained to his suffering—Paul had a boasting spirit. His understanding of the circumstances the Lord was permitting into his life transcended what was happening to him. It even changed what Paul wanted for his life. He saw a more significant prize through suffering rather than sublunary desires for planet living (Philippians 3:8). It would probably help at this juncture to pause and remember that I am not here to magnify Paul as though he was something special.
Paul was an ordinary man as far as his humanness and temptations were concerned. Sometimes we can think of him as a super-apostle in a similar way we might think of Jesus, as though He was not 100% man when He walked among us. I aim to amplify the grace of God that speaks to how the Lord can turn pain into power in ordinary men and women like you and me. We often read the Corinthian text and think Paul was a great man and overcame his trials because of his specialness. This kind of thinking would be a travesty because it would marginalize God's power while magnifying Paul's abilities (1 Corinthians 1:25; 2 Corinthians 4:7). God's grace was sufficient for Paul, not the sheer will and courage of any perceived greatness that you may want to attribute to him. Paul could do all things through Christ, who strengthened him, not through Paul strengthening himself because he was different from us (Philippians 4:13).

From Praying to Complaining
In the middle of the Book of Job, you find another ordinary man who could not untangle himself from his misery. By this point in the book, he had excellent and unhelpful counsel from his friends. Then there was Job's introspective turmoil as his internal dialogue bounced off the walls of his common sense. The singular constant through it all was unshakeable suffering, a means God was using to bring Job to the end of his legalistic self-reliance. As he continued progressing through his tribulation, the God he thought he knew appeared to have left him. He vanished, according to Job's myopic internal dialogue. Before his suffering, Job loved God and walked with Him. He served Him daily, and God was near, active, and reciprocal. Shortly after the trouble came into Job's life, he separated himself from the God he loved. I am unsure when Job perceived the distance between him and his Lord, but this is how he talked about it at the mid-point of his journey through the crucible.
Then Job answered and said: "Today also my complaint is bitter; my hand is heavy on account of my groaning. Oh, that I knew where I might find him, that I might come even to his seat!" (Job 23:1-3).
In Job 1:20-22, he prayed to God as an act of worship.
In Job 23:1-2, he complained out of the emptiness of his soul.
His praying turned into complaining, and his complaining turned into bitterness, and his bitterness separated him from the Lord. At this crossroads, we want to stop and reflect on how we want to suffer.
Suffering with God = Hope and Empowering Grace
Suffering without God = Complaining, Bitterness, Heaviness
Separation from God happens when we lose sight of where God is and what He is up to in our trials. Job is articulating this well for us. An over-fixation of suffering leads to its magnification, eventually captivating our thoughts, blinding us to the divine weaponry at our disposal, the arsenal we need to regain sovereign clarity and a path forward (2 Corinthians 10:3-6). When mental captivation happens, the troubled soul becomes a complaining spirit. This tension is where we find Job. The heaviness of his soul lowered him into a dark hole from which he could not see the light to escape. During his troubles, Job lost sight of God, and his soul began to drift from what he believed (Romans 8:31-39). He went from a joy-filled God-centered position to a frustrating perspective of problem-centeredness. His wrong response to suffering linked him to an expected self-induced, prescribed misery. Suffering with God is just as formulaic as suffering without Him. Job became bitter.
Bitterness Is Self-Punishment
Bitterness is a form of self-inflicted torture. It is a way of punishing oneself and others as the bitter heart spills over into our real-world relationships (Hebrews 12:15). Bitterness is not a medicine that fosters transformation or brings about a preferred life. If left unattended, it will take the soul to despair while leaving a generational impact on those in its wake. Bitterness is like a formula, multiplying misery as long as the disappointed soul feeds it. Imagine suffering as Job did and responding sinfully to God's work in your life, compounding your turmoil. Grace-empowered, God-orchestrated suffering is hard enough, but to poison the soul with bitterness in response to the suffering is a rebellious act that moves you farther from God.
Some writers accurately translate the word bitterness in this text as rebellion. Certainly, bitterness is a form of rebellion against God. You cannot be bitter with anyone and be in harmony with God. The bitter person willfully separates himself from God as he persists with a complaining spirit while refusing to repent. I am unsure how perceptive Job was to what he was doing to himself or his relationship with the Lord. Still, his wrong attitude affected him deeply, spiritually blinding him to what was happening. Have you ever seen someone sabotage themselves and not be aware of what they were doing to themselves? Our friend, Job, was doing this to himself, though his complaint was accurate: he could not find God in his trouble (Job 23:3). Of course, the ironic reason for his confusion was his bitter resistance to what God was doing in his life. He was willful, albeit ignorantly, separating himself from God and then complaining because God was not near. When I do this, it follows this negative progression.
I am hurt.
I complain.
My complaint turns to bitterness.
My bitterness is rebellion.
My rebellion separates me from the Lord.
I can no longer receive help from the only One who can help me.
God never moved, but I did.
Where to Find God
God was in Job's suffering. He was smack dab in the middle of it, persevering with Job on one hand while battling the devil on the other. Job would later learn this terrifying truth (Job 23:16). As he does, a glimmer of hope begins manifesting in Job's thoughts. He starts to transition from the elusive possibility of a utopian day without suffering to the soul-wrenching option of experiencing God while in the crucible (Daniel 3:25). If getting away from trouble becomes the focal point of our lives, we may circumvent the beautiful things (Romans 8:28) the Lord wants us to experience, which we can only experience during our troubles. It is within our "Adam-given scope and tendencies" to find the easy way out of trouble (Genesis 3:7-8), but that's a path that does not bear the footprints of Jesus (1 Peter 1:20). Brother Job came to his senses. Once he did, sovereign clarity began to break through his darkened mind.
But he knows the way that I take; when he has tried me, I shall come out as gold (Job 23:10).
Running and hiding make sense, but it is not our best play. If you struggle to persevere through inescapable suffering, I challenge you to stop, think, and listen. God is there. He is with you. He promised never to leave you (Deuteronomy 31:6; Matthew 28:20; Hebrews 13:5). Do you remember this? Do you believe it? Making our way back to God is a slow and laborious process. It requires us to set aside our preferred life for the life the Lord is giving us. If we linger in the crucible, paying attention to what God is teaching us, we will experience a new kind of grace. It is overcoming grace, which comes proportionally and simultaneously to the degree that we repent of complaining and bitterness. This kind of experience will not happen until we enter the ring with God (Genesis 32:24), admitting our rebellion and pleading with Him to make us clean again.
If you are one of the Lord's struggling children in inescapable trouble, I recommend you have numerous honest talks with Him. One of the refreshing things about this passage in Job is his honesty. His perspective needed adjusting, but his willingness to not hide his exact thoughts is encouraging. Be honest with God. Do not hide from Him what He already knows about you (Hebrews 4:13). Denying the truth about yourself will mask the real you. Eventually, you will lose contact with the ugly truth about who you are (Romans 1:18). Self-deception may feel right, but you will reap a harvest of bitter herbs if you persist in self-induced blindness (Hebrews 3:7-8).

Ready to Rumble?
Those who choose to suffer without God become blind to what's happening to them. It's Gentile thinking. Paul's appeal to the Ephesian Christians was not to act like the Gentiles, who were susceptible to futile thinking (Ephesians 4:17). Manipulating your mind to exchange the truth of God for a lie is not a path you want to travel. Job was explicit and articulate about his sin. He laid it out and began wrestling through it with the Lord. Will you follow Job's prescription for persevering in the crucible? If you do, you probably will not sense any immediate change in your soul or circumstance. But do not fear: the Lord will enable you in ways that sheer human will cannot accomplish, and your finite mind cannot perceive. Remember that Christians always move forward by faith, not based on existential feelings. Don't succumb to Gentile thinking as you proceed.
They (Gentiles) are darkened in their understanding, alienated from the life of God because of the ignorance that is in them due to their hardness of heart (Ephesians 4:18).
The temptation is to feel something, which is not wrong. Still, feelings are not necessarily essential or accurate, especially in human suffering when God is doing mysterious things in our lives. I realize what I am saying is hard. Perhaps they are too hard for you right now. I understand. I appeal to find a close and trusted friend, a competent spiritual leader, or a pastor who can walk you through these challenges—someone who has more clarity than you. There are more friends out there than Job's three buddies. The body of Christ is an invaluable resource when unwanted pain comes into our lives. If the whirlwind of trouble has captured you, please reach out for help. Pursue Christ and His body.
Prayer, God's Word, and His community are means of grace intended to support us while teaching us how to appropriate His extreme power in our lives. Access these gifts from God, asking the Spirit to navigate you as you return to God. It is your choice: you can suffer with God or without God, but one thing is for sure: you will suffer.
Call to Action
What were you thinking when you first read about suffering with or without God? Will you take the time to write out your thoughts or share them with a friend?
How does this perspective positively bolsters your theology of suffering or hinder you from thinking rightly about God?
As you think about Paul hearing the news that his suffering would never change, how does that sit with you? What about when Paul said he would rejoice in his infirmities? Describe what that would be like if it were you—hearing the bad news but rejoicing in God's power working through you.
Do the things you've read here give you hope or bring you further down? Please explain your answer by writing it out or sharing it with a friend. What does your response reveal about you and your relationship with God?
Are you struggling with bitterness? If so, do you see how it's a form of self-punishment? The Bible calls it rebellion. What's the upside as you realize what you're doing to yourself? What's the downside if you stay bitter? What will you do to grow out of a bitter spirit?
I spoke about contacting someone to help you understand what's happening in your life and provide care for you. Who is that person? Do not hesitate to contact them today.
Need More Help?
If you want to learn more from us, you may search this site for thousands of resources—articles, podcasts, videos, graphics, and more. Please spend time studying the ones that interest you. They are free.
If you want to talk to us, we have private forums for those who support this ministry financially. Please support us here if you want to help us keep our resources free.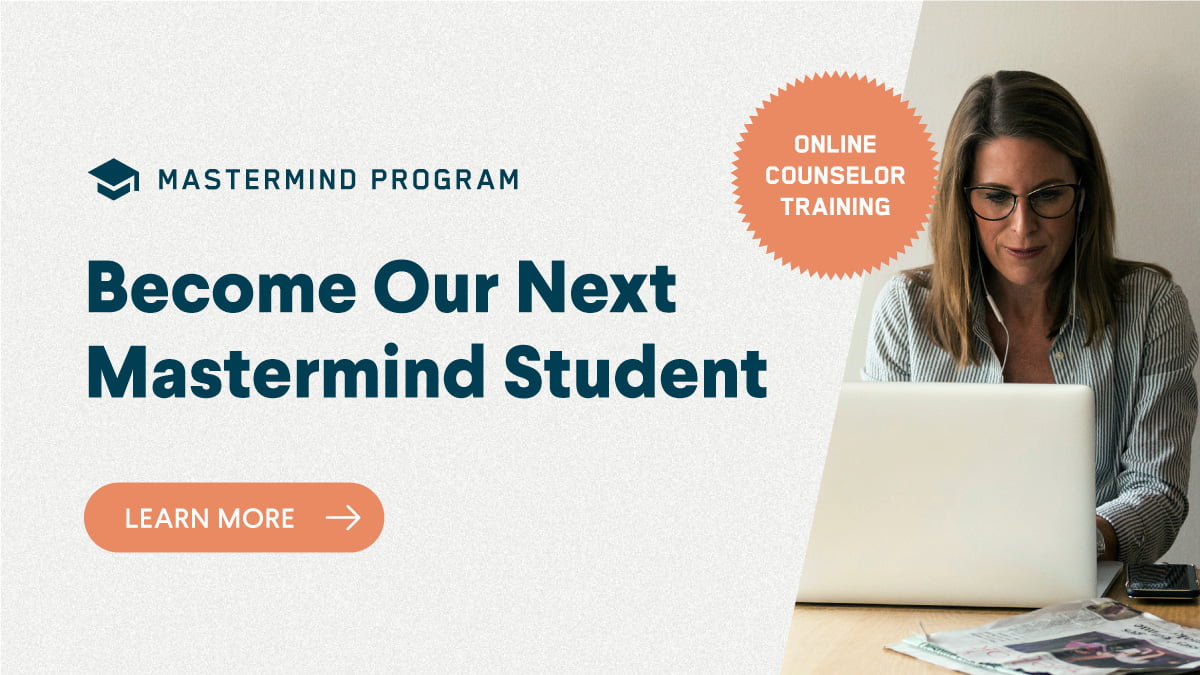 Filed Under:

Rick launched the Life Over Coffee global training network in 2008 to bring hope and help for you and others by creating resources that spark conversations for transformation. His primary responsibilities are resource creation and leadership development, which he does through speaking, writing, podcasting, and educating.
In 1990 he earned a BA in Theology and, in 1991, a BS in Education. In 1993, he received his ordination into Christian ministry, and in 2000 he graduated with an MA in Counseling from The Master's University. In 2006 he was recognized as a Fellow of the Association of Certified Biblical Counselors (ACBC).