The Uncomfortable Benefit of God Being Silent
Silence does not have to be a bad thing, even the silence of God. During the Lord's quietness, He can communicate some of the most profound truths if you're willing to listen. Ultimately, we have to trust the Lord's wisdom in all matters of life because life does not function in a formulaic way.
You may want to read:
Your Plans, His Plans
What was true one time is not true all of the time. The plans we laid made sense to us when we laid them, but the Lord redirects our paths, and sometimes His paths lead us (Psalm 23:3) to places we never anticipated.
The heart of man plans his way, but the LORD establishes his steps (Proverbs 16:9)
Human ingenuity and understanding cannot answer all of our questions because we serve an active God who is always working in ways that we cannot fully understand or explain. This challenge is especially hard (and scary) when our plans fall apart and we face plant into personal suffering.
Typically, when this happens, we are tempted to make the point of focusing on what we did wrong, or maybe we direct our disappointment toward the Lord because He did not meet our expectations. To falsify the character of the sufferer (you did wrong) or the character of the Lord (He did wrong) are not your best options.
Maybe you did not do anything wrong, or at least not crazy enough to warrant such suffering. Perhaps the Lord knows better than you do, so He redirects your path in such a way that brings pain into your life (2 Corinthians 12:7-10).
Is it possible for the Lord to be up to something kind that can only come about through your suffering?
Could the deep pain you are going through today be the tapestry the Lord will use to show the beauty of His plans for you?
These are useful truths to consider as you reflect on His mysterious and good intentions for you. The real issue for you to ponder during these times of suffering is the silence of God.
Why does the Lord not tell you the plans He has for you?
Why does He have to be silent?

The Silence of God
Silence does not mean a lack of leadership. Just because God is not speaking to you, it would be wrong to assume He is not leading you. Leadership is verbal, and leadership is silence. It can be either because there are times when it is essential for the Lord to choose silence over speaking.
We see this in Job 28, where our old friend was in need of wisdom so he could figure out what was going on in his life. He just went through twenty-five chapters of back-and-forth with his friends, which led him to nowhere.
The Lord was mysteriously silent through all of this jabbering, and Job was well-aware of God's quietness. He was hungry for the words of God and weary of the wisdom of men (Job 12:2).
But where shall wisdom be found? And where is the place of understanding (Job 28:12)?

From where, then, does wisdom come? And where is the place of understanding? It is hidden from the eyes of all living and concealed from the birds of the air (Job 28:20-21).
Job knew he needed wisdom and that it would come from the Lord, but he could not find God in his mess (Job 23:3) or His wisdom. You are hurting and struggling, and the Lord is keeping His cards close to the vest. So, Job cries, "Where is wisdom?"
The Wisdom of God
Wisdom is living in a skill that is active, moving, and doing. Wisdom is not passive or static. It does not sit still. Wisdom gives you what you need so you can actively respond to God and others. It is an ever-increasing and maturing knowledge that you actively apply in the milieu.
Wisdom is not a philosophical idea or preachy clichés but a theologically precise, active practice of God's work through you and into your life context. Wisdom is the thing you need a lot of to do life well. And Job did not have it.
His life fell apart, and he needed the active wisdom of the Lord to put his life back together again. And this is where it gets interesting on our journey with Job. The Lord does answer his query for wisdom. For the first time since the beginning of the book, the Lord speaks,
Behold, the fear of the Lord, that is wisdom, and to turn away from evil is understanding (Job 28:28).
Hey, are you looking for wisdom? I have found it. You will find wisdom located in fear of the Lord. Did you expect that? Did you know that? There is an inseparable connection between the wisdom of the Lord and the fear of the Lord.
You gain wisdom by actively walking on the "path of life" with the Lord, and the fear of the Lord is how you walk on that path. The two are inseparable. Without the fear of the Lord, you will not be wise.
The Fear of God
To fear of the Lord means to take Him seriously, knowing He alone is wise and powerful. It is a contrite recognition that you are not wise or strong (1 Corinthians 1:25). Because of who He is, you can trust Him fully in all ways and to any degree.
God is God, and you are not. The fear of the Lord is not to be afraid of Him, but to be afraid of yourself. It is a simultaneous recognition of who you are and who He is while discerning the ginormous difference between those polar opposites. This kind of serious respect for the Lord brings humility to the soul.
The fear of the Lord and the wisdom of the Lord work together as cause and effect. The fear of the Lord (cause) produces the wisdom of the Lord (effect).
Without a right fear of the Lord, a person will not be able to gain wisdom from the Lord. The result for such a person will be ongoing and unremitting frustration in life and relationships.
Job was not taking God as seriously as he should have been. He was popping off at the mouth, lacing his words with accusations. His lack of a proper fear of the Lord kept the wisdom of the Lord veiled.

The Help of God
The Lord can see things that you do not understand. Like any parent, there is wisdom and understanding that a child cannot possess. It is the child's responsibility to trust beyond their knowledge and awareness of how things ought to be.
If the child does not have a sober assessment of what they lack and what their parents possess, he will miss the wisdom of the parents, and his life will be more complicated than it needs to be.
There are many things a parent would like to tell their children, but only when the child is genuinely broken and is humbly asking can the parent speak with authority and clarity.
If the child does not have a proper reverence for the parents, the parents may choose silence because it is obvious the child is not willing to listen. The child's lack of reverence for the parent shuts him out from the wisdom of the parent.
Some would argue, "I have been seeking the Lord. I have been asking for His wisdom. I want to know His thoughts and plans for me." No doubt all of these things are true, but this is where it will become hard for you.
If the Lord is silent, it is because He is rooting something out of you. There have been many times in my life when I uploaded "seeking the Lord" with self-preserving motives and agendas (Luke 22:42).
I was not mature enough or genuinely desirous enough to hear what I needed to hear, and the Lord was silent. There was no use for Him to speak because I laced my motives with self.
The Lord's silence in my situation was not because He was mean. He was wise and loving. He knew how the thoughts and intentions of my heart (Hebrews 4:12-13) were not pure.
The silence of the Lord lasted as long as I persisted in holding on to what I wanted more than what He knew was best for me. In my heart of hearts, I knew I was not willing to relinquish my plans entirely.
The search for wisdom and its application happens through the process of elimination. The more you eliminate what you want while thrusting yourself on the Lord, regardless of the cost, the more wisdom you will enjoy.
When suffering happens, a typical first response is to manage and control the situation in such a way that makes sense to the individual. Rather than seeking wisdom from the Lord, the person leans into his understanding.
Trust in the LORD with all your heart, and do not lean on your own understanding. In all your ways acknowledge him, and he will make straight your paths. Be not wise in your own eyes; fear the LORD, and turn away from evil (Proverbs 3:5-7).
It is not so much that the Lord is silent as it is that the person is not listening to what he needs to hear. It is the silence of God that leads to the required answers. As your ways prove futile, you begin a process of coming to an end of yourself. This "end of yourself" is the beginning of wisdom.
Once you are out of options and your plans are completely ruined, you turn to the Lord. Then you are ready to listen. Much like the prodigal son, you have to do it your way, and only when your ideas lead you to more desperation do you determine to be silent and listen to God (Luke 15:17).
Call to Action
Are there still traces of "my will" in your plans?
Are you willing to have all your motives and agendas laid before the Lord?
I am not making an accusation here as much as a confession. It is hard to talk unashamedly about the possibility of how we may be self-deceived, especially during the hard spots in life. Sometimes we can want something so badly that we cannot see how our self-deception is bending our thinking in the wrong directions. We are hurt, lonely, and afraid. And God is silent.
In nearly every case, His silence is because we will not let go of something that we want—something He knows is not best for us. Even when we discuss those things among friends, we can become feisty, nasty, and accusatory. It takes a lot of "humble desperation" to lay all of your cards on the table. If you are not willing to be that honest, you will cut yourself off from the wisdom of the Lord. This life intersection is where two of the more important questions you should be asking your friends are,
What do you perceive about me that I may not be recognizing about myself?
Will you help me to see what I cannot see?
This step is the beginning of wisdom when you are willing to hold all of your ideas loosely while asking the Lord to use others to shake you from the things that have captured your heart. The depth of self-deception and self-loyalty is more complicated and binding than any of us want to believe. Imagine if your child (if you are a parent) came to you and asked those two questions. You would most definitely speak because two things would be true:
They respect you, as evidenced by taking you seriously and knowing you are wise and helpful. They have a contrite recognition that you are for them (Romans 8:31).
They want your wisdom, not their own. They are willing to let go of any hint of selfishness, regardless of the cost. They trust you.
Sometimes the silence of the Lord is the best thing for you. The key will be how you steward His silence. If you are experiencing the silence of the Lord, one of the best things you can do is find a place where you can have your motives and agendas carefully examined.
Through the Lord's silence, we are seeing an aspect of Job that was not clear to us when we first met him. As we progress through the rest of the book, all of his hidden motives will be brought to the light. After they are, Job will experience transformation when God finally speaks.
Need More Help?
If you want to learn more from us, you may search this site for thousands of resources—articles, podcasts, videos, graphics, and more. Please spend time studying the ones that interest you. They are free.
If you want to talk to us, we have private forums for those who support this ministry financially. Please consider supporting us here if you would like to help us keep our resources free.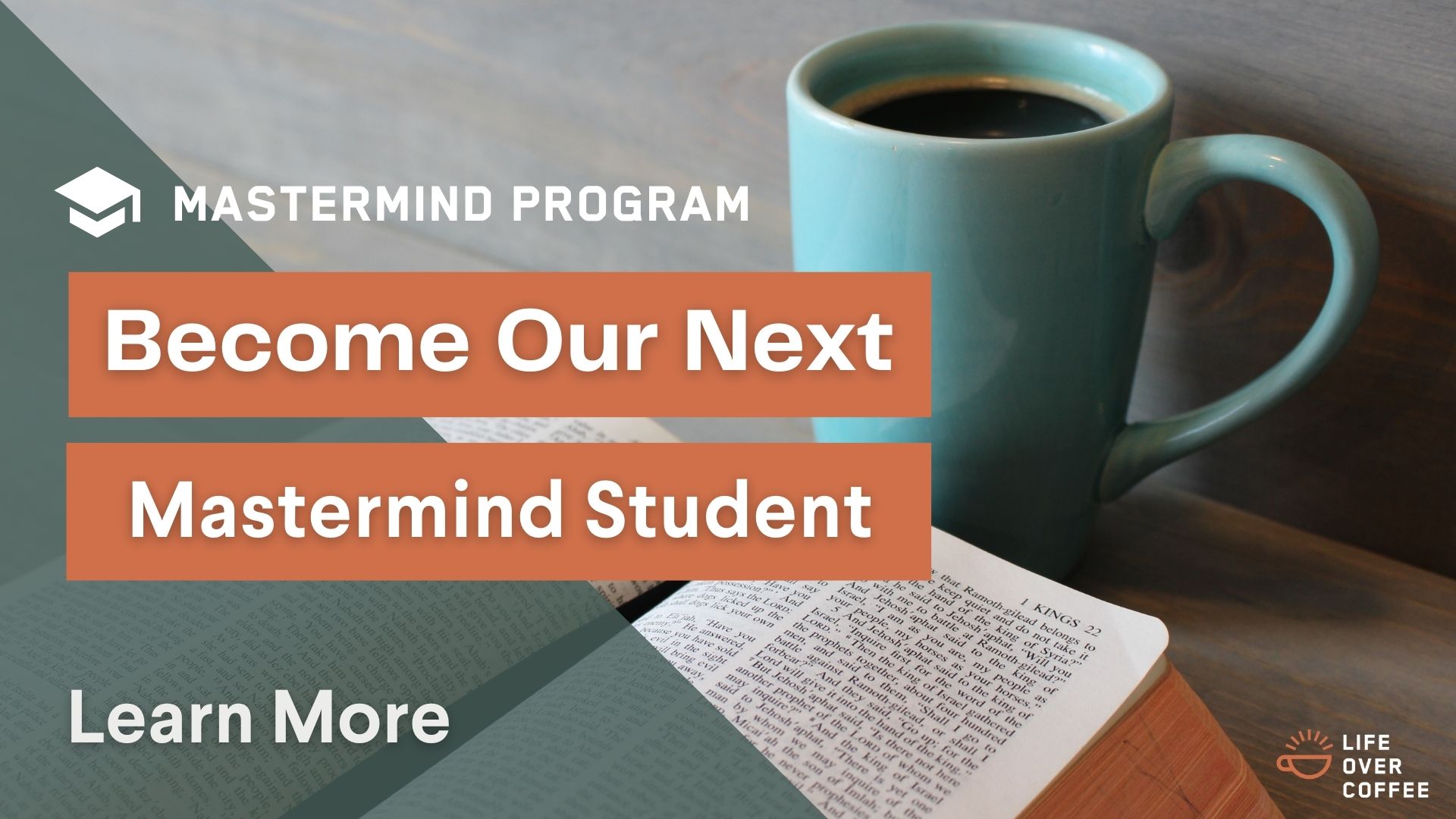 Filed Under:

Rick launched the Life Over Coffee global training network in 2008 to bring hope and help for you and others by creating resources that spark conversations for transformation. His primary responsibilities are resource creation and leadership development, which he does through speaking, writing, podcasting, and educating.
In 1990 he earned a BA in Theology and, in 1991, a BS in Education. In 1993, he received his ordination into Christian ministry, and in 2000 he graduated with an MA in Counseling from The Master's University. In 2006 he was recognized as a Fellow of the Association of Certified Biblical Counselors (ACBC).