Ep. 355 Response to The Rise and Fall of Mars Hill, Episode 3
Shows Main Idea – In this podcast, I'm reviewing the third episode in the series from Christianity Today called, The Rise and Fall of Mars Hill, the church planted and led by Mark Driscoll. The title of this episode is "You Read Your Bible, Ringo?" My purpose in these reviews is not to restate what CT said about Mars Hill or Mark Driscoll but to learn from those things to be a better Christian.
Show Notes
You may want to read:
Episode Three: "You Read Your Bible, Ringo?"
My aim in working through these episodes is to help folks think through the church they attend, the leadership culture of their church, and, potentially, identify things that might not be apparent. I will not provide a "Monday morning play-by-play" critique. I hope you will gain personal insight through this review as well as applications to your teachers and the church you attend.
Key Idea: How and why to plant a local church, and the type of person who does it
My Nitpick
Mike Cosper continues to frame Reformed Theology in a bad light. In this episode, he does it again when he talks about Mark coming out of the Emergent Movement and becoming Reformed. It conflates Mark's meanness with Reformed doctrine while not clarifying the awfulness of the Emergent Movement.
He talks to some of their leaders, i.e., Doug Pagitt, and presents them as victims of Mark, which he may have been, but there is no negative critique about the movement Doug was part of and why any sound believer would pull out of it.
Then Mike mentions Douglas Wilson as one of Mark's new mentors. Doug Wilson is one of the most controversial individuals that CT could put forward. The novice Christian listening to this episode or series might throw out everything connected to Mark Driscoll (Reformed Theology) because CT does not distinguish the bad from the good.

Six Things We Can Apply
1 – Pastoral Gifting
Pastoral gifting differs depending on the situational pastoral contexts, e.g., pastoring 100, 500, or 5,000 people. All pastoral contexts are not the same, i.e., rural, urban, etc. A pastor of 500 folks is not necessarily gifted to plant a church. Also, a lead pastor and associate pastor have two different gift mixes and personalities; one is a "lead guy" while the other is a "second guy."
If you only look at the positive qualities of Mark, he had the courage, directiveness, and charisma to gather a group of folks and plant a city church. He does seem to fit the role of a church-planting pastor. He can round up the troops to take the hill, but you'd want another (non-brash, for example) person to provide decades of soul care.
But Mark does not seem to be a good fit for long-term pastoral care. Of course, it's hard to tell because of all his sinful character traits, but in a vacuum, he has the personality to plant a church. The question for any of us who want to be a pastor to answer is, where is the best fit for us? What context? Or are we mismatched, in the wrong leadership situation?
2 – Changing Vision
Some of the early church members did not have a mega-church in view. They expected something else from what they eventually got. There seemed to be a misunderstanding about the progressive development of a vision and organization.
For example, when I began this ministry in 2008, I assumed I would be counseling until I met Jesus. But things changed incrementally and dramatically. A church should always be changing if the pastor and people are changing. Progressive sanctification for the individual applies to the local body. Change implies growth. A church that never changes begs the question about the unique personal development of the leader(s).
3 – Single-mindedness
CT shared several stories about how exciting, different, and compelling the new church was—common characteristics of a new church. Everyone was focusing on the newness of the church or the differences between this plant and their experiences. A charismatic, dynamic leader can channel these energetic folks into a missional force. They were in the honeymoon period of a church plant. They were exalting the features and overlooking the flaws.
CT talked about how this early church enthusiasm made the dysfunction and demise all the more painful. I understand, but dysfunction always comes after the honeymoon, e.g., marriage. Any divorced couple could testify about the pain of where they are when thinking about how it all began.
The missing point is that the trouble will come; it always does. There is a naivete to think otherwise, and it is detrimental if you don't plan to work through the eventual conflict. In the case of Mars Hill, Mark Driscoll became the de facto authority, and the congregation—for the most part—did not have the courage or awareness to speak into his madness.
4 – Caricature Leaders
Mark Driscoll was a provocateur. Most pastors are not like this personality type—a flash in the pan, celebrity-craving individual. Nearly all good pastors are bland. They don't draw attention to themselves as seen in John 3:30: "He must increase, but I must decrease." Caricature, provocateur-type leaders are like fads; they flame up quickly and go away just as quickly. They make a lot of noise, build a following, but do not typically have longevity.

5 – False Conflation
The most troubling aspect of this podcast was CT's disdain for Reformed Theology. There is a theme of anti-Reformed Theology throughout the series. They talk about the reformed folks as little boys with father wounds. CT does not explain sound doctrine but implies that Reformed teaching is wrong because Mark Driscoll has issues. Conflating a lousy pastor and Reformed Theology is careless and agenda-driven. Mark stood for some good things that the Bible teaches. It is careless and lazy to clump everything into the basin and toss it out with the bathwater.
6 – One-sided Stories
It's essential to know that most of the stories CT tells are only from one perspective. I'm not saying the stories are untrue. I have no reason to doubt any of them, but the discerning listener knows that all accounts have two sides. You can listen with charity and belief while not setting aside discernment.
It is instructive that Mike continues to interview folks who do not stand for the gospel or sound theology. I'm not suggesting every person he talks to is that way, but there is a growing disparity between sound and unsound individuals presenting in this series. Doug Pagitt from Emergent Church fame was one in this episode. CT's worldview is clear.
Call to Action
Need More Help?
If you want to learn more from us, you may search this site for thousands of resources—articles, podcasts, videos, graphics, and more. Please spend time studying the ones that interest you. They are free.
If you want to talk to us, we have private forums for those who support this ministry financially. Please consider supporting us here if you would like to help us keep our resources free.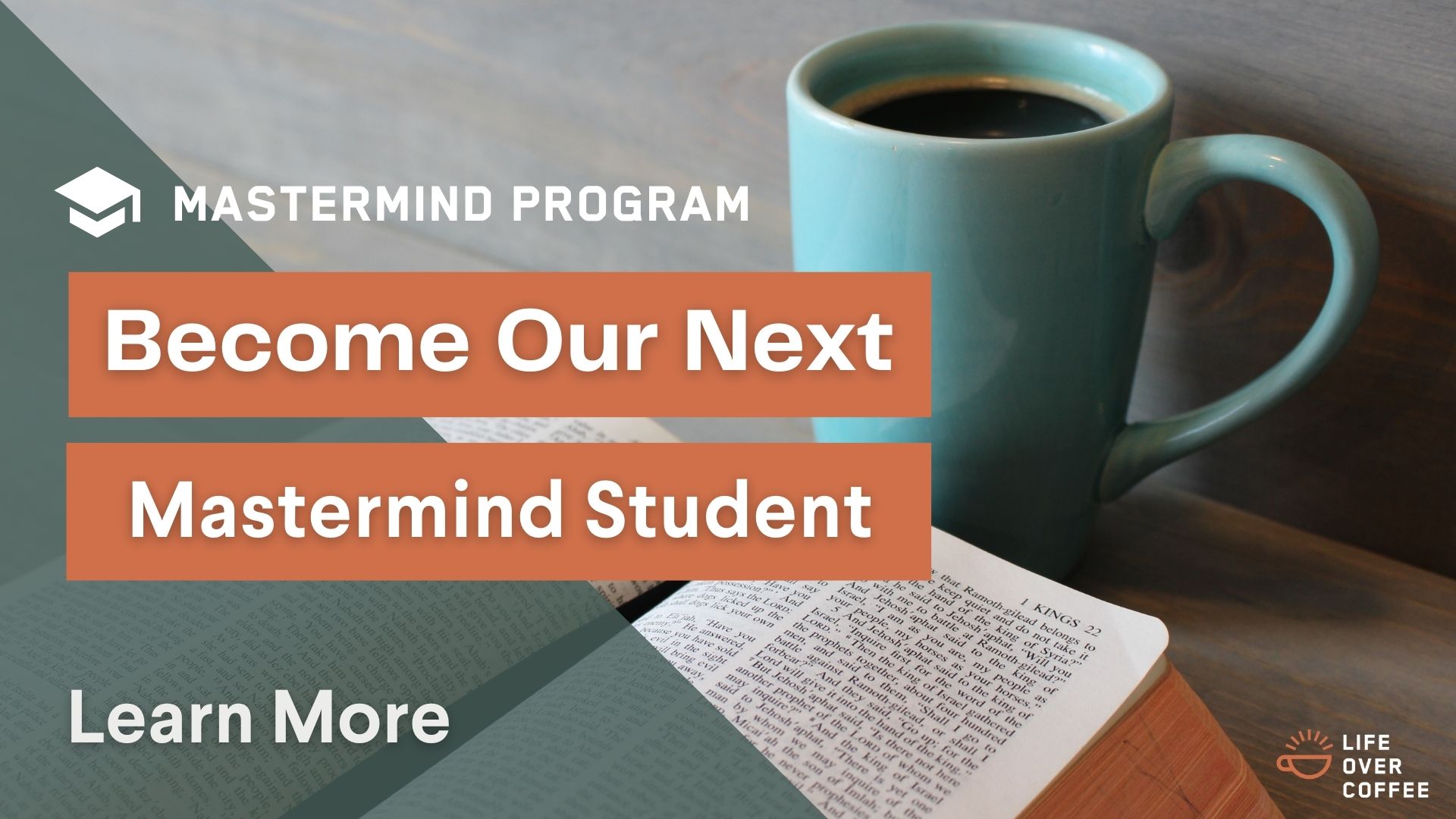 Filed Under:

Rick launched the Life Over Coffee global training network in 2008 to bring hope and help for you and others by creating resources that spark conversations for transformation. His primary responsibilities are resource creation and leadership development, which he does through speaking, writing, podcasting, and educating.
In 1990 he earned a BA in Theology and, in 1991, a BS in Education. In 1993, he received his ordination into Christian ministry, and in 2000 he graduated with an MA in Counseling from The Master's University. In 2006 he was recognized as a Fellow of the Association of Certified Biblical Counselors (ACBC).