Ep. 38 Speaking to the Injustices in Our Culture
Shows Main Idea – It is misguided idealism to think injustices in our culture will ever go away. The better question for you to ponder is how are you going to humbly engage these injustices while understanding that fallenness will always be with us?
Show Notes
People are discriminated against. People are treated differently based on preferences and prejudices. We all discriminate.
We all have our favorite kind of person we like to be around. Churches are full of people who pick and choose their friends. Every place is that way and every person does this.
To demand that you must like, respect, and accept me is unrealistic. It will never happen. The world we live in is not set up for every person to accept or respect every person equally all the time. That is utopia, which means no place.
You may be married. You picked your spouse over other people.
You love your children more than other children.
You pick one candidate over a different candidate.
You pick certain friends because of preferences that are important to you.
Sports teams hold drafts to pick their "favorite" player. When they do not care for that player, they cut him from the team. (It is ironic that the NBA has a larger number of black players than white players, a percentage that is inconsistent with the numbers of white and black people in our culture. The culture accepts and rewards this disparity.)
You can add a thousand more illustrations to this acceptance/rejection construct. These are normal and accepted practices. Where this becomes problematic is when our acceptance/rejection practices are uploaded and laced with hate.
Do not think that I have come to bring peace to the earth. I have not come to bring peace, but a sword. For I have come to set a man against his father, and a daughter against her mother, and a daughter-in-law against her mother-in-law. And a person's enemies will be those of his own household. – Matthew 10:34-36 (ESV)
It is never right to hate another person. There is no justification for hate. Though you can make a case for selecting your associations, you cannot make a case for hating anyone. This "I can select who I want to select while not hating on anyone" has to be the foundation for working through our problems.

The elusive middle
This broad middle ground between (1) my freedom to exercise my preferences (2) while not hating anyone is chocked with landmines. There is no satisfying answer for determining the worldview for this middle ground.
If you ask me, I will suggest a Christian presuppositional worldview but that suggestion will be met with anger and hate speech. Do you feel the conundrum? Do you sense the impasse? "Who gives you the right to choose the kind of world we're going to live in?"
If the world hates you, know that it has hated me before it hated you. If you were of the world, the world would love you as its own; but because you are not of the world, but I chose you out of the world, therefore the world hates you. – John 15:18-19 (ESV)
Their question automatically rejects me, while giving the person asking the question the right to choose the basis for figuring out how to give everyone a fair shot at life. Only one opinion will drive the discussions while all other opinions may influence but will be subordinated to the predominate worldview.
I've got enough sense to know that my worldview will not be the driving one, though I plan to go to my grave sharing my perspective to anyone who will listen while rejecting any other worldview that tries to subvert mine. Hopefully, I will do this humbly, graciously, and wisely.
Three summary points
Point #1 – Because of what I believe and practice, I have set myself up to be rejected (and even hated) by others. Because of what I believe, I will be discriminated against.
Point #2 – No matter who you are or what you believe (Christian or non-Christian), you will be rejected (and even hated) by someone. Your way, whatever it is, will be discriminated against. You will be rejected because of who you are and what you believe.
Point #3 – It is impossible for people to agree about how to get along. We are fallen people living in a fallen world.
If possible, so far as it depends on you, live peaceably with all. Beloved, never avenge yourselves, but leave it to the wrath of God, for it is written, "Vengeance is mine, I will repay, says the Lord."
To the contrary, "if your enemy is hungry, feed him; if he is thirsty, give him something to drink; for by so doing you will heap burning coals on his head." Do not be overcome by evil, but overcome evil with good. – Romans 12:18-21

Call to Action
This brings you to a place where you have to decide how you're going to respond to the unresolvable inequity in our culture. Are you going to through a rock at someone or are you going to work humbly and redemptively to bring change?
You cannot sit back and let things be as they are. That is un-Christian.
You cannot hate on other people. That, too, is un-Christian.
Servants, be subject to your masters with all respect, not only to the good and gentle but also to the unjust. For this is a gracious thing, when, mindful of God, one endures sorrows while suffering unjustly. For what credit is it if, when you sin and are beaten for it, you endure? But if when you do good and suffer for it you endure, this is a gracious thing in the sight of God.

For to this you have been called, because Christ also suffered for you, leaving you an example, so that you might follow in his steps. He committed no sin, neither was deceit found in his mouth. When he was reviled, he did not revile in return; when he suffered, he did not threaten, but continued entrusting himself to him who judges justly.

He himself bore our sins in his body on the tree, that we might die to sin and live to righteousness. By his wounds you have been healed. For you were straying like sheep, but have now returned to the Shepherd and Overseer of your souls. – 1 Peter 2:18-25
Need More Help?
If you want to learn more from us, you may search this site for thousands of resources—articles, podcasts, videos, graphics, and more. Please spend time studying the ones that interest you. They are free.
If you want to talk to us, we have private forums for those who support this ministry financially. Please consider supporting us here if you would like to help us keep our resources free.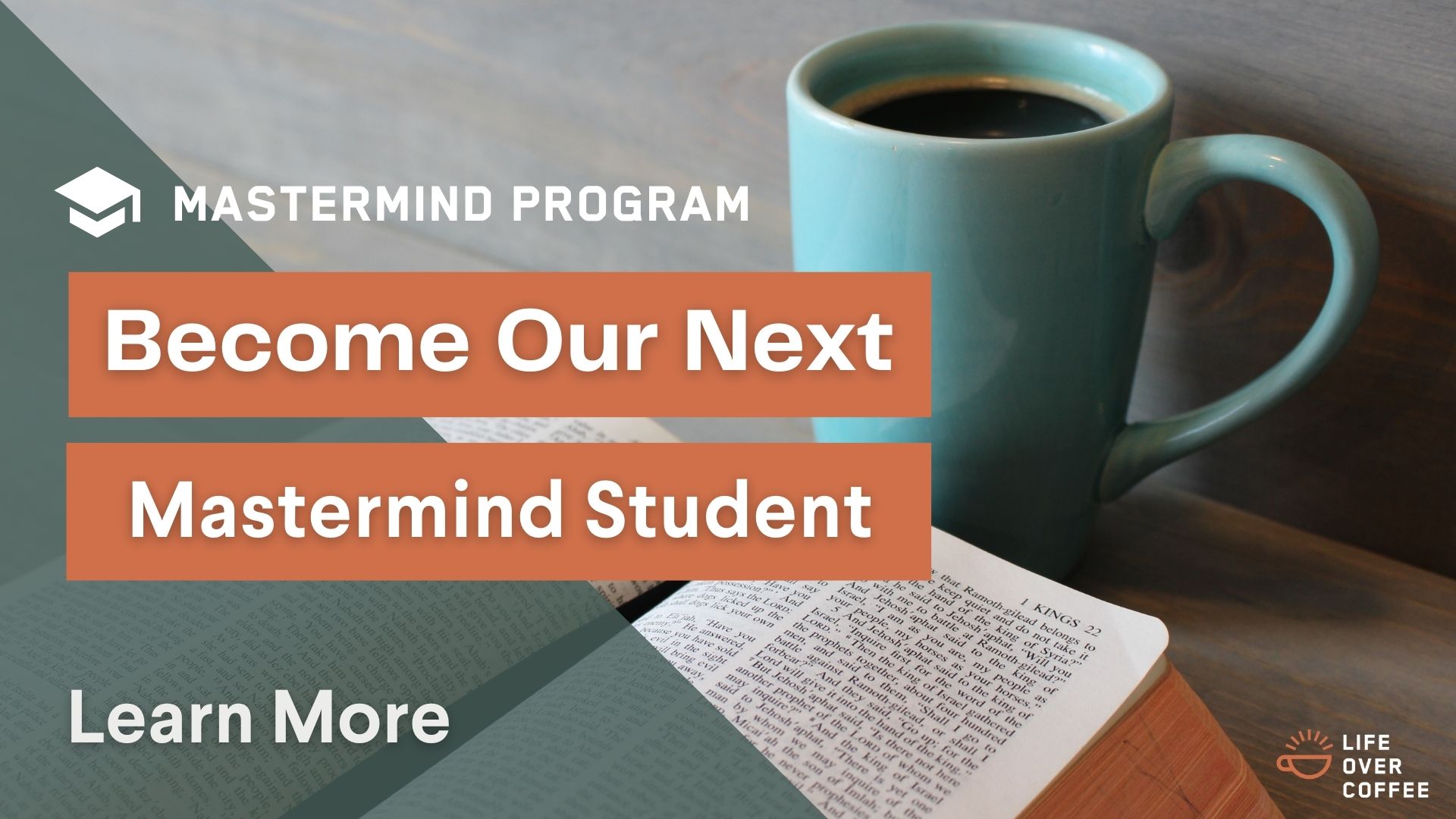 Filed Under:

Rick launched the Life Over Coffee global training network in 2008 to bring hope and help for you and others by creating resources that spark conversations for transformation. His primary responsibilities are resource creation and leadership development, which he does through speaking, writing, podcasting, and educating.
In 1990 he earned a BA in Theology and, in 1991, a BS in Education. In 1993, he received his ordination into Christian ministry, and in 2000 he graduated with an MA in Counseling from The Master's University. In 2006 he was recognized as a Fellow of the Association of Certified Biblical Counselors (ACBC).