Are You Characterized as a Thankful Person?
When you get to heaven, what will be the first words out of your mouth? I suspect it will be something like "thank you" for many of us. Two words. Two syllables. Sometimes less is more. Because gratitude and appreciation will be proper then, what if we self-assessed now to see how gratitude characterizes us today? May I ask: are you practicing today what you'll be saying and doing throughout eternity?
You may want to read:
A Thanksgiving Story
The words "thank you" encompass what volumes of Christians have written about for 2,000 years. The words "thank you" express the nearly inexpressible. Sometimes less is more, and "thank you" sums it up nicely. Luke tells us the story of ten lepers who needed healing. They came to the Savior, hoping He would heal them of a dreaded disease. Jesus responded with love, compassion, and practical help. Though sin had decimated them, He was willing to love His new friends by healing them (Romans 5:8). He later asked them to go and show themselves to the priests; if they did, they would experience healing. They believed and went on their way to the priests, and healing came while they were in the process. The text says it this way.
Then one of them, when he saw that he was healed, turned back, praising God with a loud voice; and he fell on his face at Jesus' feet, giving him thanks. Now he was a Samaritan. Then Jesus answered, "Were not ten cleansed? Where are the nine? Was no one found to return and give praise to God except this foreigner" (Luke 17:15-18)?
When we get to heaven, there will be an uninhibited response to be grateful. Luke ties gratitude to a form of praising God. Like hydrogen and oxygen are two components of water, gratefulness for God and praise to God are two inseparable expressions of our worship of God. The Father expects gratitude to be part of our worship. His expectation is not just a linear "thank you" that spills out when you think about what He did for you. Is this true for you? Let me explain.
Gratitude is the ontological disposition of any Christian. If you fill a cup with water and bump it, some water will spill out of the container. This metaphor illustrates what I mean by an "ontological disposition for any Christian." Gratitude is not only in us, but it is who we are. Jiggle us a little bit, and gratitude spills out of our mouths. This reality is something the non-Christian cannot possess or express. Authentic, God-satisfying thanksgiving comes out of Christian hearts.
For although they knew God, they did not honor him as God or give thanks to him, but they became futile in their thinking, and their foolish hearts were darkened (Romans 1:21).
Characterized by Gratitude
And you were dead in the trespasses and sins. . . . But God, being rich in mercy, because of the great love with which he loved us, even when we were dead in our trespasses, made us alive together with Christ—by grace you have been saved (Ephesians 2:1-5).
You cannot withhold gratitude for God because of His great work through the cross. This attitude is the kind of heart disposition the Redeemer expects from those He has healed (Luke 17:11-18). The first words out of the mouth of the newly-born Christian are, "Thank you." When God brings a dead man to life, he opens his eyes for the first time and expresses gratitude for what the good Lord did to him. From the point of regeneration forward, the Christian has the power not only to understand what happened to him, but he can now live a life of grateful response to God's great work in his life.
His life becomes characterized by gratitude. Is there anything in your life that has mitigated your appreciation for God and the narrative He's writing into your life? This question may be challenging for some folks—especially if relationships are complicated or other disappointments are vying for domination in their souls. Though gratitude and thanksgiving are born out of the empowering grace of God in a person's life, situational challenges can overcome grace while sucking gratefulness out of you.
And let the peace of Christ rule in your hearts, to which indeed you were called in one body. And be thankful (Colossians 3:15, emphasis added).

Being Controlled
I love sports—a lot! Or, at least, I used to enjoy them. I would watch any game whenever I could. I typically listened to sports podcasts each day. I had a "sports ticker" on my phone to keep up with specific teams. The ticker was a better strategy because I could get the scores without watching games. One of the everyday observations I have seen with sports fans is how their team's "ups and downs" can control their thinking and emotions. If their team is winning, they are generally positive.
With some fans, when their team is losing, they are noticeably unhappy. I understand why they respond the way they do. Sporting events can cause vacillating and visceral responses. The sports fan is motivated and controlled by something outside his ability to manage, and his responses are consistent with the outcome of his team. We are similar to sports fans in that the "ups and downs" of something outside our ability to manipulate can control us. The difference is that there are never any "downs" because Christ is always the Victor.
Jesus consistently provides overcoming grace.
The Father is authoritatively ruling over us.
The Spirit is profoundly comforting and empowering us.
The Bible is always guiding us.
No, in all these things we are more than conquerors through him who loved us. For I am sure that neither death nor life, nor angels nor rulers, nor things present nor things to come, nor powers, nor height nor depth, nor anything else in all creation, will be able to separate us from the love of God in Christ Jesus our Lord (Romans 8:37-39).
Assured Victory
Christians always have the assurance of victory. This kind of confidence does not negate disappointment. Gratitude does not displace pain and suffering but can be an antidote for our challenges. Gratitude and thanksgiving come to our aid when we are not getting everything we want. Isn't this one of the most remarkable things about the martyrs throughout church history? As you read books like "Foxe's Book of Martyrs" by John Foxe, it strikes you by the gratitude and thanksgiving God's children offered to Him, even while the enemies of Christ were executing them. Gratitude and thanksgiving, born out of the gospel-centered worldview, is a transforming experience for the Christian and an affirmation of the power of God.
One of the elders said to me, "Weep no more; behold, the Lion of the tribe of Judah, the Root of David, has conquered". . . And they sang a new song, saying, "Worthy are you". . . Then I looked, and I heard . . . many . . . saying with a loud voice, "Worthy is the Lamb who was slain, to receive power and wealth and wisdom and might and honor and glory and blessing!" (Revelation 5:5-12).
Expressions of gratitude will be our primary eternal response when we get to heaven. Shouts of "Worthy is the Lamb" will come from all those gathered around the throne of God as we see and experience Him who died for us. How could it be otherwise? Some struggling souls may respond, "We're not in heaven yet," or "You don't know my story." I understand because I have experienced the painful realities of sin, and despair can be a strong temptation to give up. I am no different from you.
I am not in heaven yet. I am a sinful man, living among other corrupt people in our fallen world. This condition is a triune combination that ensures pain and suffering. In our lives, gratitude is hard to muster, particularly in seasons of sorrow and grief. Still, yet, something else should characterize Christians. It should be something that transcends what is happening to our earth-tethered lives. You will have seasons of despair. We all do. But this fact should not be the consistent characterization of our lives. God provides persevering grace even when you can't sense it.
If then you have been raised with Christ, seek the things that are above, where Christ is, seated at the right hand of God. Set your minds on things that are above, not on things that are on earth. For you have died, and your life is hidden with Christ in God (Colossians 3:1-3).

Gospel and Gratitude
Let me make a gentle appeal: if Christ has raised you from the dead, He directs you to set your affections on things that are not on this earth. There have been many nights where I prayed to God through bitter tears. There seemed to be no end to the pain and disappointment. Still, I prayed, voicing my hurt and hope to the One who gave His all for me. Despair is real, and so is the grace of God. When adversity comes, you must seek to cooperate with the Spirit of God as you try to appropriate His grace to your situation. In time, gratitude will displace the despair, which will not come easy. It will take time, but it will come to any hurting heart looking for the Lord's grace in times of trouble.
The non-regenerated person does not have your options. He has only one reality, only one perspective, and only one life. The Christian has two guiding truths, possibilities, and worlds: the temporal and the eternal. The Christian is living here but was born a second time for another place. He has another experience the non-regenerated individual cannot perceive or experience (1 Corinthians 2:14). We have an answer. We know the solution. He is Christ—the only person who could transcend the suffering in our world. Your call as a child of God is to ensure your heart is oriented by a gospel of gratitude while seeking to serve others who feel the weight of despair.
Would you say your usual disposition is an attitude of gratitude?
Perhaps you work in a team environment. Ask your peers how they generally experience you. Would they characterize you as a grateful person?
During this season, ask your friends or maybe your spouse if they typically see you as a person of gratitude. If gratitude does not characterize your daily deportment, you have some soul-searching opportunities ahead of you.
If you have children, will you lead them in a few excellent conversations about their perception of you? Ask them to share their thoughts regarding your gratitude.
A grateful person has the correct understanding of the gospel. If I understand this truth: God, in eternity past, thought about my depraved condition and constructed a plan to rescue me from death and destruction, that story should have a transformative effect on me. If you are a Christian, you are in this kind of gospel story. Though you may feel you are living in another narrative, it is not the gospel truth. You live in one story, and it is His—the one He is writing for you. God is working His plan of redemption in your life. It would be best if you regularly reorient your mind to the gospel. Christ died for you, and you are safely secure in Him. Whatever is assailing you today will not overcome you. Let these five words define and motivate your gratitude: Christ died for your sins.
Call to Action
Will you work through the questions I asked you in the last section with a friend?
Are you generally amazed by the death and resurrection of Jesus Christ?
Will you list a few daily ways you practically remind yourself of the gospel?
Does your gospel-motivated gratitude regularly control you?
How often do you generally express gratitude to God?
How aware are your family and friends of your gratitude for the gospel?
Need More Help?
If you want to learn more from us, you may search this site for thousands of resources—articles, podcasts, videos, graphics, and more. Please spend time studying the ones that interest you. They are free.
If you want to talk to us, we have private forums for those who support this ministry financially. Please consider supporting us here if you would like to help us keep our resources free.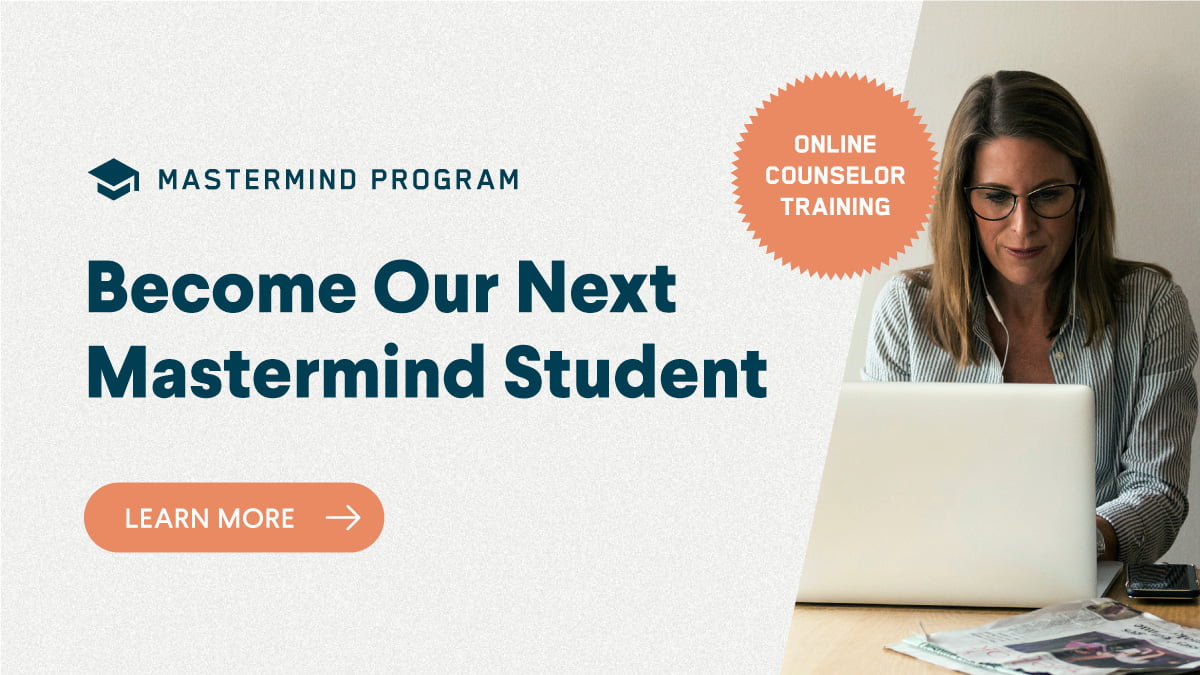 Filed Under:

Rick launched the Life Over Coffee global training network in 2008 to bring hope and help for you and others by creating resources that spark conversations for transformation. His primary responsibilities are resource creation and leadership development, which he does through speaking, writing, podcasting, and educating.
In 1990 he earned a BA in Theology and, in 1991, a BS in Education. In 1993, he received his ordination into Christian ministry, and in 2000 he graduated with an MA in Counseling from The Master's University. In 2006 he was recognized as a Fellow of the Association of Certified Biblical Counselors (ACBC).