Five Practical Things to Know When Unbelievers Die
Member Question – One issue I struggle with is the death of friends or loved ones who never appeared to come to the saving knowledge of Christ. There is not a lot said on this issue. There is a great joy, of course, for the regenerated but sadness for the lost. I would appreciate any help you can give on this subject.
You may want to read:
The Unmentionable
This question falls into the category of the unmentionables—things we don't want to think or talk about because of the distinct challenges with death and dying. And when we do think about it, our souls grieve. Hence the question. Christians are not the only people group who do not want to think about the end of their lives. Unbelievers don't like to give much mental space to this imminent reality.
And just as it is appointed for man to die once, and after that comes judgment, so Christ, having been offered once to bear the sins of many, will appear a second time, not to deal with sin but to save those who are eagerly waiting for him (Hebrews 9:27-28).

What man can live and never see death? Who can deliver his soul from the power of Sheol? (Psalm 89:48).
Death is no respecter of persons. Death does not see color, gender, age, or sexual orientation. Older people will die. Young people may die. And nobody knows when their appointed time will come, but we all know it will arrive. This article is for both people groups: those who believe Christ is their Savior and those who do not believe and have not been born from above.

What Will You Believe?
The Christian belief system is a worldview—the way we think about and respond to life. There was a time when I was not a believer, and then God made me one by the power of the gospel (Romans 1:16). He used a particular verse to convince me that Christianity was the truth and the right kind of life for me (John 14:6). It was a verse about hell—the place we don't want to think about because of what it means.
And if anyone's name was not found written in the book of life, he was thrown into the lake of fire (Revelation 20:15).
Because the Bible does not flatter people (Proverbs 27:6), a verse about hell stirred my interest. Most of the books I read from the self-esteem and positive mental attitude advocates told me how great I was and what potential I had. The Bible had a "counter-to-human-ego" message. It said to me that I was worthless (Romans 3:12), a sinner (Romans 3:23), and bound for hell (Matthew 25:30).
Because I had imbibed in the culture's "you are somebody" message, the declarations from the Bible were shocking. For me, it came down to a watershed issue that would send me in one of two radically different directions. Through a process of thinking, reading, seeking guidance, and praying, I became a believer. I was born from above, regenerated, adopted, justified, became a child of God, and was no longer alienated from Him (Colossians 1:21-23).
Whosoever Will
Salvation is a possibility for any person (Matthew 16:24-25; Romans 10:13), but the sad news is, as our member implies, every person does not believe the gospel message. Every individual does not enter the family of God (John 3:7). They die in their "unforgiven-by-God" sins (John 3:36).
I told you that you would die in your sins, for unless you believe that I am he you will die in your sins (John 8:24).

Have I any pleasure in the death of the wicked, declares the Lord GOD, and not rather that he should turn from his way and live? (Ezekiel 18:23).

Truly, truly, I say to you, whoever hears my word and believes him who sent me has eternal life. He does not come into judgment but has passed from death to life (John 5:24).
Where Will You Go?
Those who reject the gospel message are just like those who accept the gospel message in that they do what they do by faith. I believe what I believe because of faith. They believe what they believe because of faith. Neither one of us can ultimately prove our points outside of faith because none of us can go to the afterlife until we die. We trust what we believe for a myriad of reasons, but the result is that we have faith claims that ultimately boil down to one of two things: (1) You are a Christian or (2) You are not a Christian.
And many of those who sleep in the dust of the earth shall awake, some to everlasting life, and some to shame and everlasting contempt (Daniel 12:2).

What the wicked dreads will come upon him, but the desire of the righteous will be granted (Proverbs 10:24).

And do not fear those who kill the body but cannot kill the soul. Rather fear him who can destroy both soul and body in hell (Matthew 10:28).
According to the Christian's understanding of life and death, there are two possible destinations for humanity. Those born again go to heaven, and those who are not born from above go to hell. The good news for all people everywhere is the possibility of understanding the gospel message and not going to hell. Even those who have not heard about Jesus can perceive there is a God, which removes the excuse of, "I did not know."
Without Excuse
For his invisible attributes, namely, his eternal power and divine nature, have been clearly perceived, ever since the creation of the world, in the things that have been made. So they are without excuse (Romans 1:20).
I remember as a child how the greatness of God's creative power was ever before me. Though the Christians I knew adulterated their message, Sovereign God broke through my darkness to convince me of His way (Ephesians 4:18). The Lord saved me despite Christian religion, much like He can regenerate the person who does not know anything about Christianity. God's power can penetrate any darkness and open the unbelieving eyes regardless of how they were made blind.
In their case the god of this world has blinded the minds of the unbelievers, to keep them from seeing the light of the gospel of the glory of Christ, who is the image of God (2 Corinthians 4:4).

When the Unsaved Die
This article is sobering to write. I feel the weight of my words. There is a truth, which my fellow member is trying to reconcile in his mind. Becoming a believer does not release you from the tension between heaven and hell; it exacerbates the pressure because the believer knows,
The wages of sin is death, but the free gift of God is eternal life in Christ Jesus our Lord (Romans 6:23).
As an unbeliever, you can deny or rationalize hell away because nonbelievers do not want to believe. Believers are the ones who trust, which is why the weight of hell is more complex for them to process. They know hell is absolute, which is why the burden of it can weigh down the unfortified soul. There is a danger here that we must discuss.
If not, it will weaken your effectiveness in helping the ones you're afraid are going to make the eternal mistake. You don't want that unintended consequence working against your efforts to tell others about the gospel. Here are five things I want you to consider about death and eternity. If you are not a Christian, I appeal to you to study the Bible verses in this article. Before you entirely dismiss the Christian message, do your due diligence. Test our faith claims about God, salvation, heaven, and hell.
#1 – God is Good – The main thing to keep in mind regarding the death of unbelievers is the goodness of God. Whenever something weakens your faith, the goodness of God is always in question. In the case of the passing of an unbeliever, you must guard your heart against drifting from the Lord's goodness.
Isn't this the accusation of unbelievers? They ask how a good God can send people to hell. Don't fall for this. What you need to do here is a thorough study of God's love and justice. A good systematic theology book will help you. Wayne Grudem's Bible Doctrine has blessed many people because it's not hard to read.
A systematic theology book is like an encyclopedia. You don't typically read it from cover to cover, but you peruse random topics to learn what the Bible says about those issues. The Grudem book would serve you well. Read about God's love and His justice.
#2 – Guilt is Gone – I don't know how God will remove all guilt, but I do believe in God's Word. There is coming a day when all guilt will be gone, which is excellent news because we all live with the nagging reality of would've, should've, could've.
[The Lord] will sustain you to the end, guiltless in the day of our Lord Jesus Christ. God is faithful, by whom you were called into the fellowship of his Son, Jesus Christ our Lord (1 Corinthians 1:8-9).
There is a sense with all self-aware Christians that we could have done more. Each day brings missed opportunities to tell someone about Christ. Whether it's because of our fear of man or the busyness of life, we are aware of personal failure when it comes to proclaiming Christ. I'm not saying our failures are correct, and I'm not appealing for laziness or apathy. I'm stating reality. While I have no desire to be lazy or ever stop broadcasting Christ to the world, I know there is always more that I can do.
Even so, I can find rest knowing the Lord will not leave us wallowing in our guilt now or later. It is hard for me to fathom this mercy from God, but I find hope—through faith—that He can eradicate current guilt and future guilt. For the unbeliever, this is just as awesome. They can also be free from guilt if they would choose to be born again.
#3 – Live in Hope – In 1987, someone brutally murdered my brother. He was almost thirty-two years old. Just three months earlier, I shared the message of Christ and how he could be born again. He said to me on that day, "I can't. I have some things to do."
My heart sank as the door of his heart closed. I don't know everything that happened to him between me sharing the gospel and his appointment with death. I want to think he was born again, but I know I can't play mental games here by wishing him into heaven. He may or may not be a Christian. When I arrive in heaven, I will look for my brother. In the meantime, I know these two things:
God is good today.
God will be good in the future.
#4 – All Things New – Somehow, Sovereign Lord will make all things right. Like how I think about what He is going to do with my guilt, I also reflect on His miracle-working power in heaven.
He will wipe away every tear from their eyes, and death shall be no more, neither shall there be mourning nor crying nor pain anymore, for the former things have passed away" (Revelation 21:4).
The would've, should've, could've will be forever obliterated. You ask, "How can this happen?" I have no idea. He did not tell me, but I believe Him. The Lord will make all things new. To be submerged in unresolvable guilt, shame, or fear does not honor the Lord we serve. His grace is greater than all of our anxious or fret-filled thoughts.
#5 – Share Christ – You have a choice. You can rest in the goodness of God and His plans for humanity, or you can allow cynicism to assault your faith. If you choose to trust God, you are in the place to do the one thing that is most important when it comes to heaven and hell: share Christ with anyone who will hear. You do have a powerful message for them.
For God so loved the world, that he gave his only Son, that whoever believes in him should not perish but have eternal life (John 3:16).
Call to Action
Do you believe God is good regardless of your situation? If not, how do you need to change?
Do guilt's tentacles keep hold of you? If so, why are you this way, and how do you need to change?
How does the hope you have in Christ settle your soul during challenging times?
How does the "all things new" in heaven affect how you live today?
What hinders you from sharing Christ, and what will you do to change?
Need More Help?
If you want to learn more from us, you may search this site for thousands of resources—articles, podcasts, videos, graphics, and more. Please spend time studying the ones that interest you. They are free.
If you want to talk to us, we have private forums for those who support this ministry financially. Please consider supporting us here if you would like to help us keep our resources free.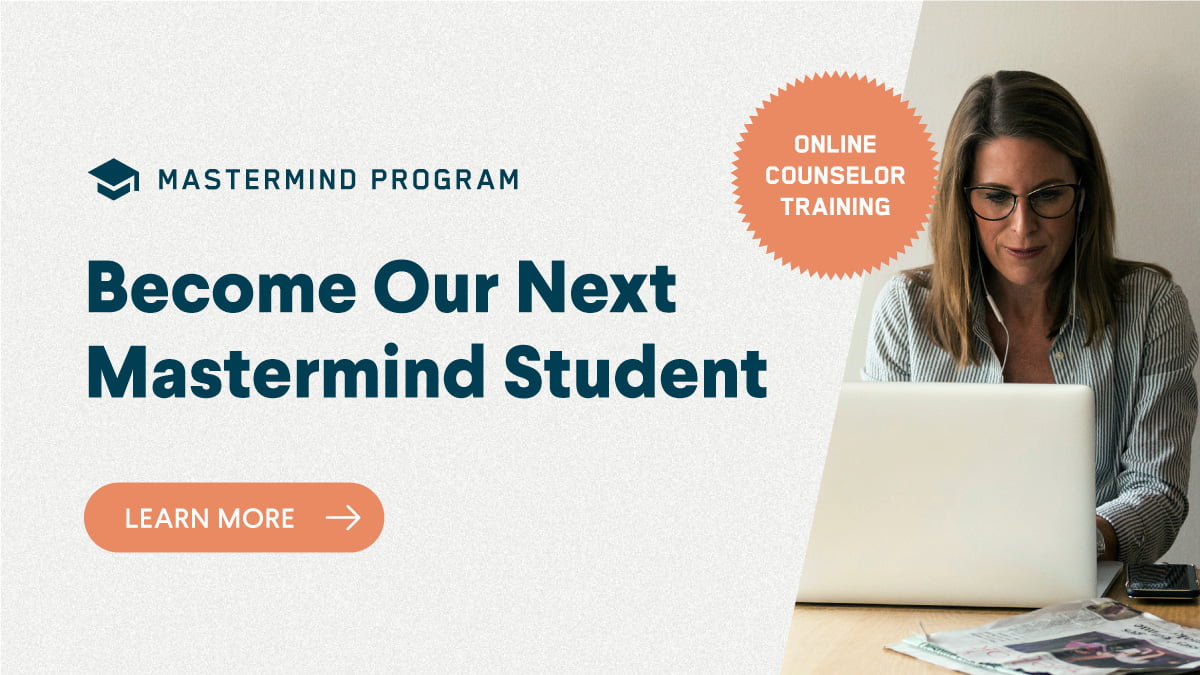 Filed Under:

Rick launched the Life Over Coffee global training network in 2008 to bring hope and help for you and others by creating resources that spark conversations for transformation. His primary responsibilities are resource creation and leadership development, which he does through speaking, writing, podcasting, and educating.
In 1990 he earned a BA in Theology and, in 1991, a BS in Education. In 1993, he received his ordination into Christian ministry, and in 2000 he graduated with an MA in Counseling from The Master's University. In 2006 he was recognized as a Fellow of the Association of Certified Biblical Counselors (ACBC).