You Know Your Faith Is Real When
Job's wild ride through the crucible of suffering was coming to an end. The devil was defeated. The Lord was glorified. And Job changed. I knew the first two things were going to happen: Satan would lose, and God would win.
You may want to read:
What I did not expect was all the Lord wanted to do with Job. I did not even know he had a problem. He seemed to be a good man, going about doing good (Job 1:1, 5). And after Satan turned his world upside down, he refused to sin or charge the Lord with any wrong (Job 1:22).
Leave it to the Lord to go deeper. He always goes farther than anyone else and does more than what is expected (Isaiah 55:8-9; Ephesians 3:20). What we anticipate Him to do is not always what He does. What we do not conceive as a possibility, He accomplishes. Though it was assumed He would win the bet with the devil, I did not expect a radical and deeper transformation of Job.
If the extent of the story was about a wager, there was nothing more to write after the first chapter. Job was laid low by the Lord, and he responded with humility and praise (Job 1:20-22). This reaction is what the devil said would not happen, but it is what the Lord knew would happen (Job 1:8-12).
But God knew more than the rest of us. This story was not just between the Lord and Satan. The Lord loved Job and wanted him to have a broader experience of faith. Being a good man was not enough. There was something amiss in Job's heart, and the Lord wanted to adjust it.
Just before the final curtain fell, we learned how there was one more piece of work the Lord needed to do for Job. It was a test. The time to put up or shut up had come. Job claimed that he had changed (Job 42:5-6). He testified how he was of small account (Job 40:4). But the reality of his testimony needed validating by a practical exam.

One More Thing
After four years of crawling through the dirt with Job, I felt as though I had changed too. Before God radically and terribly imposed Himself upon me, I was living a decent life. Then, without warning, I was crushed beyond my worst fears.
I crumbled and grumbled, eventually giving up on God. Mercifully, He would not let go of me. He persevered when I could not. He loved me enough to allow the suffering to change me. He slowly and carefully whittled me down to size.
Toward the end of this horrible experience, I finally repented. I, like Job, had heard of the Lord by the hearing of the ear, but now I could perceive Him in a new and transforming way (Job 42:5-6). Still yet, there was one more thing to do.
Was the Lord's "internal heart-work" real, or was I trying to manipulate God and others by saying I was fine when I was not? Had I been truly and effectually changed? There was only one way to tell. I needed to "road test" my supposed transformation.
Enduring through horrible circumstances is a good thing, but the most authentic assessment of the Lord's work in your life is how you respond to life's challenges.
The test the Lord gave me was straightforward. It came in the form of a few questions He proposed to me. The query was designed to reveal my practical awareness of the gospel as well as my willingness to live it out before others.
Heart Question: Was I willing to forgive those who had sinned against me (Luke 23:34)?
Serving Question: Would I cooperate with the Lord by being used to help those who purposely hurt me (Mark 10:45)?
Love Your Enemies?
And the LORD restored the fortunes of Job, when he had prayed for his friends. And the LORD gave Job twice as much as he had before (Job 42:10).
The test for Job was also straightforward: would he pray for those who were mean to him?
The most accurate test of a person's faith is when he can demonstrate the love of God toward the person who has sinned against him (Romans 5:8). This kind of demonstration is an authentic replication of the gospel—Christ becoming a man to die for those who had sinned against Him (Luke 23:34; 2 Corinthians 5:21; Philippians 2:5-11).
Love your enemies, do good to those who hate you, bless those who curse you, pray for those who abuse you. If you love those who love you, what benefit is that to you? For even sinners love those who love them.

And if you do good to those who do good to you, what benefit is that to you? For even sinners do the same. But love your enemies, and do good…and your reward will be great, and you will be sons of the Most High, for he is kind to the ungrateful and the evil. Be merciful, even as your Father is merciful (Luke 6:27-36).
Job passed this test, and his reward was great (Job 42:10-17). His response to his friends convicted me. I had to do what he did. The Lord blessed me with an absurd amount of personal suffering, and He called me to prove to Him that I had learned how to walk in the steps of His Son (1 Peter 2:21).
Like an unending game of Monopoly, I knew if I would not humble myself and forgive those who hurt me–at least in my heart–and attempt to serve them, my captivity would continue.
Who Do You Love?
Have you learned the lesson of Job?
Can you love the person who annoys you?
These are self-assessment questions. Your answers will reveal to what degree you have been affected and changed by the gospel. The call to love the unlovable is more than a nice biblical truth you should affirm. It is the gospel.
The King James Bible says the Lord turned the "captivity of Job" when he prayed for his friends. Job was in captivity. His world had fallen apart, and his soul was torn asunder. The purpose of this divine-inspired, human rigmarole was to change Job. To not change is to choose unending captivity.
Are you aware of how ongoing bitterness, anger, and unforgiveness toward someone will prolong your captivity?
Do you know how a bad attitude toward any person who has hurt you, no matter how legit the hurt was, will push you deeper into your captivity?
The Lord wanted to release Job from his captivity, but it was up to Job if he wanted to experience release. This possibility is fantastic news: Job held the key to his captivity, which was in his heart.
In time, I learned the lesson of Job. My incarceration ended after I repented of my self-righteous anger toward those who hurt me while seeking their forgiveness.
My freedom was not in their hands. I was not a victim of my circumstances. I was a victim of the anger and self-righteousness that I carried in my heart.
"When" Will This Happen?
The authentication of your Christian maturity is not how you are coping with your problems, but how you are loving and serving others–particularly those who have hurt you.
Some could wrongly surmise Job was transformed from a counseling perspective because he had been through the gristmill with God and had come out on the other end loving God.
Enduring suffering and loving God is not the best assessment of a Christian's maturity. The comprehensiveness of Job's total makeover would be determined by how he responded to the Lord's request to love others more than himself (Matthew 22:37-39).
The power of the gospel is useless if we don't effectually apply it to those who need it, especially those who hurt us.
Do nothing from rivalry or conceit but in humility count others more significant than yourselves (Philippians 2:3).
Job's friends hurt him. As you read their dialogue, your heart aches for him. Much of what they said made them careless and unkind counselors. This relational problem is what makes the Lord's request for Job to pray for them all the more powerful, purposeful, and practical.
It was showtime and Job had an immediate opportunity to put his newly reframed theology to practice. And he did not disappoint: he prayed for his friends. Job humbly and obediently went from being a disputing Christian to an interceding Christian.
This transition from being incarcerated by self-righteousness to being freed through genuine humility happened when Job prayed for his friends. The word "when" is an element of time.
Your captivity will end when…
He changed when…
You can pray for change until you are blue in the face. You can talk about all the Lord has done for you until the cows come home. You can affirm the many principles of the Bible, but the proof is in the pudding. It is "when" you act upon what you know that you will experience the liberating power of the gospel.

Words! Words! Words!
In the Broadway musical, "My Fair Lady," the character Eliza Doolittle became more than a little agitated when her beau was slow about showing his affection for her. He was doing more talking than doing. She rebuked him this way:
Words! Words! Words! I'm so sick of words!
I get words all day through;
First from him, now from you!
Is that all you blighters can do?
Don't talk of stars burning above;
If you're in love, Show me!
James, the half-brother of Jesus, was a little more direct than even the sharped tongue Eliza Doolittle. He said it this way:
So whoever knows the right thing to do and fails to do it, for him it is sin (James 4:17).
It will not do to give intellectual affirmation to what you need to do merely. As Eliza says, "Show me!" As James says, "Faith without works is dead." (James 2:17)
You will not benefit from the blessings of the Lord if you are holding unresolved conflict in your relationships. This hard truth makes "when" a big word. It cannot be faked, manipulated, or contrived. God knows every thought and intention of your heart (Hebrews 4:12-13).
Can you freely pray for and actively serve those who have hurt you?
My question is not theoretical. It is a practical question that strikes at the heart of your understanding and application of the gospel in your life.
If you cannot forgive or if you persist in holding resentment, anger, and hostility toward others, your religion is marginalized, if it is real at all. The point of Job's journey and the accusation of the devil was whether or not he would prove his faith —would he love God regardless of his circumstances?
The Questioner Turns To You
To what degree is your faith governed by what you get from the Lord? And, are you able to bless the Lord when you don't receive what you want? (See Job 1:20-23)
Take a moment to think about your friends. Maybe it is a spouse, parent, child, relative, co-worker, church friend, or former friend.
Have any of them hurt you?
If so, are you free from what they did to you, to where you can be practically and measurably redemptive toward them?
Your Truest Test Of Christianity
Christ, the offended, engaged the offenders so He could transform them. He did this for you and me, which is our calling. Modeling the gospel is Christian maturity. God will release you from your captivity when you can actively love those who have hurt you.
Then Satan answered the LORD and said, "Does [put your name here] fear God for no reason? Have you not put a hedge around him and his house and all that he has, on every side? You have blessed the work of his hands, and his possessions have increased in the land. But stretch out your hand and touch all that he has, and he will curse you to your face (Job 1:9-11)."
Call to Action
What was the main thing the Lord pinpointed in your life from reading this chapter?
Will you write out your specific plan for change? Be brief, but detailed.
Will you share with a friend what the Lord taught you, asking your friend to help you to change?
If you are still captivated by unresolved bitterness, anger, cynicism, or unforgiveness, I appeal to you to go back to the beginning of this chapter and reread it, asking the Lord to release you from the captivation of your heart.
Need More Help?
If you want to learn more from us, you may search this site for thousands of resources—articles, podcasts, videos, graphics, and more. Please spend time studying the ones that interest you. They are free.
If you want to talk to us, we have private forums for those who support this ministry financially. Please consider supporting us here if you would like to help us keep our resources free.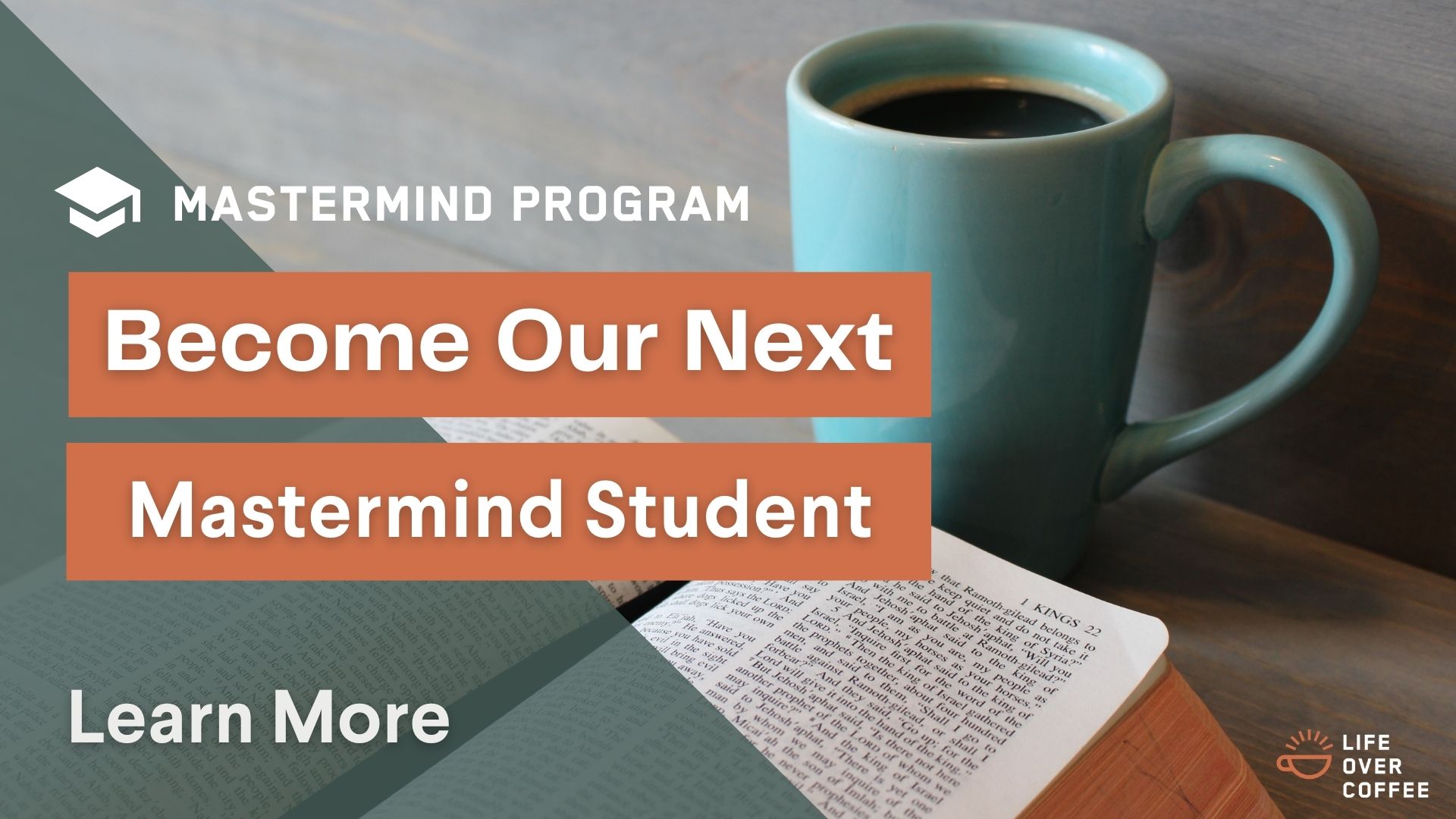 Filed Under:

Rick launched the Life Over Coffee global training network in 2008 to bring hope and help for you and others by creating resources that spark conversations for transformation. His primary responsibilities are resource creation and leadership development, which he does through speaking, writing, podcasting, and educating.
In 1990 he earned a BA in Theology and, in 1991, a BS in Education. In 1993, he received his ordination into Christian ministry, and in 2000 he graduated with an MA in Counseling from The Master's University. In 2006 he was recognized as a Fellow of the Association of Certified Biblical Counselors (ACBC).