Bringing God Down to My Level So I Can Argue With Him
When the circumstances are the most adverse, the temptation will be the strongest to bring God down to your level so you can argue with Him. "Letting" God be God is one of our greatest fears.
Listen to the podcast

Our podcasts are on iTunes, Google Play, SoundCloud, TuneIn, or Stitcher. If you want to comment on this content, go here.
You may want to read:
When unexplained and undeserved suffering comes into your life will you still trust the Lord? When God is silent, and there is no apparent benefit to hold on to Him by faith, will you continue to follow Him? Can a believer lose everything that is dear to him and still have a robust God-centered confidence and great love for God?
To answer these questions in the affirmative requires a high view of God, which means God is God and we are not. The Lord can do what He wants to do when He wants to do it, how He wants to do it, and what He does is perfect and unassailable.
When we suffer, it is much easier to lower your view of God than to lift your faith higher. – John Walton
There are some types of suffering where lifting your faith to a high view of God can be the most challenging thing you will ever do. An elevated view of God means He is perfect in every way and everything that He does is right and without argument.
But he is unchangeable, and who can turn him back? What he desires, that he does. For he will complete what he appoints for me, and many such things are in his mind. Therefore I am terrified at his presence; when I consider, I am in dread of him. – Job 23:13-15
When you are walking through the valley of the shadow of death (Psalm 23:4), to lift up your faith to a high view of God is not only challenging, but it is scary. It is far easier to bring God down to our human understanding where He can be challenged, corrected, and even disobeyed.
To lift Him up to His throne and to worship Him on His throne requires the kind of submission that may cost your life (Matthew 16:24). A high view of God is a call to let God be God regardless of what comes your way. It is a complete surrender of one's life.
Father, if you are willing, remove this cup from me. Nevertheless, not my will, but yours, be done. – Luke 22:42
This relinquishing of your rights is the highest call of humankind: to "let" God be God and to be okay with how He runs the universe. The truth is, God will be God whether you let Him or not. The real issue is whether you will be okay with how He runs the universe—most specifically, how He runs your life.

A God You Can Argue With
And (Job) said, "Naked I came from my mother's womb, and naked shall I return. The LORD gave, and the LORD has taken away; blessed be the name of the LORD." In all this Job did not sin or charge God with wrong. – Job 1:20-21
It is rare to have the first response like what Job did when your world blows up in your face. To worship and bless the Lord during acute suffering is not typically something that comes from us.
Our first response is usually more along the lines of bringing Him down to our level so we can challenge Him. A non-Sovereign god is a challenge-able god (Isaiah 55:8-9). If the Lord was not Lord, but more like us, what He brings to our lives would be open for debate.
I remember the first time I argued with God this way. It was when my suffering was beyond my ability to manage it (2 Corinthians 1:8-9). When my pain was not as intense, I was okay with Him being God. I never considered going toe-to-toe with the Lord during the good times.
After my sufferings went beyond the breaking point, my desperation increased, and I began to lose my sense of divine propriety. Rather than responding like Job, I sounded more like Job's wife (Job 2:9).
I did this by unwittingly trying to wrestle His divine attributes away from Him. Rather than Him being sovereign, I wanted to be sovereign. Rather than Him determining what good was, I wanted to be the authority on what was right.
Here is a list of ten of His many attributes. After I humanized Him, I could become the determiner of who would control these attributes.
The Solitariness of God – He does not need us.
The Decrees of God – His (scary) future purposes.
The Knowledge of God – He is omniscient.
The Immutability of God – He is unchangeable.
The Sovereignty of God – He rules everything.
The Holiness of God – He is perfect in every way.
The Power of God – He is all-powerful.
The Faithfulness of God – He is persevering.
The Goodness of God – He is the best.
The Love of God – He is kind.
These are only ten of His attributes. There are many more. As you can see, to let God be the sole owner of these qualities is to release yourself to His control fully. This need requires you to elevate your faith beyond your ability to manage your life (2 Corinthians 12:10).
High View of God
And the LORD said to Satan, "Behold, all that he has is in your hand. Only against him do not stretch out your hand." So Satan went out from the presence of the LORD. – Job 1:12
Typically, people are cool with God until personal suffering comes into their lives. It is when He chooses to let down whatever protective hedge (Job 1:10) He has around us that we become unsettled about who He is and what He may allow into our lives.
This possibility is why it is easier to lower your view of God than to have faith in Him. A lower perspective gives you a twisted permission to accuse Him of wrongdoing or unfairness. You could even choose to walk away from Him.
At the moment when faith is hardest and least likely, that is when faith is needed most. – John Walton
Have you ever lowered your view of God when there was an elevated crisis in your life? Take a look at the attribute list again. Which ones have been the most difficult for you to embrace when your suffering was the acutest?
Here are some of the ways I have lowered my view of God during personal suffering and, thus, permitted myself to argue with Him as I have tried to call the shots.
The Knowledge of God – Lord, if you know all things, why have you let this in my life? You knew what was coming (decrees of God), but you allowed it anyway.
The Immutability of God – Lord, you are all-powerful (omnipotence). You can change your mind (decrees). You do not have to let my suffering continue.
The Sovereignty of God – Lord, you rule over the entire universe. It would not take much for you (power) to orchestrate things in such a way to make things better for me.
The Love of God – Lord, do you love me? Is this (goodness) how you express love to your children?
Oh, that I knew where I might find him, that I might come even to his seat! I would lay my case before him and fill my mouth with arguments. – Job 23:3-4
As you can see, when the Lord is on my level, I can challenge any number of His attributes. I can also interweave several characteristics into my arguments to make a case against Him.

Two Conclusions
What comes into our minds when we think about God is the most important thing about us. – A. W. Tozer
Your crucible of suffering provides you with your most accurate litmus test to examine what you think about God, others, and life. Do not miss that Job's first response to his suffering (Job 1:20-22) was not to God, but to others.
He was letting others know what he thought about God. What do others learn about your faith when suffering comes into your life? You always put your beliefs before others, whatever your faith may be.
In the first chapter of Job, his friends saw a man who trusted God. His suffering revealed his faith. His friends could draw two conclusions about Job's faith in the Lord.
Nothing ever happens to us that is outside of God's control.
Job truly believed the Lord gives and He takes away, and you can accept both of these possibilities as coming from Him.
This includes all primary and secondary causes, which means suffering that comes from the Lord and suffering that comes from others or other circumstances. All suffering, no matter from where it comes, is allowed by the Lord.
This does not mean you have to like what God is allowing in your life. It says you should be able not to choose a wrong path when bad things are happening to you. Your sinfulness or lack of sin during your suffering will reveal the kind of faith you possess.
As you read Job's response to suffering, how do your typical reactions to pain compare to his?
How do you need to change? Be specific and practical?
Faith means trusting God when there is no apparent reason to do so. When you see unexplained or undeserved suffering, you can have a higher view of yourself than of God. You can think that your love and your justice is better than God's love and justice.
You can do this with any attribute of God. It can be a natural temptation to sit in judgment of God when life is not going your way. Whenever your heart is acting out of faithlessness, you will seek to take control of the situation, even if it means making accusations against the Lord or hurting those who are interfering with what you are trying to control.
Which attribute of the Lord brings you the greatest struggle?
How does this struggle impede what the Lord would like to do for you?
Call to Action
Ultimately, the battle is between faith and fear. When trouble comes, people are afraid. The Lord is always calling us to faith (to trust). The degree of difficulty in trusting the Lord is in proportion to the fear of what we perceive our losses to be.
As you sense something in your life being wrestled away from you, the more you will fight, even if that fight is against God. This reaction is not what Job was willing to do. He was not going to war. He was going to trust.
The Lord gave, and the Lord was taking away. He chose to worship God at that moment. If you are not like Job, name the thing you are afraid of losing. It is that thing that is sabotaging your faith.
In the space of twelve months, I lost my wife, children, home, property, job, and reputation. These lost things were easy to identify. I did not want to lose them, but I could not control them, so I became angry with God and others.
Maybe the thing you are afraid of losing is less discernible, though I doubt it. Most of us know the something we do not want to lose, and when something challenges it, we can become angry and faithless.
This intersection is where you will have to make a life-altering decision. Will you be honest about the real motives of your heart? If you cannot or will not do this, you will always live a life that will oscillate between anger and fear.
The first step in transcending your trouble is, to be honest with what is going on in your heart. Because I did not respond like Job, it took a while for me to be honest with God and others. I had to own my sin by naming my fear. Only then did I begin a process of repenting of this fear of loss, while trusting the Lord.
If you can relate to this chapter, I strongly encourage you not to walk this journey alone. Bring trusted friends into this battle for your soul. The mortification of sin does not happen at a point in time. It is a journey suited for a community.
Main Photo: © themacx from Getty Images Signature via Canva.com
Need More Help?
If you want to learn more from us, you may search this site for thousands of resources—articles, podcasts, videos, graphics, and more. Please spend time studying the ones that interest you. They are free.
If you want to talk to us, we have private forums for those who support this ministry financially. Please consider supporting us here if you would like to help us keep our resources free.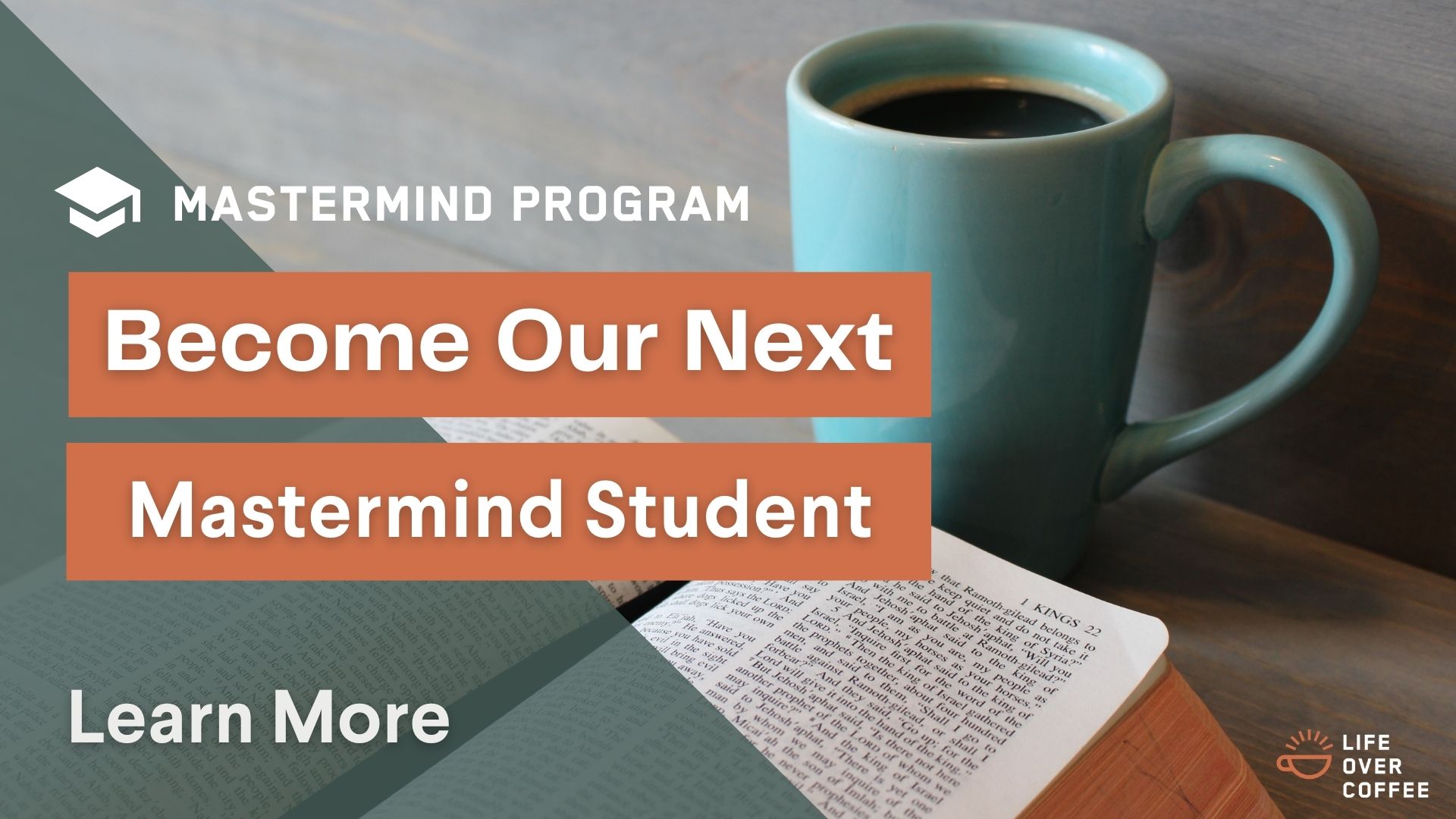 Filed Under:

Rick launched the Life Over Coffee global training network in 2008 to bring hope and help for you and others by creating resources that spark conversations for transformation. His primary responsibilities are resource creation and leadership development, which he does through speaking, writing, podcasting, and educating.
In 1990 he earned a BA in Theology and, in 1991, a BS in Education. In 1993, he received his ordination into Christian ministry, and in 2000 he graduated with an MA in Counseling from The Master's University. In 2006 he was recognized as a Fellow of the Association of Certified Biblical Counselors (ACBC).