Will You Please Help Me? I Do Not Like My Spouse Anymore
When you fall out of love with your spouse, your marriage takes a drastic turn that few couples can alter. Long before the love sets sail, there are signs that point to a future disappointing season. Mable saw the signs but did not reach out until her love ship vanished over the horizon. There is still hope. What about you? If your love boat is adrift, I recommend you take heed to what I have to say.
You may want to read:
Supporting Member – I read your booklet, Help! My Marriage Has Grown Cold. I think I am the wife in that booklet. I've told my husband that I don't care for him. I have no affection for him, and if we were dating, I would break up with him and never turn back. I have all kinds of questions for you, like how do I live in a marriage like this? Can God give me contentment when there is such a difference between my husband and me? How do you think I'm sinning, especially since I don't love my husband?

I'm not even sure how to forgive him after all these years of disappointment and friction between us. I have no idea what to do or how to let things go and start over again. Everything I try does not affect my husband. He does not change. My heart feels frozen when I think about him.

Just to let you know, I have not been innocent in our marriage. I have repeatedly sinned against him. Initially, I never realized how my sinful responses would cause him to be so apathetic toward our marriage. Though I have asked him to forgive me, he looks at me with disgust and disinterest. I have my life, and he has his.

Our marriage causes great concern for me regarding our young children. What will life be like for them? What can I do for them? Though we have been in counseling, it does not do any good. He does not change, and I feel hopeless for the marriage and our children? Help! —Mable
I cannot interact with all of her questions in this short piece. If you're interested to delve deeper, please click on any of the links in her email to explore more.
It's a Wonderful Life
There is rarely a week that goes by where we don't receive an email or forum post similar to this one. These cries for help come from husbands and wives. What they hoped for their marriages takes a turn, usually imperceptible, and only after years have passed do they realize something is woefully wrong. At that point, they sense hopelessness. In this true account, I'm calling my friend Mable. Here is what we know about her.
She is a believer.
Her marriage might be beyond repair.
Unless God intervenes, the picture Paul provides in Ephesians 5:25-26 won't be theirs.
She is a casualty of war in a marriage gone sour (1 Peter 5:8).
My analysis sounds hard, but it accurately restates what Mable has already said. When helping someone, you want to be honest with what they present to you. From her perspective, she would agree with my analysis. But is the marriage without hope? Honestly, I do not know. I do know it's dire, and though I appreciate her reaching out, I have to recognize my limitations in marriage counseling where only one person is looking for help.
Five Prerequisite Starters
Mable gave me a list of questions. I will interact with a couple of them in this piece. Before I do that, it would be prudent for anyone following along to make sure they calibrate their thinking to God's Word. Not only do you want to think realistically about the state of this marriage, but you want to make sure your presuppositional window is colored biblically with God's Word.
Being a Christian does not insulate you from trouble, whether in life situations or relationships.
Some marriages will never change. Sin is effective, and there are casualties of war.
Young people need to be less naive and less optimistic about their marital choices.
Local churches are full of troubled marriages, and most Christians do not know the extent of them.
The church needs to be more open and honest about the state of their marriages and families.
If you think you're going to sin in the future, reach out to someone today to begin working through the underlying struggles that lead to future transgressions. Preventative and preemptive measures can keep future entanglements from happening. —Rick Thomas

Today, If You Hear
Sin is cancerous. If left undiagnosed, unchallenged, and untreated, it will wreak irreparable damage on your life, family, friends, and the local church. Too often, people come to me long after sin has done its work. Mable is a case-in-point. I'm not pointing the finger at her or trying to make her feel worse than she already does; it's essential to know that future trouble must be approached preventatively, not after the fact.
Therefore, as the Holy Spirit says, "Today, if you hear his voice, do not harden your hearts as in the rebellion, on the day of testing in the wilderness" (Hebrews 3:7-8).
Her marriage may not change, but it does not mean you can't learn from what happened and make the changes you need to make so that you don't find yourself in the same boat. The aftermath of sin's destruction is far more excruciating than preventative measures that can prohibit such future heartbreak. Do not believe that you are different. Don't think the enemies of God are not interested in you. There is no place for naiveté during wartime.
Though you can have a wonderful life, it will not come by accident. Jesus did not cause sin's reversal by accident or wishful thinking. He premeditated His gospel activity (Ephesians 1:3-11). Christ proactively set aside what He had with His Father (Hebrews 12:1-2). He came to earth to be obedient to death (Philippians 2:6-11). His gospel-efforts worked but not through passivity, immaturity, or lack of wisdom and sobriety.
Where from Here?
Like the Savior, you can enjoy a fruitful life and marriage. You can have a dynamic relationship with your spouse and friends. It will only come through premeditation, intentionality, wisdom, dying to self, and active faith in God. I think if Mable could share with you today, she would share these things. She would want you to know the pitfalls in relationships and the heart's deceptions when it comes to romance. She would warn you not to do what she did.
Though Mable cannot go back in time, there is a path forward. To help her, I will interact with a couple of her questions and provide supplemental resources for the others. If you're in a similar place, whether you're the husband or wife, these things apply to you. Today, if you hear His voice, I appeal to you to act now. She is asking,
Will my marriage ever change?
Can I find contentment in this mess?
How am I sinning, and how can I forgive him? Read here, here, here, and here.
What would you recommend for my children? How can I help them? Read here.
I cannot interact with all of her questions in this short piece. If you're interested to delve deeper, please click on any of the links in this bulleted list to explore more.
Will It Change?
Mable's marriage can change. Think through all the hopeless situations in the Bible, i.e., Moses and the Israelites standing on the water's edge with an army marching forward to eradicate them. What about a man coming to earth to die on a cross to rescue humanity? It's a well-worn question but one worth asking again: "Is anything impossible for God?" No doubt God can do incredible things.
The fact of the gospel informs moments of insanity—not thinking sanely (biblically). The more outstanding question is whether God will change your marriage. Today's questions with future answers are not answerable. No one can say "Yes, He will" or "No, He won't." There is an element of mystery in Mable's marriage that she will have to wrestle with to find contentment in Christ alone (Deuteronomy 29:29). God will not tell us these types of future outcomes.
God is calling us to live by faith, not by sight (Romans 1:17). He will not give the answers we want because those answers negate the faith He is calling us to. While we hope God will change our trouble, we must wrestle to find our confidence in God alone and not in what He may do. One of the most profound illustrations of this idea is in the book of Daniel. You know the story. Three Hebrew boys decided to disobey their king, choosing to obey God. The king punished them, but before doing so, he called them to deny God.

But If Not
Shadrach, Meshach, and Abednego answered and said to the king, "O Nebuchadnezzar, we have no need to answer you in this matter. If this be so, our God whom we serve is able to deliver us from the burning fiery furnace, and he will deliver us out of your hand, O king. But if not, be it known to you, O king, that we will not serve your gods or worship the golden image that you have set up" (Daniel 3:16-17).
Did you read the three little words: "But if not?" Those words are remarkable. What the three boys said illustrates practical faith in action. God is calling us to live their kind of faith. Life is not about what we get or do not get. Life is about the God we serve. There is no more challenging lesson in life than learning how to walk out authentic and practical faith in God. I don't know if any marriage will change: it may; it may not. But if not, here are three things I do know.
You must glorify God in all circumstances in your life (Genesis 50:20).
God can use sin sinlessly to accomplish His purposes in your life (John 9:18-24).
God can take any sin, as evil as it may be, to bring glory to Himself and benefit to you (Matthew 27:54).
The Right First Question
As hard as it would be for me to hear, I would be asking the wrong question first, too. What Mable wants to know reveals her heart's priorities. The three Hebrew boys were not as interested in changing their circumstances as they were interested in putting God on display. The better first question is how we can put God on display rather than what God can do for us.
Yes, I do understand the real-world tension of what I'm suggesting. But I also know that God's preeminent desire is not to meet all our dreams or expectations. The Lord's most urgent plan is to transform us into His Son (John 12:24). He cannot change you into an accurate image of Jesus if your transcending heart's intention is about what you can get or not get.
For to this, you have been called, because Christ also suffered for you, leaving you an example, so that you might follow in his steps (1 Peter 2:21).
I do not say these things in a detached way, as though I have not suffered the loss of the dearest things on earth. I have suffered many losses over many decades of living—a wife, children, father, brothers, and sickness. I have a sense of the severity of 1 Peter 2:21, and you do, too.
The Magic Pill
I did respond to Mable, and she wrote back saying that she knew the answers to her questions, which I assumed she did. Most folks in similar straits already know the proper responses to their pressing queries. She said that out of despair and desperation, she was looking for a magic pill. She was reaching out, in part, to speak with someone with a faint hope the answers would be different. I appreciated her humility.
Many years ago, I was searching for that magic pill. I never found it. Perhaps it would be better to say the "magic" worked differently than what I had anticipated. God gave me something else—something I did not ask or think (Ephesians 4:2). More than thirty years later, my losses were the primary means of grace the Lord used to stabilize my soul. It was through the loss of all things that I found God.
Though I myself have reason for confidence in the flesh also. If anyone else thinks he has reason for confidence in the flesh, I have more: circumcised on the eighth day, of the people of Israel, of the tribe of Benjamin, a Hebrew of Hebrews; as to the law, a Pharisee; as to zeal, a persecutor of the church; as to righteousness, under the law blameless.

But whatever gain I had, I counted as loss for the sake of Christ. Indeed, I count everything as loss because of the surpassing worth of knowing Christ Jesus my Lord. For his sake I have suffered the loss of all things and count them as rubbish, in order that I may gain Christ and be found in him, not having a righteousness of my own that comes from the law, but that which comes through faith in Christ, the righteousness from God that depends on faith—that I may know him and the power of his resurrection, and may share his sufferings, becoming like him in his death, that by any means possible I may attain the resurrection from the dead (Philippians 3:4-11).
Call to Action
Dear Father, May the losses that I incur—whether due to my sin or others—not compare to the intimacy I find in you. May I know you more deeply through sharing the sufferings of Christ, and through those sufferings, may I die to myself, only to experience the resurrection power that will effectually equip me in this life and the life to come. —Suffering Saint
If you're in a similar place as Mable, will you make this prayer real to you?
You will not be able to take this journey alone. Please find a friend who is competent, compassionate, and courageous enough to walk with you. If you need to speak with us, do not hesitate to do so.
Need More Help?
If you want to learn more from us, you may search this site for thousands of resources—articles, podcasts, videos, graphics, and more. Please spend time studying the ones that interest you. They are free.
If you want to talk to us, we have private forums for those who support this ministry financially. Please consider supporting us here if you would like to help us keep our resources free.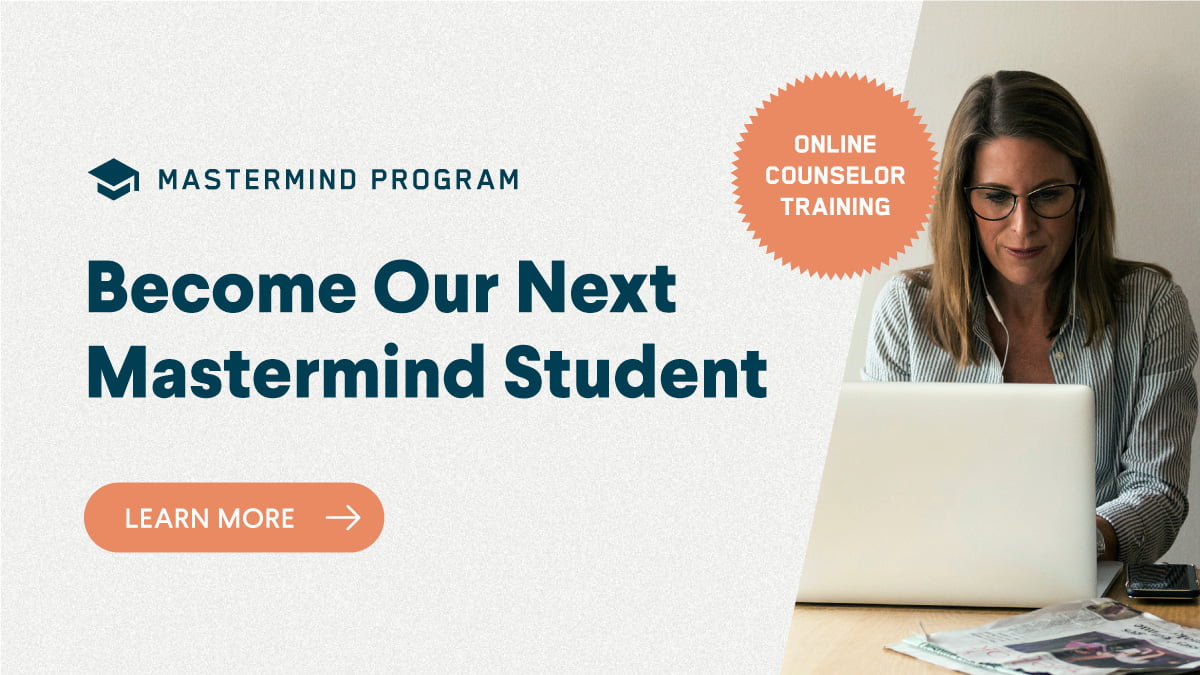 Filed Under:

Rick launched the Life Over Coffee global training network in 2008 to bring hope and help for you and others by creating resources that spark conversations for transformation. His primary responsibilities are resource creation and leadership development, which he does through speaking, writing, podcasting, and educating.
In 1990 he earned a BA in Theology and, in 1991, a BS in Education. In 1993, he received his ordination into Christian ministry, and in 2000 he graduated with an MA in Counseling from The Master's University. In 2006 he was recognized as a Fellow of the Association of Certified Biblical Counselors (ACBC).