Ep. 304 Do Zoom Meetings Mean You're Forsaking the Assembly?
Shows Main Idea – The last couple of years for the church have been the equivalent of a shaken snowglobe—continuously. The tumbling has been unabated, and many in the Christian community are worn, despairing, and frustrated. One of the hot button issues at the epicenter of our complaint is an inability to assemble in our weekly church contexts. In this episode, I respond to the question, are we forsaking the assembly according to Hebrews 10:25?
Listen to the podcast

Show Notes
You may want to read:
Addressing the issue of assembling in Hebrews 10:25 is part of the discussion. However, it's vital to "ramp up" that conversation by taking time to evaluate the current condition of our hearts. Whenever we discuss hot-button issues, the first call to action must always be our hearts' calibration. If we don't do this, we may engage the conversation with a less-than-biblical attitude.
Will you take the time to assess where you are with these five preliminary thoughts? I have provided a question at the end of each one so that you can do this.
1 – Gratitude Always
Do all things without grumbling or disputing, that you may be blameless and innocent, children of God without blemish in the midst of a crooked and twisted generation, among whom you shine as lights in the world (Philippians 2:14-15).
When your child protests against what you are doing, what attitude would be acceptable to you? I'm sure you have expectations for their mood and words as they convey their perspective.
We encourage our children to have a voice in what we're doing as a family. What we don't appreciate or permit are bad attitudes in how they voice their opinions.
The evaluation that every church member must make about their disagreements is their attitude toward the leadership in areas where they disagree. (This idea comes from a sermon by Tom Pennington.)

2 – No Division
I appeal to you, brothers, by the name of our Lord Jesus Christ, that all of you agree, and that there be no divisions among you, but that you be united in the same mind and the same judgment. For it has been reported to me by Chloe's people that there is quarreling among you, my brothers. What I mean is that each one of you says, "I follow Paul," or "I follow Apollos," or "I follow Cephas," or "I follow Christ" (1 Corinthians 1:10-13).
When people leave a conversation with you, are they more drawn to their church, the leadership, and God? Do they leave more healed or hurt after talking with you?
3 – Joyous Pastoring
Obey your leaders and submit to them, for they are keeping watch over your souls, as those who will have to give an account. Let them do this with joy and not with groaning, for that would be of no advantage to you (Hebrews 13:17).
Will you talk to a leader in your church who knows you the best and ask if it is a joy for them to shepherd you?
You will recognize them by their fruits. Are grapes gathered from thornbushes, or figs from thistles? So, every healthy tree bears good fruit, but the diseased tree bears bad fruit. A healthy tree cannot bear bad fruit, nor can a diseased tree bear good fruit. Every tree that does not bear good fruit is cut down and thrown into the fire. Thus you will recognize them by their fruits (Matthew 7:16-20). (The context of this passage is about unbelievers, but the application about the fruit revealing the heart is for anyone.)
4 – Unwanted Adaptations
My friend Will is in Vail, Colorado, this week, and someone yelled at him to put on a mask. He complied. They have mandatory laws about mask-wearing.
We flew to Sarasota, Florida, in January for a conference, and the condition of flying was wearing a mask. We complied.
My default position is that I do not wear a mask anywhere; we live in a mostly conservative state. However, if I'm in a situation where I have to don the mask (i.e., Starbucks or Traders Joe's), I do comply. You, too, have complied with the mask mandate if you've been in places where they asked you to do so and you did not want to leave.
My point here is that adapting is something we all do, though we might not prefer it.
If complying with this secondary preference is hard for you in church settings, why is it? Why would you be inconsistent when you comply in other places?
5 – Convenient Standards
When I was a fundamental Baptist, we would not shop at any grocery store selling cigarettes or alcohol. Of course, we had a Community Cash (grocer) that did not sell those items. Thus, we could maintain our standard. Then the Community Cash went out of business, and we had to buy groceries from stores that sold liquor and cigarettes.
I recall the first time I heard of a church not meeting three times per week. I thought my friend and his church were heretical.
Standards and preferences are convenient when there is no challenge to them. But when circumstances change, we must humbly reevaluate our positions. Are masks and Zoom meetings the hills I want to die on?
The most vital key is a church preaching the gospel. If your church does not preach the gospel, you should leave. I'm not minimizing congregating, but an American-centric view of the church can harm your soul.
Is your church sinning by doing Zoom meetings while not holding in-person meetings? If yes, what is your biblical argument for your position?
If your church is sinning, you must make your case by confronting the leaders. If they are not sinning, but you are, then you must repent or you will harm your soul while taking others down with you.

Forsaking Assembling?
And let us consider how to stir up one another to love and good works, not neglecting to meet together, as is the habit of some, but encouraging one another, and all the more as you see the Day drawing near (Hebrews 10:24-25).
Forsaking, in context, means deserting something like a teen running away from home. The Hebrew writer goes to great lengths to talk about falling away, leaving the faith, or abandoning the body of Christ. Read Hebrews 5:11-6:20.
But exhort one another every day, as long as it is called "today," that none of you may be hardened by the deceitfulness of sin (Hebrews 3:13).
Is your heart's desire to separate from your local body of Christ?
Are you a forsaker?
Are you creating intentional distance between yourself and the church?
If you believe that forsaking means "not showing up at your church meeting" rather than intentionally distancing yourself from gathering, you will bind many believers who aren't able to assemble, i.e., shut-ins or those medically hindered.
There is no biblical case for lacking a desire to gather. You can sense from the text that gathering is not a low priority to the faithful.
A desire to gather is a way to affirm that God regenerated your soul.
Assembling, in context, is one way to show your affection for Christ.
You want to meet to encourage and motivate His body (1 John 4:20).
It is one of the many shreds of evidence that demonstrates you are a Christian, e.g., gathering, discipling, evangelizing, praying, studying, repenting, etc.
But this exhortation to gather is where you want to be careful. If forsaking was the "end-all, be-all" in that not meeting in a building on a regular schedule is a sin, you might think the person who never misses a meeting to be at the pinnacle of the Christian faith, only to realize he never was born again (Matthew 7:21). Then you have the believer who cannot meet regularly due to physical impediments or is shut-in, but their faith could not be more robust.
We should meet as often and in as many ways as we can. But if we lose one of our typical ways that affirm our faith (e.g., how we gather or evangelize) and have to pivot due to unforeseen or unwanted reasons, it does not alter our faith. It mobilizes unquenchable Christians to flex in other ways because they are Christians, always seeking to figure out avenues to spread the fame of Christ. —Rick Thomas
I'm not minimizing the gatherings at all. I'm a strong advocate for the local church and its regular meetings. I hope this vitriolic season is temporary, and we do not become the underground church in America. However, if it's not a season but a new way of life, we still won't "bow to the king" because the regenerated heart will always find a way to love God and others—even if it's in less desirable ways. (Read Hebrews 11:1-40.)
Call to Action
Are you actively making a redemptive difference in your local church? Will you look at this 31 One Anothers in the New Testament chart and evaluate how you're part of the solution in your local assembly? (Find all our Charts, Graphics, Assessments, etc. here.)
How are you considering and stirring up your own according to Hebrews 10:25?
If you're in the camp of the critics, what is your plan to change?
Suppose you're comparing your leaders—who are preaching the gospel—to others who are preaching the gospel, but those other leaders respond to the current crisis differently. Will you stop gazing over the fence? A better reaction would be to focus on encouraging one another in your local assembly, and all the more as you see the Day drawing near? (See Hebrews 10:25.)
If you're despairing about what's happening during these times, please reach out to a church leader or talk to us. See the links below.
Need More Help?
If you want to learn more from us, you may search this site for thousands of resources—articles, podcasts, videos, graphics, and more. Please spend time studying the ones that interest you. They are free.
If you want to talk to us, we have private forums for those who support this ministry financially. Please consider supporting us here if you would like to help us keep our resources free.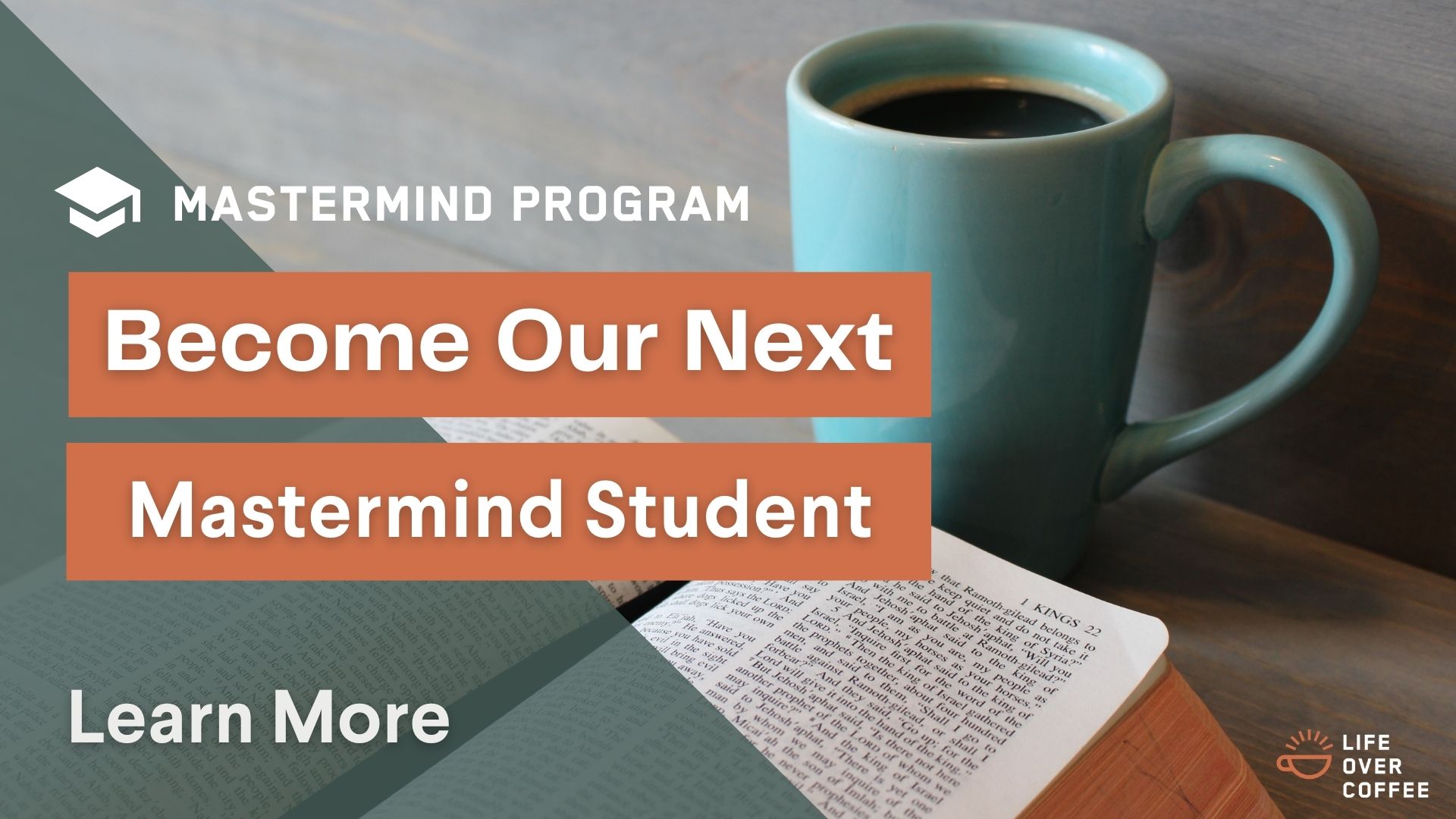 Filed Under:

Rick launched the Life Over Coffee global training network in 2008 to bring hope and help for you and others by creating resources that spark conversations for transformation. His primary responsibilities are resource creation and leadership development, which he does through speaking, writing, podcasting, and educating.
In 1990 he earned a BA in Theology and, in 1991, a BS in Education. In 1993, he received his ordination into Christian ministry, and in 2000 he graduated with an MA in Counseling from The Master's University. In 2006 he was recognized as a Fellow of the Association of Certified Biblical Counselors (ACBC).