How to Experience Future Glory in Present Difficulties
There are many benefits to living in our world, and you should not feel guilty about these good things. However, we can become so accustomed to "our way of life" that when something disrupts our expectations, it can dismantle us. It's precisely in these moments of difficulties that we need to reevaluate and realign our hearts to our calling as God's children.
You may want to read:
Giving Up Present Glory
Mable was addicted to crack. Back in the day, her desire for drugs was insatiable. She did not know her craving for crack was like baby food compared to the banquet that God provides through His Son. Then, she came to an end of herself (Luke 15:17). She accepted Christ, and God gave her an other-worldly taste for the invisible riches of Christ (Hebrews 11:27).
When Biff's wife left him last year, it sent him reeling for two months. He called it his "dark night of his soul." Like Mable, Biff had to wrestle with the expectations of what he could touch, taste, and feel versus the invisible riches of God. Though it was not a quick process, he did discover that the other-worldly pleasure of knowing Christ was superior (Philippians 3:8).
Mable and Biff realized what all Christians know: that there is far surpassing glory than any present, momentary, and light afflictions (2 Corinthians 4:17). Mable and Biff found the secret—that mysterious place that Paul revealed to the Corinthians. It is the future glory found in your present life that God is calling you to know and enjoy.
Future Glory Today
The only way you can think about future glory in your present circumstance is to authentically believe that your current experience is not the vital part of your story. The story you live today, regardless of what it may be, is not the end-all for what the Lord is doing in your life. You are a character in one chapter about a person living on earth. It's a chapter that God embeds into a grander story. The complete story is eternal. It is a never-ending narrative that God is writing for you.
At present, we are outside the door, on the wrong side of the door. We can't mingle with the splendors we see. But all the leaves of the New Testament are rustling with the rumor that it will not always be so. – C. S. Lewis
The challenge for you is to live in the light and the practical power of the greater glory that God offers you. It's the rest of the story that any of us could lose sight of because what we can see is more prominent in our hearts. God wants you to embrace and enjoy today and what your future reality will be like in the world to come.
What does it mean to live presently in the practical power of the greater glory that God offers you?
Reflect upon your life, asking yourself how well you currently live in His future grace.

Your First Active Step
Enjoying the future riches of God in today's troubled world is not easy. The first step is for you to turn your heart toward Him, which means longing for Him more than anything else. Your heart might not be into it now, but you must take that active step of turning to Him. As you do this, God will give you a perspective that will begin to form a lens for you to see your life differently. That lens is His future glory.
Part of this revived attitude means as you live in the pain and disappointments of what is happening around you, there is a mindful and humble longing for future glory. Paul had this perspective. It was the secret that he broadly shared with anyone who would listen. In his case, it was the Corinthian church, the people who hurt him purposely and deeply. He was criticized, hated, slandered, ridiculed, and repeatedly put down by the people that he loved.
Have you ever had a painful person in your life?
Have you ever had a painful circumstance in your life?
Perhaps you've had both, and you could not escape from either. If so, you can understand—at least in part—what was happening to Paul. People were a real pain in his life, but they did not shake him from the abiding confidence that he found in God. Listen to how he talked about his trust in God, and remember the context: he wrote to the Corinthians, many of whom hated him.
A Man of Faith
So we do not lose heart. Though our outer nature is wasting away, our inner nature is being renewed day by day. For this slight momentary affliction is preparing for us an eternal weight of glory beyond all comparison, as we look not to the things that are seen but to the things that are unseen. For the things that are seen are transient, but the things that are unseen are eternal (2 Corinthians 4:16-18).
The hateful people in Paul's life could not disrupt his joy. God's provision buoyed him through the harshest of trials. The Lord's treasury was so sweet to Paul that the discomfort of his painful life began to pale in comparison. As you think about how Paul rested in God's invisible strength while going through painful trials, here are two questions for you.
What did Paul know that buoyed him through his painful ordeals?
How did he find satisfaction in a yet-to-be-realized future glory during present trials?
Though Paul was living in the rough spots of life and the challenges were sometimes overwhelming, he held on to a core belief that enabled him to press on for the Lord. That core belief was the eternal perspective that helped him not lose heart (2 Corinthians 4:1, 4:16). Simply put, Paul believed God. He was a man of faith.
Pouring Out Your Life
Part of what bolstered this faith was his understanding of who he was—a jar of clay (2 Corinthians 4:7) and what God offered him through the gospel. He saw himself as a piece of pottery filled with a "surpassing treasure" that the Lord was using to pour out His grace for the benefit of others.
But we have this treasure in jars of clay, to show that the surpassing power belongs to God and not to us (2 Corinthians 4:7).
Paul knew that his life was not supposed to be about "dolling up his jar." He did not live for the jar but for the treasure that was inside of it. If someone hated his "jar," their hatred did not destroy him (2 Corinthians 4:8). If someone said terrible things about his "jar" or tried to hurt it, Paul could shake it off. Why? He did not live for the jar but how he could give away the jar's treasure.
His life and mission were about people who needed to hear the gospel—the treasure. That worldview is all that mattered to Paul. If it killed him, so be it. He would give his life, like the Savior, for others (Mark 10:45). He wanted others to know and to have what he had. God provides empowering, enabling grace to a man with this kind of humility and perspective.
Living for the Jar
If you live for the jar, you can expect life to be hard and disappointing. The more you paint your pot, the more it will fade and crack. The more you try to protect your jar, the more anxious and protective you will become. If you live for what is in the clay jar and how you can put that treasure on display, you will find the secret to life. Paul said it this way:
For it is all for your sake, so that as grace extends to more and more people it may increase thanksgiving, to the glory of God (2 Corinthians 4:15).
Paul was not living for any other thing but to see God's name made famous in the lives of others. He lived for those around him, hoping that God's power would work through him and into them. Paul wanted them to have what he had. People who stay overwhelmed with discouragement focus too much on themselves—the jar—rather than on how to live for God and others. 2 Corinthians 4:15 is a prescription for how to look beyond your pain to the invisible riches of God that will sustain you and benefit others.
How are you tempted to live "for the jar" rather than the jar's treasure?
What are some ways you can more effectively share the wealth of God that is resident in you?

The Big Question
Paul was wasting away on every front, and he knew that he could not do anything about it. Even so, he did not lose heart because his inner man was experiencing daily renewal because of his eternal perspective. If you are not living with eternity in your heart, your temptation will be to cling to what you can taste, touch, and feel. Mable and Biff did not have this, which is why drugs and marriage had so much power (Romans 1:25). How do you experience this kind of eternal reality, practically speaking? It begins by understanding that your pain is producing, pointing, and preparing you for glory. Every pain Paul went through served to turn his eyes toward his future glory.
For this slight momentary affliction is preparing for us an eternal weight of glory beyond all comparison, as we look not to the things that are seen but to the things that are unseen (2 Corinthians 4:17).
Your marriage, job, friendships, hobbies, communications, and health are preparing you for the life to come. They are "adjustment opportunities" that train you to keep your eyes fixed on the more exceptional, invisible reality called eternity. This perspective was a daily, renewing truth for Paul. The Lord had convinced him that his experiences were the precursors and necessities to help him in the life to come.
Paul would even see what he was going through as a "light affliction." He knew that when he arrived in heaven, he would see that his earthly affliction would be "light" in comparison to the glory that he would experience in eternity. The way he kept this perspective was to see what he could not see.
For the things that are seen are transient, but the things that are unseen are eternal (2 Corinthians 4:18).
Seeing the Invisible
There is what you can see, and there is what you can't. What you can't see is what makes your life what it is. The part you can't see is the part that keeps you going day by day. If you cannot see invisible things, you will not do well when trouble becomes your portion. Paul chose to see the unseen, and that was how he could endure the visible.
By faith, he left Egypt, not being afraid of the anger of the king, for he endured as seeing him who is invisible (Hebrews 11:27).
Mable and Biff began to see Him, who is invisible. He became the controlling power in their lives. They longed for something higher than what the world was providing—the things they could see: drugs and marriage. What are some of the invisible things they saw? What must you see to keep going? Here is a shortlist.
Sovereign God, who holds all things up by the Word of His power
Angels in the spiritual world who minister to you
The power of God is yours if you want it
The life of the Spirit that the Lord provides
The grace of God that empowers you day by day
The incorruptible Word that changes you from the inside out
The providence of God that daily guides you
Faith from God that encourages you to press on
The eternity that you possess in your soul
Hope that comes from God
Call to Action
What are your thoughts when you think about being a disposable clay pot? What fears bubble up from your heart? What about anger toward God, others, or your circumstances?
In what ways are you like Mable and Biff, where the temporal things of life, whether good or bad practices have brought more satisfaction than the Lord? Is there something you need to change? If so, what is it, and what is your specific plan to change?
How has the world captivated your mind? I'm not talking about sinful things, per se, but the good things in life, like relationships and personal goals.
What would it take for you to move from clinging too tightly to the desires you have for your life, marriage, family, friends, church, work, or [fill in the blank] while clinging more to God?
Need More Help?
If you want to learn more from us, you may search this site for thousands of resources—articles, podcasts, videos, graphics, and more. Please spend time studying the ones that interest you. They are free.
If you want to talk to us, we have private forums for those who support this ministry financially. Please consider supporting us here if you would like to help us keep our resources free.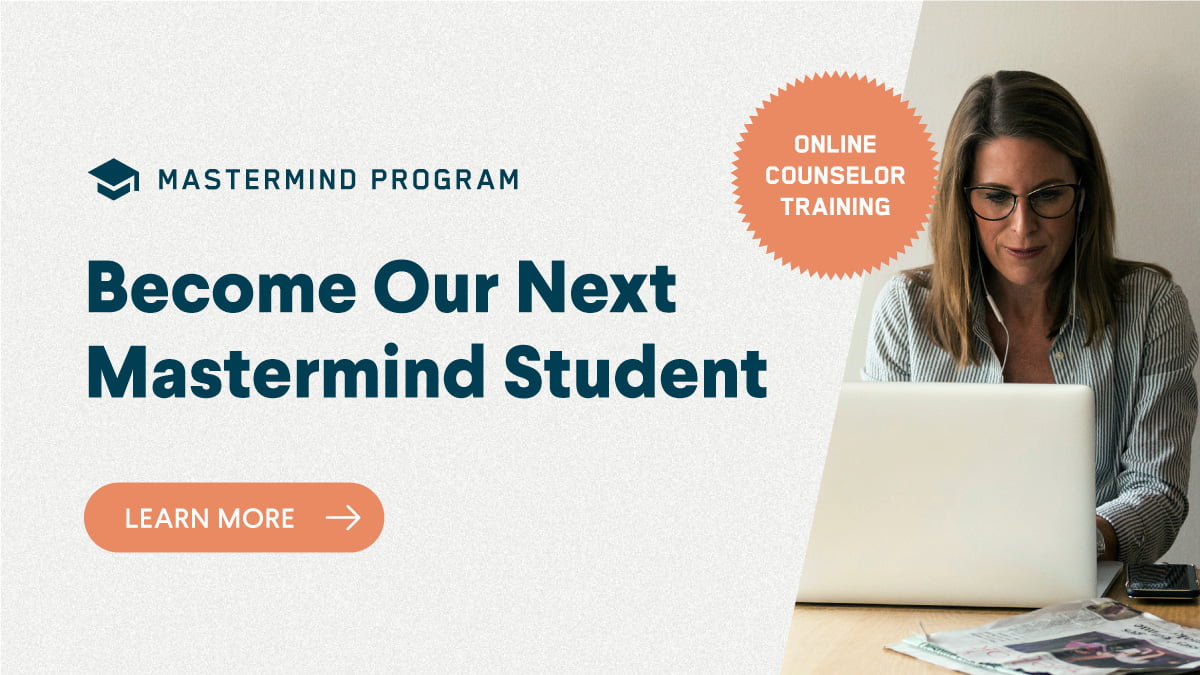 Filed Under:

Rick launched the Life Over Coffee global training network in 2008 to bring hope and help for you and others by creating resources that spark conversations for transformation. His primary responsibilities are resource creation and leadership development, which he does through speaking, writing, podcasting, and educating.
In 1990 he earned a BA in Theology and, in 1991, a BS in Education. In 1993, he received his ordination into Christian ministry, and in 2000 he graduated with an MA in Counseling from The Master's University. In 2006 he was recognized as a Fellow of the Association of Certified Biblical Counselors (ACBC).